Balsamic Beef and Mushrooms
Today's balsamic beef and mushrooms recipe is one you are going to love for weekday dinners. Here is why? It's a simple dish, easy and quick to make. Yet, it's aromatic and sophisticated. It's also great for dinner dates at home; just light up a few candles and open a bottle of Chianti. Let's make it.
Ingredients
16 large portobello mushrooms
4 thin slices of beef (beef knuckle)
4 spring onions
Belmorso Extra Virgin Olive Oil
Platinum Balsamic Vinegar from Modena
salt, pepper, thyme
ciabatta bread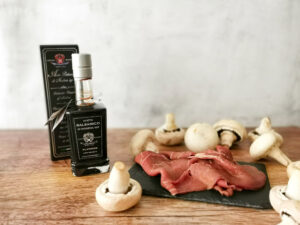 Preparation
Start by cleaning your mushrooms with a napkin or a kitchen cloth. Then peel them and chop them roughly. I chopped mine into different shapes, alternating between 4 quarters and three slices.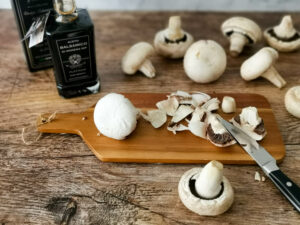 Cut the spring onion or use frozen (💡 we like to save fresh cut spring onions in the freezer).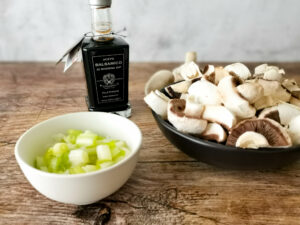 Cut the beef into strips and set aside.
Drizzle generously your Belmorso EVOO into a large pan, add the cut spring onions and the mushrooms. Feel free to use a pot if you don't have a pan that is large enough.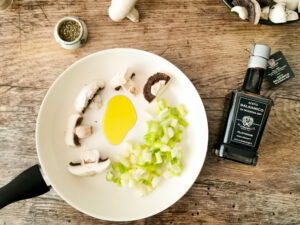 Put the pan over medium heat and leave to cook for a few minutes.
Next, season with salt and pepper; add the thyme too.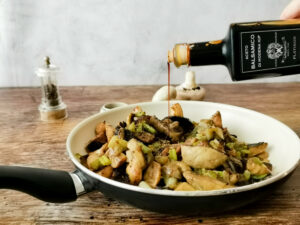 It's time to add your Platinum Balsamic Vinegar from Modena for that caramelized balsamic flavour feast. Drizzle generously to coat all mushrooms (about 4 tablespoons). Leave to cook for 15 minutes, stirring from time to time. The time taken to cook depends on how thick you have cut the mushrooms.
Once the mushrooms are ready, transfer to a clean plate.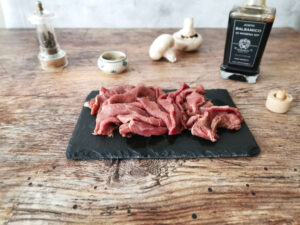 Use the same pan to cook the meat. Season with salt, pepper, and thyme. Drizzle EVOO and Balsamic, about two tablespoons and four respectively.
Lower the heat, so the meat doesn't dry, and mix from time to time. If your beef is very thin, it should take 10 minutes to cook, or less if you like it medium-rare.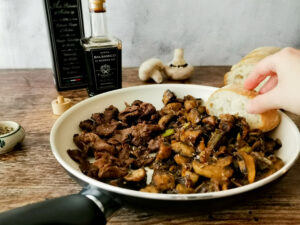 Serve in a plate along with the mushrooms and enjoy with some crusty bread. We served ours with ciabatta.
Tips
If you want to turn this dish into a two-course meal you can boil some tagliatelle and serve them with the mushrooms and some grated parmesan. For dessert we suggest this apple crumble with tarallini and mascarpone.