Chocolate Tarts with Nutella & Bonus Truffles
As we are approaching Spring, I wanted to share a no bake sweet recipe featuring the famous Nutella. Did you know that Nutella was invented in Piedmont, Italy by Pietro Ferrero around 1940? In this recipe I am combining our  tarallini and Nutella to create the perfect chocolate tarts. This makes the perfect treat to prepare with your kids as you can get creative with the decorations. Let's start, shall we?
Ingredients
1 jar 450 grams Nutella
450 grams plain tarallini (you will need two packs)
60 grams unsalted butter
a few drops vanilla essence
10 spoons milk of your choice (I used skimmed)
Extra ingredients to decorate the tarts (optional)
fresh strawberries
fig balsamic vinegar (check tips for other balsamic options)
Equipment
Food processor or Nutribullet or zip lock bag and rolling pin
Silicone tart moulds or tart moulds with paper liners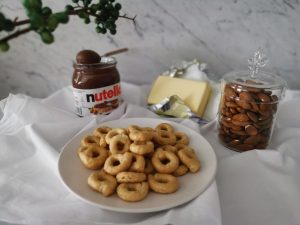 Preparation
Start by blitzing the tarallini in a food processor, adding the drops of vanilla midway through the blitzing. If you don't have a food processor, you can use a Nutribullet or something similar. The other option is to place the tarallini in zip lock bag and break them using a rolling pin.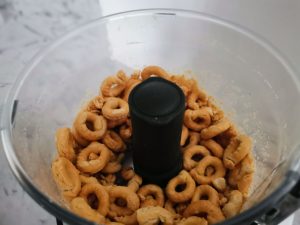 Place the blitzed tarallini in a bowl.
Next, melt the butter in the microwave or on the stove using the double boiler method, and pour it over the tarallini. You can use a fork or a cutter to incorporate the butter in the tarallini.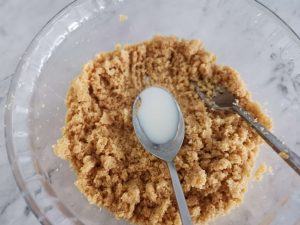 Next add the milk one to two teaspoons at at time, mixing everything together to form a sticky consistency.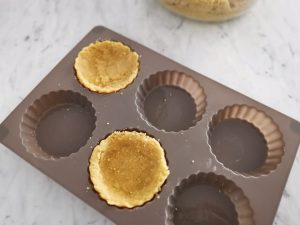 Take your silicone moulds and start pressing the tarallini crumbly mixture to the bottom to form the tart base.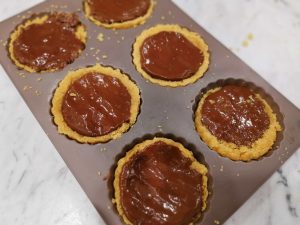 The following strep involves layering the Nutella on the tarts. I used two teaspoons for each tart. To help the Nutella stick to the tart rather than your hands, wet your fingers and gently press the Nutella against the base.
You can repeat this process with the rest of the crumble, and that should yield you around 12 tarts. Or you can use the rest of the crumble to make the Nutella truffles. If you want the recipe for the Nutella truffles head over our Instagram or Facebook @tastewithgusto where I will be sharing the recipe.
Once, you have finished spreading the Nutella on each tart, place the mould in the freezer for around 30 minutes.
Finally, take the chocolate tarts out of the freezer, remove from the moulds, place on your serving plate and serve as is or with your decorations of choice.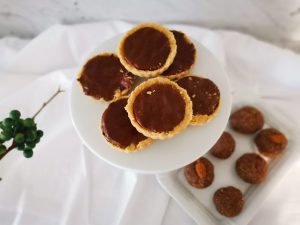 Before serving, I suggest topping the chocolate tarts with a few sliced strawberries and a drizzle of fig balsamic.
Tips
You can also top the tarts with shredded dark or white chocolate, coarse salt, caramel, chopped nuts, tangerines or any other fruit of your choice. If you don't like figs you can replace the fig balsamic with a regular balsamic or an orange balsamic.