Caprese Salad with tarallini and aubergines
You have probably had at least one caprese salad in your life. We thought we would give you an easy recipe to make an extra special Caprese salad at home, featuring a few ingredients we are sure you will love. Let's get started, shall we?
This makes one lunch portion or a starter for 2 people to share.
Ingredients
2 large tomatoes
1 fresh mozzarella di bufala
1 aubergine pre-roasted
fresh basil leaves
salt, pepper
optional balsamic vinegar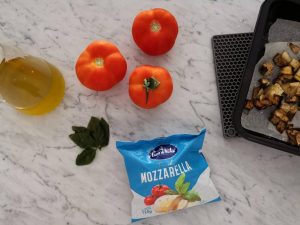 Preparation
Wash and peel your aubergine, cut into cubes, place in a bowl, sprinkle one teaspoon salt, fill with water and let it rest for an hour. This process removes the bitterness.
After the hour has passed, drain the aubergine, transfer to a casserole, add salt and pepper, and a drizzle of extra virgin olive oil. Bake in the oven for 25 minutes.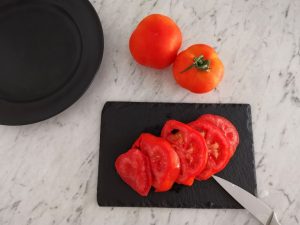 In the meantime, wash and cut your tomatoes into large slices, and set aside.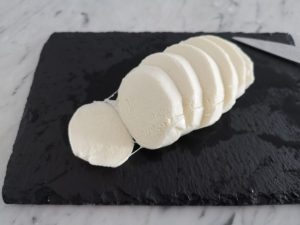 Do the same for your mozzarella.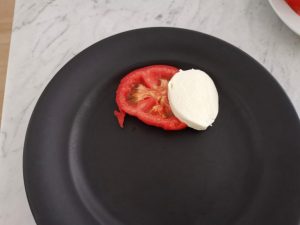 Layer the tomato, then layer the mozzarella, one slice at a time, overlapping each other and in a circular shape.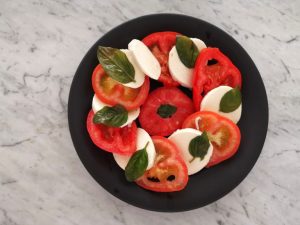 Repeat until you have used all your ingredients and completed the circle.
Season with salt and pepper, and drizzle some extra virgin olive oil.
Take the basil leaves and layer one over each mozzarella slice to create a beautiful contrast.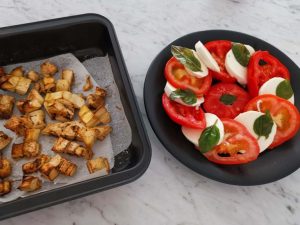 Once the aubergines are ready, let them cool for a few minutes, and then spread them across your salad.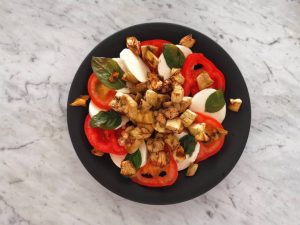 Finish with some tarallini, and you are ready to enjoy.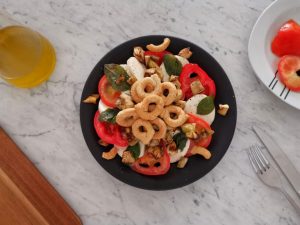 Tips
You can drizzle a delicious balsamic at the top. It goes well with both the tomatoes and the aubergines. And you can also enjoy together with some prosciutto crudo and extra tarallini on the side. If you don't have time to pre-roast the aubergines, you can use our pre-roasted aubergines in a jar.
The post Caprese Salad with tarallini and aubergines appeared first on Cook With Gusto.