Chicken recipe for the holidays – involtini di pollo
Looking for the perfect maincourse for Christmas lunch or dinner that is not a roast? Today we are sharing with you a delicious chicken recipe for the holidays and any special occasion. And if you really really like it, you can obviously make it throughout the year for Sunday lunch, or whenever you have more time on your hands.
Ingredients (for 2 persons)
2 large chicken breast fillets (tell the butcher you are doing stuffed chicken rolls and he will understand)
2 slices ham, preferably prosciutto cotto
sweet provolone cheese, about 120 grams
1 egg
traditional tarallini, about 100 grams
salt, pepper, and rosemary
3 medium potatoes
about 8 cherry tomatoes
2 medium garlic cloves
a high quality extra virgin olive oil like this one
Preparation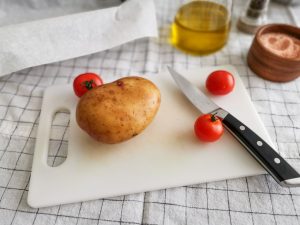 Start your chicken recipe by washing and peeling your potatoes. Cut them into small chunks and place them on a casserole covered with parchment paper.
Next, wash and cut the cherry tomatoes in halves. And add them on top of your potatoes.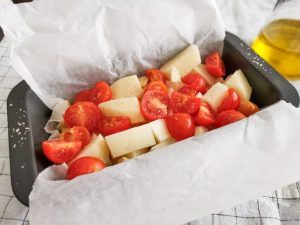 Then, peel and cut the garlic into small pieces and scatter it among the potatoes and tomatoes.
Finish this side dish with a generous crack of black pepper, a sprinkle of salt, and a drizzle of extra virgin olive oil.
Place the potatoes in the oven to start baking in a preheated oven at 195 degrees Celsius (they will remain in the oven until your chicken is ready).
It's time to start preparing your chicken fillets.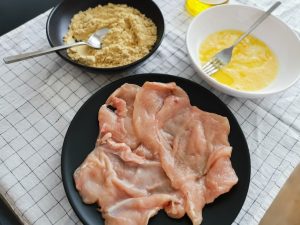 Next, you want to prepare the magic ingredient of this recipe.. your tarallini breading. Add the tarallini to your blender, sprinkle plenty of dry or fresh rosemary, and blitz until a breading is created. Transfer the breading on a bowl, ready to be used.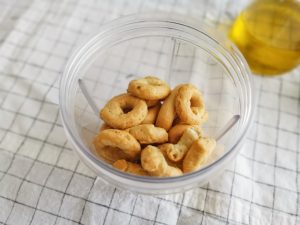 Then, prepare the egg wash (just the beaten egg) and season with salt and pepper.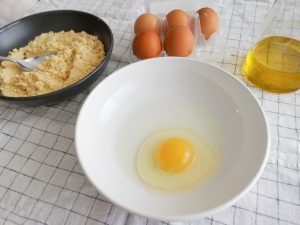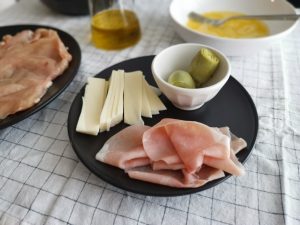 Next, prepare your artichokes; cut your provolone cheese into thin slices, and take out your ham.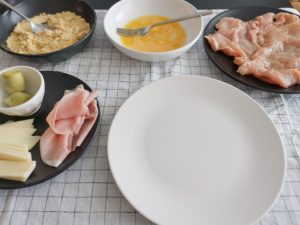 Take a plate to use for assembling your chicken rolls and get started.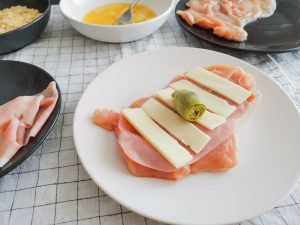 First, layer the prosciutto; then follow with the cheese slices; and finally place the whole artichoke in the middle of the stuffed chicken fillet.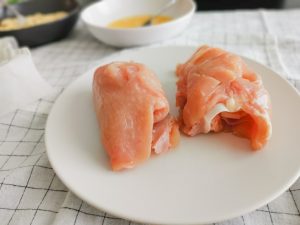 Take one end of the chicken, ideally the smaller or narrowest end, and roll towards the other end. You can use skewers to keep your rolls together, or nothing at all, which is what I did here. Repeat for the second chicken fillet and set aside.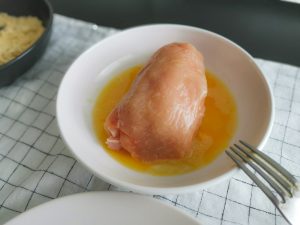 Now, take one chicken roll at a time and dip it into the egg wash, rolling it to wet all the sides. This will allow our tarallini breading to stick to the roll.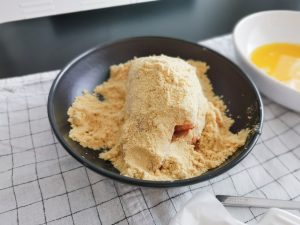 Finally, take the chicken rolls one at a time, and dip them into the breading using your hands to pack the breading on all sides. By breading the chicken rolls well, you will avoid the chicken rolls falling apart in the oven, even if you didn't use the skewers.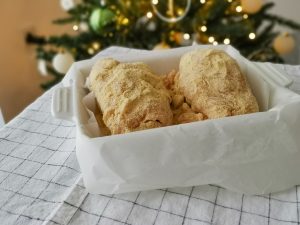 Bake in the oven for at least 30 minutes, turning the chicken rolls on the other side after 20 minutes or so.
If your cheese comes out in the oven do this. When you are turning your chicken rolls, transfer them to a clean dish and turn them to cook on the other side. Then serve the cheese that came out on the first dish under each chicken roll.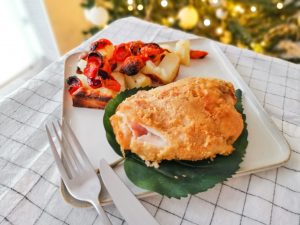 Serve them with the roasted potatoes and cherry tomatoes, and a side salad.
Tips
Feel free to use any other herb other than rosemary if you don't like it or don't have rosemary in your pantry. You can also replace the cheese in this chicken recipe with mozzarella cheese, galbanino, caciotta, and even mild cheddar. If you don't like artichokes, you can replace it with sundried tomatoes or these home-style zucchini. If you have leftover tarallini breading, place it into a glass tupperware, store it in your fridge and use it to make a quick rustic pasta.