Focaccia Recipe with Belmorso Extra Virgin Olive Oil
Today's olive oil focaccia recipe is inspired by the British Bake Off 2021, and the winner Giuseppe Dell' Anno. During Bread Week, Giuseppe made a scrumptious Italian focaccia featuring tomatoes and artichokes among other very Italian ingredients. And it was so good that he got a hand shake from Paul Hollywood.
Our focaccia recipe features cherry tomatoes, artichokes, but also onions, black olives, and sundried tomatoes with plenty of Belmorso extra virgin olive oil and rosemary. Be ready to be amazed.
We suggest enjoying this as it is or with a side salad.
PS: Follow us on Instagram to see the video of this recipe @tastewithgusto.
Ingredients
Focaccia dough (we used a ready to use focaccia dough, 385 gr)
7 cherry tomatoes
1/4 of a small onion
rosemary (dry or fresh)
salt and pepper for seasoning
If you can't find the focaccia dough, you can make it following this recipe.
Preparation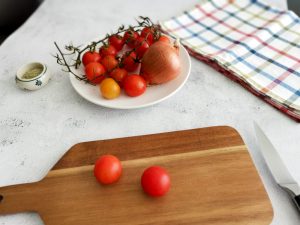 Start by preparing your toppings.
Half your cherry tomatoes; cut your sundried tomatoes into small pieces; then cut the black olives in half and remove the pit.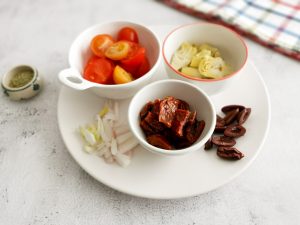 Follow by cutting the onion into thin strips, and the artichokes into half.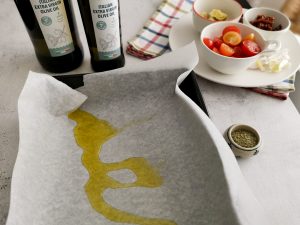 Drizzle plenty of extra virgin olive oil directly on your focaccia dish or on the layered parchment paper.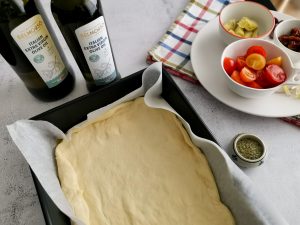 Then take the dough out of the package, remove the paper, and layer it on the dish.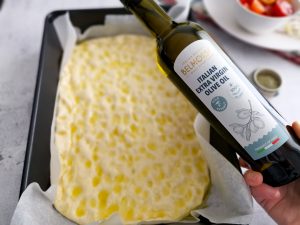 Drizzle plenty of extra virgin olive oil and massage the oil onto the focaccia dough, stretching it slightly as necessary.
Then make finger indentations in the focaccia dough with your fingers. This will give the focaccia its authentic look both on the top and bottom; and if you are using a thick focaccia dough, it will allow you to put the ingredients in those small dimples.
Next, sprinkle the rosemary across the entire focaccia dough.
It's time to add your toppings, spreading them onto different areas of the focaccia, so as to get a little bit of everything with every bite.
Once you have finished topping your olive oil focaccia with all the ingredients, season with salt and pepper.
It's time to bake it for 20 to 30 minutes depending on how you like your focaccia.
When ready, take out of the oven, leave to rest for a few minutes, cut and enjoy.
Tips
If you have Novello extra virgin olive oil feel free to use that instead. That will make it even tastier. And if there is any ingredient you don't like, you can of course replace it. If you can manage to find thicker focaccia dough, make the holes deep enough to hold your ingredients. The result will be pretty and tasty.