Veggie Chilli with Quinoa and Italian hot chilli spread
Now that it's getting colder and colder there is nothing better than making a veggie chilli full of vegetables and protein with a little hot chilli kick to warm your body. We have got a delicious recipe for you featuring our hot chilli peppers spread. This makes plenty for leftovers too 🙂
Ingredients (makes 3 large portions of veggie chilli)
2 onions
3 garlic cloves
Belmorso extra virgin olive oil
2 peppers, we are using one red and one orange
2 cups cherry tomatoes
1 can lentils
1 can red kidney beans or borlotti
750ml passata
2 teaspoons Belmorso hot chilli peppers spread
half a teaspoon cacao powder
1/4 teaspoon cinnamon
plenty of dry oregano
salt and pepper to taste
2/3 cup raw quinoa
fresh parsley for garnishing
half a lemon
plenty of Belmorso traditional tarallini 
optional Philadelphia cheese or Greek yogurt
Preparation
Start by preparing your vegetables. Peel and cut the garlic; dice the onions, and the peppers.
Then, cut the cherry tomatoes in half.
Drizzle plenty of extra virgin olive oil in a large pot over high to medium heat.
Then add the garlic, onions, and peppers and leave to sweat and caramelize until slightly browned.
Next, add the hot chilli pepper spread and mix well.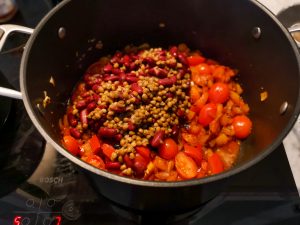 Now add the cherry tomatoes, mix and leave to cook.
Follow by adding your beans, both types, mix and leave to cook for a couple minutes.
In the meantime, season with salt and pepper; and add the oregano too.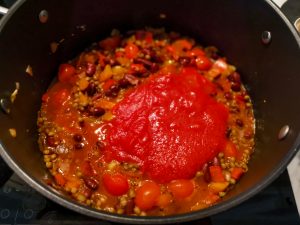 It's time to add your passata.
Now add the cacao and cinnamon, mix and leave to simmer for 40 minutes.
While your veggie chilli simmers away, start preparing your quinoa in a separate pot. When it's cooked half way take it off the heat, and drain any extra water.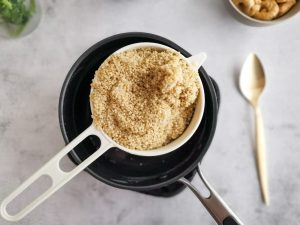 Once the 40 minutes have passed, add the quinoa to the veggie chilli, mix well to combine everything, and leave to simmer for another 20 minutes.
When ready let it cool for a few minutes, and serve.
Top with fresh parsley, some freshly squeezed lemon juice, and enjoy with a dullop of your favourite cottage cheese or thick yogurt, and a serving of Belmorso traditional tarallini.
PS: Don't forget to drizzle a little more Belmorso extra virgin olive oil on top.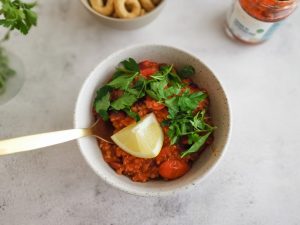 Tips
This makes a great weekday meal, and you can take the leftovers with you for lunch. Feel free to also freeze any leftovers, although us Italians we are not big on freezing and re-heating food. If you like it extra spicy, you can add more hot chilli peppers spread when cooking, or add more on your plate once you serve it. That way everyone can adjust the heat to their liking.