Italian Beef Wellington with Mince
This recipe is a great one when you want to impress your partner, maybe for Valentine's, or your guests, for Sunday lunch, a special occasion, or anytime really. It's an Italian meatloaf recipe beef wellington-style with mince; it features our Red Pesto for extra taste. The end result looks like you spent hours in the kitchen when it really takes under 30 minutes to prepare and one hour cooking time.
Ingredients for your Italian Meatloaf
500 gr minced beef
3 to 5 teaspoons Belmorso red pesto
1 sheet puff pastry, preferably rectangular shaped
7 to 8 slices prosciutto crudo
salt and pepper
Belmorso extra virgin olive oil
400g frozen peas or as much as you like
1 medium onion
Preparation of your Italian Meatloaf in Pastry (makes 3 to 4 portions)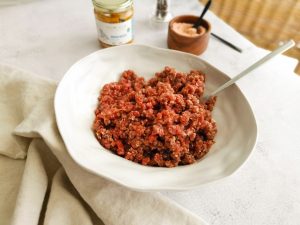 Start by adding your defrosted or fresh minced beef to a bowl. Season with salt and pepper.
Add the red pesto and mix well; set aside.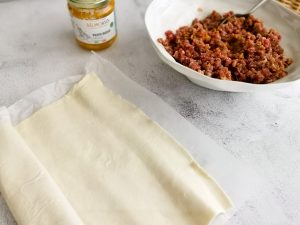 Take the puff pastry sheet out of the fridge, roll it out, and lay inside a long and narrow rectangular shape casserole (the sort of casserole you would use for a pound cake). I covered mine with parchment paper.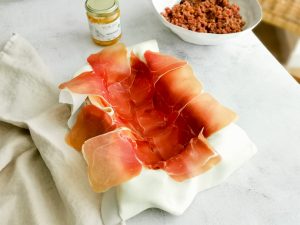 Take the prosciutto crudo and layer 3 slieces on one side, 3 slices on the other side, one in front and one at the back. You want to layer them so that each covers part of the pastry, but 1/3 of the slice hangs outside the edges of the casserole.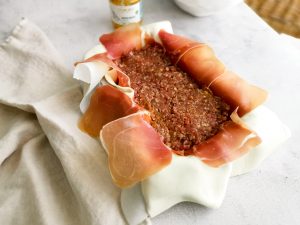 Next, take your minced beef and add it on top of the prosciutto, filling your entire casserole. Use a spoon to level it so that it is evenly spread.
Now take each hanging slice of prosciutto and fold it inwards as to close the casserole. Do the same for each prosciutto slice. Feel free to watch our video on Facebook @tastewithgusto to see the exact technique I followed.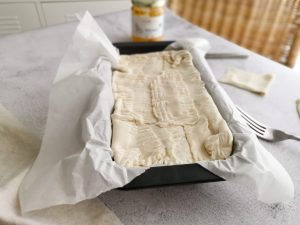 Once you have folded all the prosciutto slices, start folding the sides of the puff pastry. If you notice that the puff pastry is smaller than the casserole, cut any excess pastry at the corners, and use that to cover any holes at the end. Make sure to use a fork to seal any patched pastry pieces.
Bake in the oven for 25 minutes.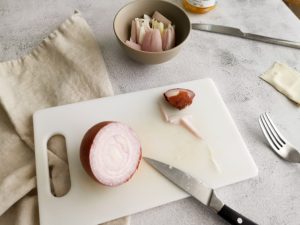 In the meantime, cut the onion.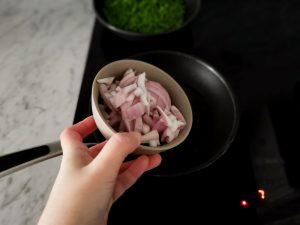 Drizzle plenty of extra virgin olive oil in a pan, and add the onion to caramelize.
After around 7 minutes, add your defrosted peas. Season with salt and pepper, and mix from time to time.
Lower the heat, and leave to cook for 20 minutes.
Then take out of the oven, turn upside down, and bake for another 25 minutes.
If any liquid comes out during the second half of the baking, simply take the dish out of the oven, drain the liquid, and put it on some clean and dry baking paper. Then resume with the baking.
If you would like to add a heart on top, simply use any leftover pastry cuttings, and add the heart towards the end of the baking, about 10 minutes before you are due to take your Italian meatloaf out of the oven.
Leave to cool for 20 minutes, cut and serve with a side of peas.
Tips
If you prefer you can also serve it with plain roasted potatoes with rosemary and plenty of extra virgin olive oil, or you can try these Crunchy Roasted Potatoes with Paprika.