Authentic Italian Lasagna with Bechamel Sauce
Have you made lasagna with bechamel sauce before but wonder how the authentic Italian recipe is really made? If that's you right now, this recipe will remove any doubts and give you an easy recipe to follow to make a truly flavourful, meaty, and home-style lasagna.
Also, don't worry, the sauce might take some time to simmer but the actual prepping is quite quick.
Let's make it.
Ingredients for the ragu'
1 carrot
1 onion
1 celery stick
Belmorso Extra Virgin Olive Oil (or Novello)
200 ml white wine
700 ml tomato passata
salt and pepper
1.4 litres water
1 vegetable stock
3 bay leaves
Preparing the ragu'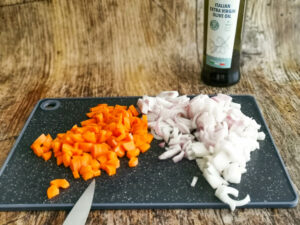 Take your vegetables, wash them, peel them and cut them finely.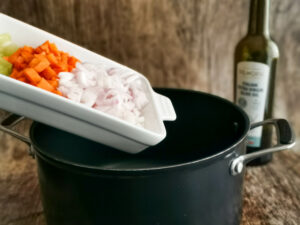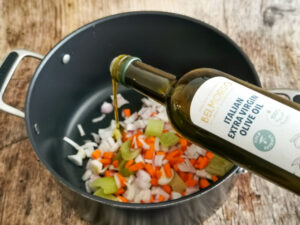 Add them to a large pot, drizzle some Belmorso Extra Virgin Olive Oil, and put on the hob to sauté. This will make your soffritto, which is the base for ragu'/bolognese sauce, and most sauces and soups.
Leave to sauté for around 15 minutes, lowering the heat after the first 2 minutes.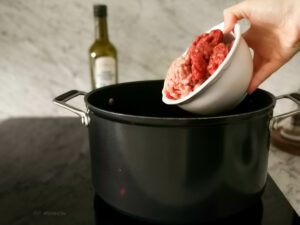 Then add the minced meat, both the pork and the beef, mix and leave to cook with the soffritto.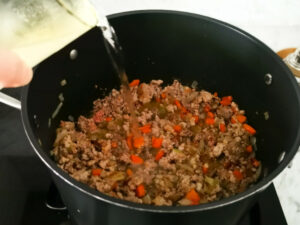 After about 10 minutes, add the white wine, mix and leave to evaporate for another 5 to 10 minutes.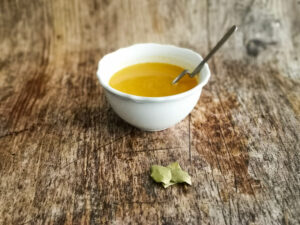 In the meantime, prepare your vegetable stock mixing it in with the water.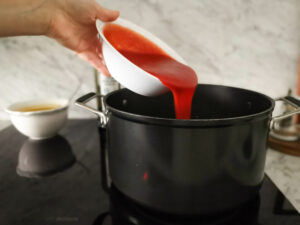 Once the wine has nearly absorbed into the meat, you can add the tomato passata.
Mix it in with all the ingredients and season.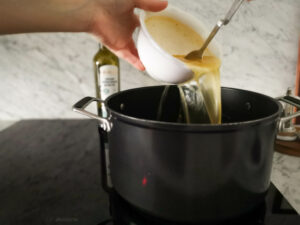 Then add half the vegetable stock and mix again.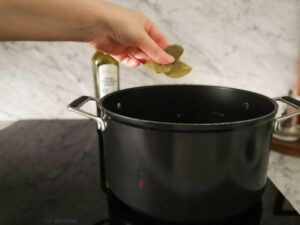 Finally, add the bay leaves, and cover with the lid. Make sure to leave a small gap on the side of the lid and lower the heat.
Leave your ragu' to simmer for an hour.
After that first hour, add the remaining vegetable stock, mix, and leave to simmer for one more hour.
After the second hour has passed, your sauce is ready.
Leave it to cool, and then taste it. If it needs it, you can add more salt and pepper.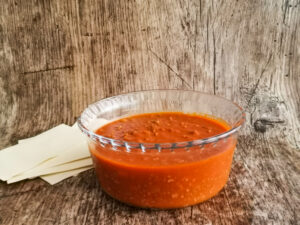 PS: If you are going to make the sauce the day before you prepare your lasagna, add 1.4 litres of water instead of 700 ml after the first hour has passed. The reason for this is that resting the ragu' in the fridge for nearly a day, or just overnight, will cause it to thicken, and you won't have enough sauce for a large lasagna.
Ingredients for the bechamel sauce
1 litre milk
100 gr butter
100 gr flour
pinch of nutmeg
salt and pepper
Preparing the bechamel sauce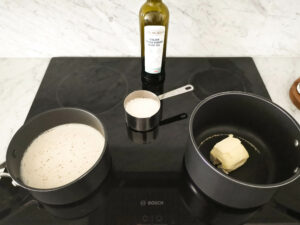 Take two medium-size pots. In one pour the milk, season with salt and pepper, and add the pinch of nutmeg. Put the pot on the hob to heat up the milk.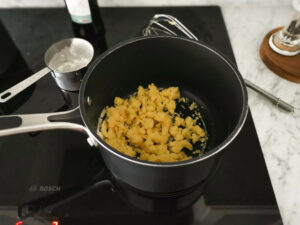 In the other pot melt the butter. Once the butter has melted, add all of the flour at once, and mix rigorously so as to form a roux.
Pay attention to your milk, you don't want it to boil.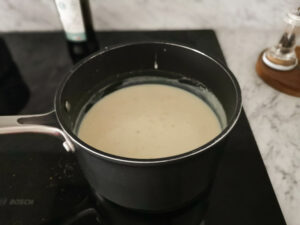 Add the milk to the roux little by little while you continue mixing.
Once you have added all of the milk, continue mixing for 5 minutes.
Your bechamel sauce should be now thick but not too thick, and lump-free.
Ingredients for the lasagna layers
Grated parmesan cheese
The Ragu or bolognese sauce you prepared
The bechamel sauce you just made
Preparing the lasagna with bechamel sauce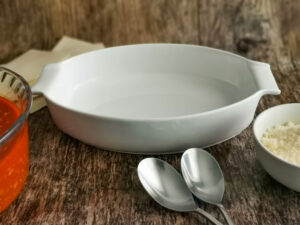 Take one large dish or two smaller ones and spread some ragu'.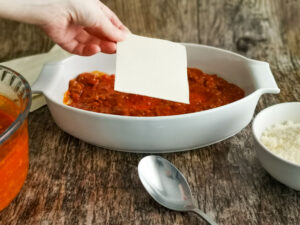 Then, start layering the lasagna sheets.
Follow with another layer of ragu' or bolognese sauce.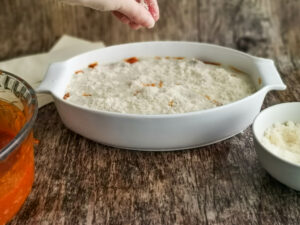 Top with one layer of bechamel sauce.
Finish with parmesan cheese.
Repeat at least one more layer, or even two if your dish allows it.
You want to finish with the bechamel and parmesan on top.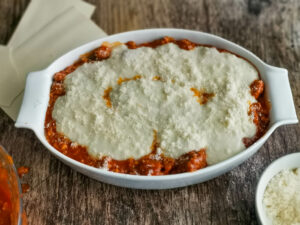 Bake for 30 minutes in a preheated oven.
Take out of the oven and leave to cool for 20 to 30 minutes.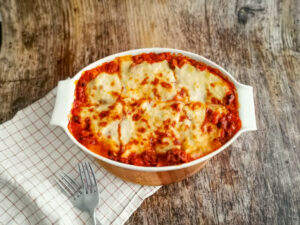 Serve your homemade lasagna with bechamel sauce and enjoy.
Tips
When cooking the ragu' or bolognese sauce, try to mash slightly with your spoon the mince, so it doesn't cluster into big lumps. These are tasty but they take space and result into fewer lasagna layers. Alternatively, you can use a very deep dish.
Any leftovers are delicious enjoyed in the next few days.
Many people also freeze lasagna, but we don't suggest it.
How long does lasagne take in the oven?
The exact time lasagne take in the oven depends on the lasagne pasta you are using. Check the packaging instructions for the exact timing. However, on average it takes between 30 and 40 minutes in a preheated oven at 180° Celsius. If you were to pre-boil the lasagne sheets, the cooking time would be reduced to 25 minutes.
How much bechamel for lasagna?
Usually, 400 ml bechamel sauce is enough for a large dish of lasagne. However, you may want to use a little more to make up for a very thick red sauce.
Can you make lasagna without bechamel?
Yes, you can make lasagna without the white bechamel sauce. However, if you truly want the classic tasting rich lasagna, you shouldn't skip using bechamel sauce. If dairy is the problem, you can make bechamel sauce dairy free or buy it packed at the supermarket.
How to layer lasagna with bechamel sauce?
Bechamel sauce is layered on top of the red meat sauce. Traditionally, you start layering the red meat sauce first, followed by the lasagne sheets, more red sauce, and then goes the bechamel sauce, followed by grated parmesan cheese. You then repeat all the layers once or twice more.
Does traditional lasagna have bechamel?
Yes, traditionally lasagna is made with bolognese sauce and bechamel sauce. Bechamel sauce originated in Tuscany, where it was also called 'salsa colla' translated to glue sauce.
Is it lasagne or lasagna?
Both lasagne and lasagna are grammatically correct, as one is the singular noun (lasagna), and the other is the plural noun (lasagne). Fun fact, lasagne seems to be the term most used both in spoken and written format.
How many layers should lasagna have?
Lasagna should have at least 2 layers but preferably three. If you want yours to have three layers of everything make sure to use a deep casserole.
What is the difference between lasagna and lasagna al forno?
There's no difference as lasagna is always cooked in the oven, and that's exactly what lasagna al forno means ' oven baked lasagna'.
What is the last layer of lasagna?
The last layer in authentic Italian lasagna is always grated parmesan. Feel free to use a vegan or lactose free parmesan if you are intolerant or vegan. And if you want to try something different, that is even more flavourful than parmesan, use grated pecorino cheese.
How long does cooked lasagne last in the fridge?
Cooked lasagne normally lasts up to 3 to 4 days in the fridge. We suggest covering lasagne before storing it, but only after it has cooled completely. Covering it with aluminium foil is fine for up to 2 days. For longer storage, it's best to store lasagne in a sealed container.