Tri-coloured pasta with cauliflower, sundried tomatoes, and bacon
The sauce to prepare this recipe is as fast as it is tasty. Its surprising flavour is due to the cooking method and the combination of simple and seasonal ingredients. We use tri-coloured pasta to enhance the presentation.
Ingredients for 2 people
coloured pasta gr.200
bacon 2 slices (thinly sliced)
cauliflower 1/2
garlic 1 small clove
fresh parsley 1 tuft
extra virgin olive oil 3 tablespoon
salt
pepper
vegetable broth (or meat broth as needed)
chili peppers (optional)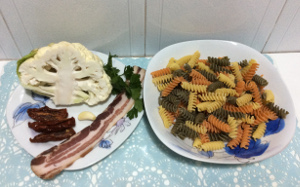 Equipment
Non-stick frying pan, chopping board, knife, large sauce-pan.
Preparation
Divide the cauliflower into florets and wash well.
Wash the parsley and chop with a knife.
Cook the cauliflower in salted boiling water for 15 minutes.
Remove half with a slotted spoon, and set aside. Leave the remaining cauliflower in the cooking water, which will also be used to cook the pasta.
Meanwhile, cut the dried tomatoes and the bacon into small pieces.  Heat oil in a non-stick pan, add the whole garlic, tomatoes, and bacon.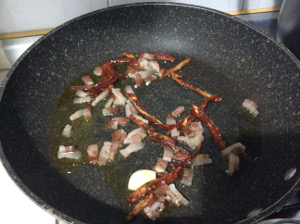 Next, add half of the drained cauliflower, cover, and cook with broth (or its cooking water as an alternative).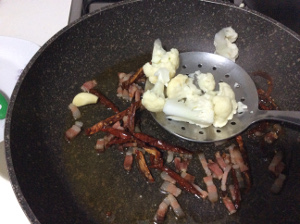 Season with salt and pepper and cook for 5 minutes, remove garlic, then add the chopped parsley.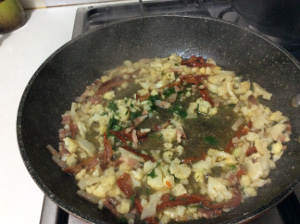 Meanwhile, cook the pasta with the cauliflower left in its cooking water.  Drain when al dente and set 1 cup of cooking water aside.  Toss the drained pasta in the pan with the sauce, adding some of the reserved cooking water if necessary.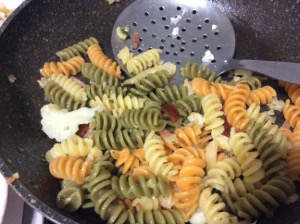 Plate and serve!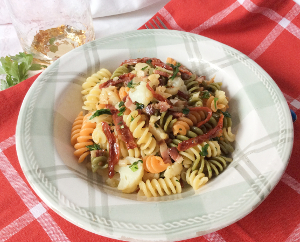 Tips
This recipe goes well with a variety of short pasta shapes, such as strozzapreti, shells, and orecchiette.  You can even use whole wheat pasta with this type of sauce.
If you like spicy dishes, you can add a teaspoon of hot pepper cream to the sauce (add it to the sauce at the very end of the cooking). If you are a vegetarian you can replace the pancetta with toasted nuts, such as pine nuts, or with smoked-diced seitan.