No Yeast Pizza Dough – Puglia Italy Flavours
We couldn't end the month without the most typical Italian dish….. pizza. And since we still have two days until the end of 'Get fit with Gusto January', we chose to make a simple pizza. It's called Pizza Pugliese, and is similar to a Margherita but we are adding onions. The best part is that it is a no yeast pizza dough, so you can make it in under 30 minutes.
Ingredients
1.5 cups Italian flour 00 (190g)
1/2 cup water (100 ml)
A drizzle of a high-quality extra virgin olive oil
1/2 teaspoon salt
1 teaspoon baking powder
3.5 tablespoons tomato passata
salt and pepper to taste
A dash of oregano
4 slices onion
80 grams mozzarella cheese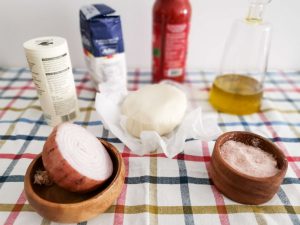 Preparation
Start by measuring the flour and placing it in a bowl. Add the salt and baking powder and mix well.
I am using baking powder instead of the regular yeast to obtain a pizza dough that is delicious but doesn't take 2 hours to rise.
Fill half a cup of water and add a drizzle of olive oil to add extra flavour to your dough.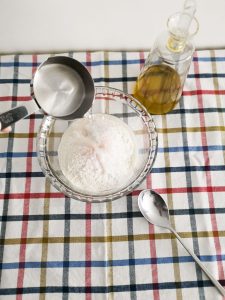 Pour the water into the bowl and mix everything until you get a dough that is neither too dry nor too sticky (should you need to, add a tablespoon of flour to reach the perfect consistency).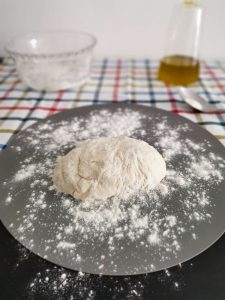 Roll the dough to form the shape of a regular pizza (I am using a silicone mat but you can use parchment paper or grease your dish).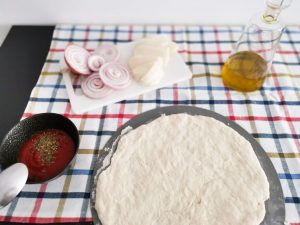 Next, pour the passata into a small bowl and season with salt, pepper, and oregano. Don't forget to add a drizzle of a good extra virgin olive oil for extra flavour. Then spread the sauce over the dough.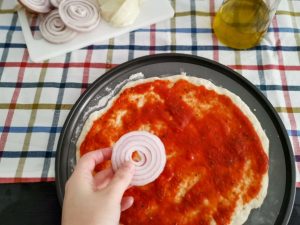 Time to top the pizza with the onion slices and the mozzarella cheese.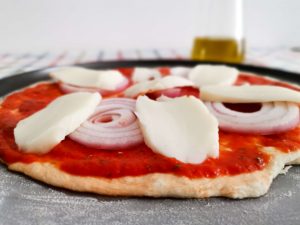 Bake for 15 to 20 minutes in a preheated oven at 180°C. Take the pizza out of the oven, slice and serve.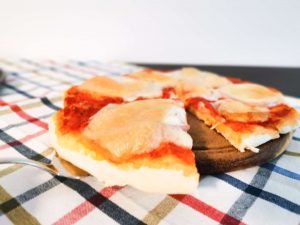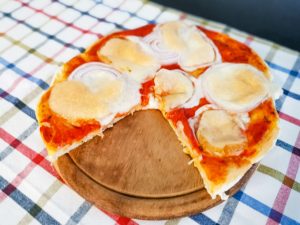 Tips
This pizza should amount to around 700 calories, so if you have a lighter breakfast and lunch you will be fine. Otherwise, you can divide it into two portions and serve it with a salad. If you want to add extra flavour without the extra calories, you can add these pitted olives.