Courgette Recipe – An Italian Courgette Casserole
For the third week of Healthy January with Gusto we are making a courgette recipe. It's a simple and healthy Italian recipe that you can enjoy as a starter or main course. This courgette casserole is so delicious you will probably end up making it a staple in your menu.
Ingredients
Large Courgettes 2
Extra Virgin Olive Oil 1 tsp (and more to drizzle)
Breadcrumbs 70 grams
Grated parmesan 40 grams
Sliced ham (prosciutto cotto) 5 slices
Smoked scamorza 150 grams (or regular scamorza cheese)
Parsley 3 tbsp (fresh or frozen)
Salt and pepper to taste
Preparation
Drizzle a little olive oil to lightly grease your dish. Put the dish aside and start slicing the washed courgettes sideways. You can use a potato peeler (leave the skin on or remove it, the choice is yours).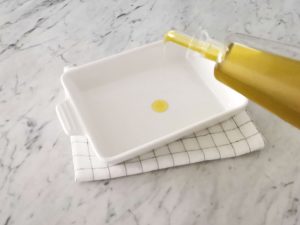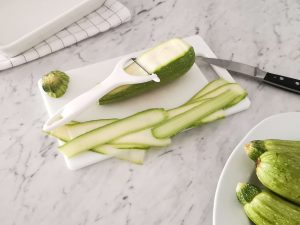 Next, put the breadcrumbs, grated parmesan, salt, pepper, and parsley in a bowl and mix well.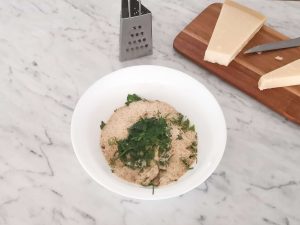 Before you start layering the ingredients, prepare the ham slices, and slice the scamorza.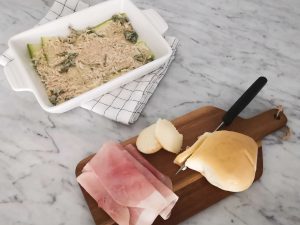 Start filling the bottom of your dish with one layer of sliced courgettes. Then top with the breadcrumbs mixture. Next layer one slice of ham, and continue by adding the sliced scamorza cheese.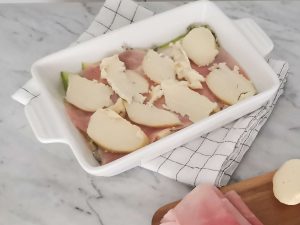 Repeat the process again, this time leaving out the scamorza cheese. I suggest you alternate one layer with the scamorza and one without to reduce the calories of this dish. Repeat with two more layers, or until you finish your ingredients. You can finish with the cheese on top or the breadcrumbs; either way, it will be as delicious.
Bake in a preheated oven at 160°C for 55 minutes, and place under the grill for 3 minutes. Take the courgette casserole out of the oven, let it cool, and enjoy.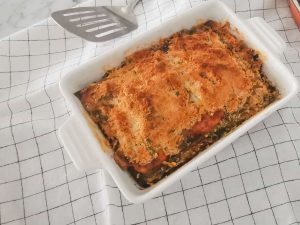 Tips
Should you have any issues finding the scamorza cheese, you can replace it with a soft cheese like galbanino, smoked mozzarella, or provolone. If you are trying to get fit this month, I suggest you to serve this with a salad like a tomato and rucola. Before you enjoy this, don't forget to add a drizzle of a high-quality extra virgin olive oil.