Ravioli with Italian Sausage and Broccoli Rabe
Who doesn't like ravioli? This simple recipe is full of flavour, what we Italians like to call Gusto, and is an easy one to make when you want something different but not too complicated.
Ingredients
250 grams ravioli with speck
1 piece Italian sausage
2 large garlic cloves
half jar broccoli rabe or cime di rapa
salt and pepper to taste
1/3 teaspoon sage
1 tablespoon breadcrumbs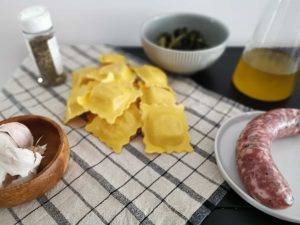 Preparation
Start by peeling and slicing the garlic. Next, remove the sausage skin and cut it into small pieces.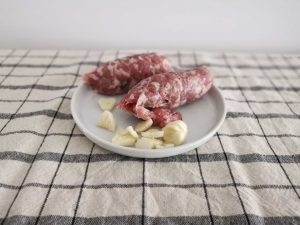 Take a pot, fill it with water, and put it over high heat to boil the water for the pasta. Don't forget to salt it.
While the water boils, pour some olive oil in a pan over low to medium heat, and add the garlic and sausage to saute'. After a few minutes, add the broccoli rabe or cime di rapa.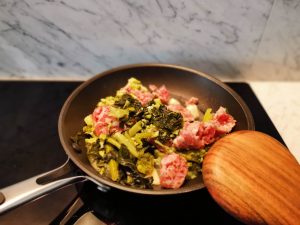 Time to throw the ravioli in the boiling water. While the pasta cooks, we can finish cooking our sauce.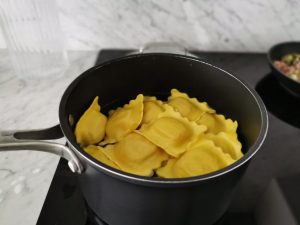 Season the ingredients in the pan with black pepper and sage, and add the breadcrumbs to give it the authentic Puglia Italy taste. Mix well.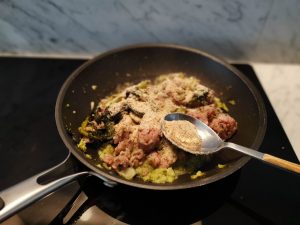 Take one ladleful of cooking water and add it to the pan. Toss the ingredients, and after a few minutes repeat again with two more ladlefuls cooking water.
Take the pasta out of the water and add it to the pan with the other ingredients. Toss gently not to break the ravioli, and serve.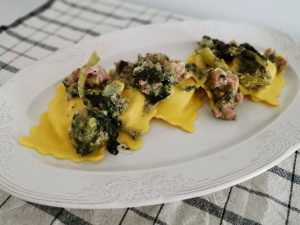 Tips
This recipe makes a very large portion, which can be split between two if eaten as a starter or a lighter meal.
If you can't find speck ravioli, you can use ricotta or prosciutto ravioli.
And if you like spicy, you can add a teaspoon of hot chili peppers spread.