Lamb Stew with Red Sauce – Italian Recipe
This lamb stew with red sauce is a traditional Italian recipe from Puglia Italy. It's another simple dish that is full of flavour and makes a perfect Sunday meal. You can prepare it ahead, place it in the fridge, and then cook it before lunch or dinner.
Ingredients
500g lamb steak, deboned and chopped
1 onion
6 small to medium potatoes
2 large tomatoes
salt and pepper to taste
1/2 teaspoon oregano and 1/2 teaspoon rosemary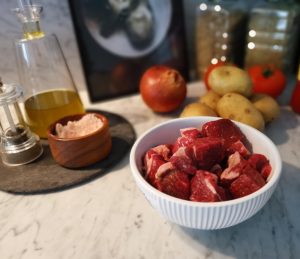 Preparation
Start by peeling and chopping your onion, potatoes and tomatoes. We suggest cutting them into medium chunks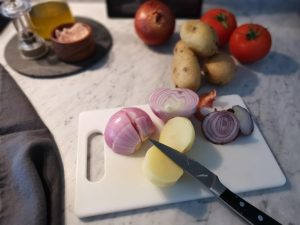 Next, take a baking casserole and drizzle a generous amount of olive oil at the bottom. Then start layering three fourth of your vegetables and top them with the pieces of lamb.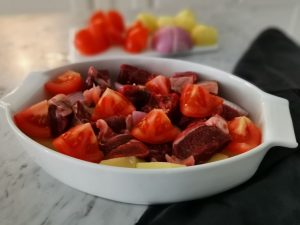 Add the rest of the vegetables, and season with salt and pepper. Then follow by adding the rosemary and oregano.
It's time to add the tomato sauce. We suggest you use a good quality Italian sauce to achieve a flavourful dish.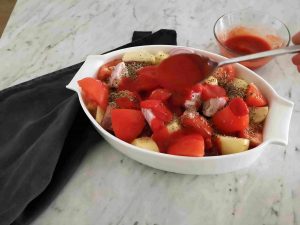 Finish with a few drizzles of high-quality olive oil.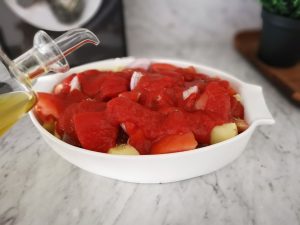 Bake in a preheated oven at 180 °C for 45 minutes to one hour.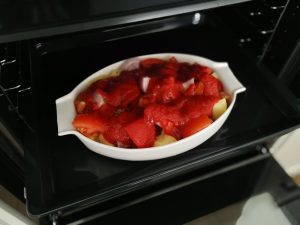 Take out of the oven, let it cool, and serve with a slice of crunchy bread.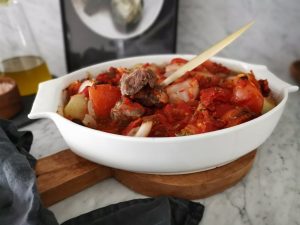 Tips
For those of you who like to start your meals with pasta, you can make a delicious pasta dish with this lamb sauce. If you choose to do so add a little more passata and seasoning to your lamb stew, and serve the sauce over boiled strozzapreti. This unique pasta shape is famous in Calabria and has a beautiful texture that goes amazingly well with a rustic sauce like this one.
This recipe serves two people. And if you opt to leave the pasta out, it is ideal when enjoyed with a piece of rustic crunchy bread.