Apple Tart also know as "Torta della Nonna"
When I think about my grandma I think about soft sponge cake and apple tart. Today we are making apple tart the Italian way, what we call torta della nonna. We are taking a shortcut and using store-bought ready to use shortcrust pastry but you can make your own.
Ingredients
shortcrust pastry (preferably round)
custard (I am using 75 grams powdered custard by Paneangeli)
300 ml milk
1 red apple
1 tablespoon saffron balsamic
icing sugar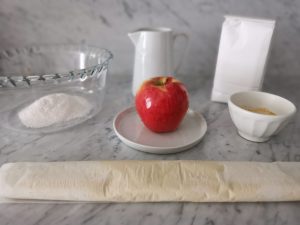 Preparation
Start by layering your pastry in the baking dish. If your pastry is too large for the dish, cut the extra parts and save for another recipe. If you prefer to make your own you can use this recipe.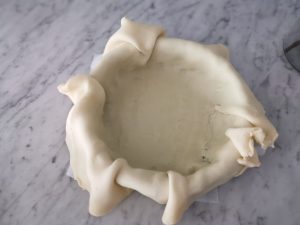 Next, put some pie weights or dry beans on top of the pastry and place in the oven to precook for 15 minutes.
In the meantime, prepare your custard. I simply added the milk to the powdered custard and used an electric mixer to whip it.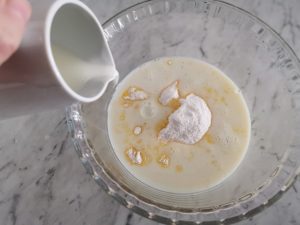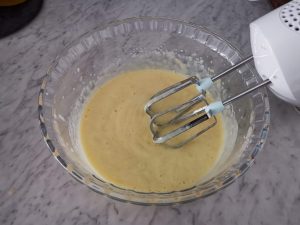 Slice the apple thinly, leaving the peel on for the added colour and nutrients.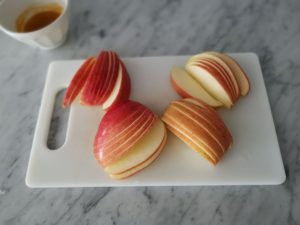 Take the tart crust out of the oven, fill it with the custard cream.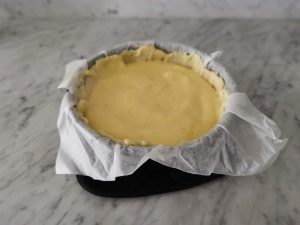 Next, layer the apple slices following the pattern you prefer. I tried to recreate a flower but you can choose to layer yours in a spiral from outside in or inwards out.
Brush the apples with the saffron balsamic for extra taste and a beautiful colour.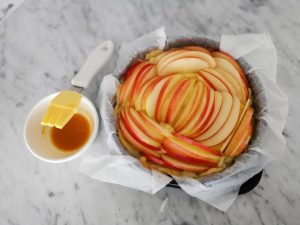 Place the apple tart in the oven to cook for 30 minutes.
Take the apple tart out, let it cool, transfer it on a serving plate and cover it with icing sugar.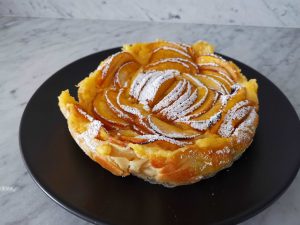 Tips
This is delicious served on its own but you can also accompany it with whipping cream or vanilla ice cream.
If you didn't know, saffron is similar to turmeric and is a member of the ginger family. If you don't like saffron, you can opt for this orange balsamic.