Flat bread with aubergine patè
With Summer approaching you are probably craving more fresh and light lunches. Whenever you have such cravings I suggest giving this flat bread recipe a try. It features the popular Piadina Romagnola, a delicious  aubergine pate` along other staples of the Italian pantry. Keep reading to learn how to make it at home.
Ingredients
Piadina Romagnola (one or two per person)
Italian cotto ham
Rucola
High quality extra virgin olive oil (like this one)
Provolone cheese
Cherry tomatoes or sundried tomatoes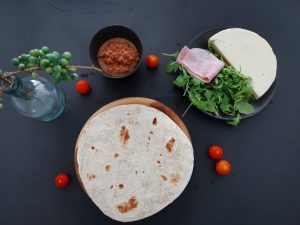 Preparation
The first thing to do is to prepare your ingredients. Take your cheese and cut it into thin slices. I used 5 thin slices per piadina but you can use as much as you like.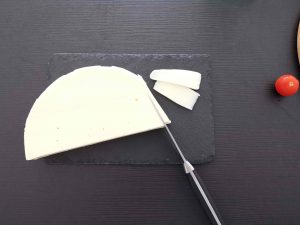 Next, take the cherry tomatoes and cut them into halves. I used about three cherry tomatoes for each flat bread.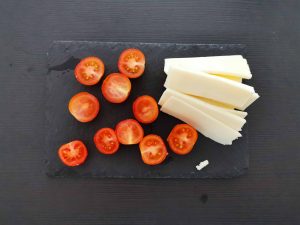 Then take the ham out of the fridge, along with the rucola.
Prepare your rucola in a bowl and season it with salt, black pepper and oregano. Don't forget to add a generous drizzle of a high quality extra virgin olive oil.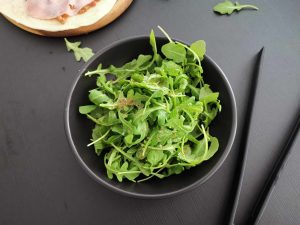 You are now ready to assemble your flat bread. Start by spreading the aubergine pate` at the bottom. I used 3 teaspoons pate` for each piadina.'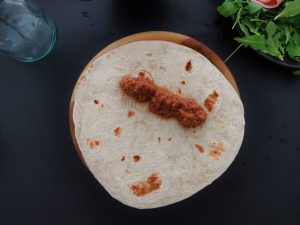 Next, layer a slice of the cotto ham or your ham of choice. I used one slice for each flat bread.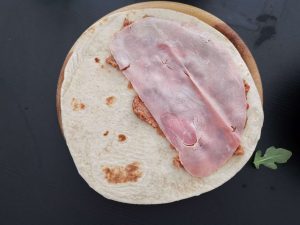 Follow with a handful of rucola and a couple cherry tomatoes.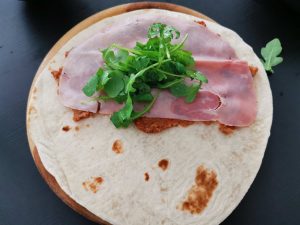 Finish with the slices of provolone cheese.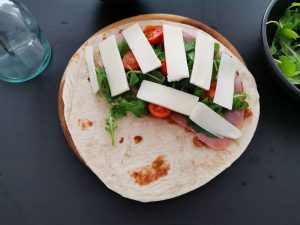 The final step involves lightly toasting your flat bread so that the piadina becomes crispy and soft and the cheese melts.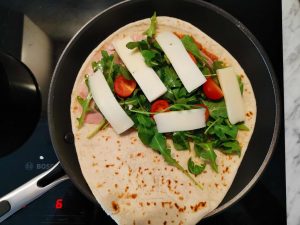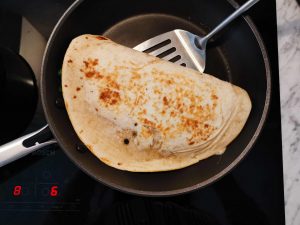 Once you have toasted it on each side, following the tips below, you can serve it in a plate and enjoy.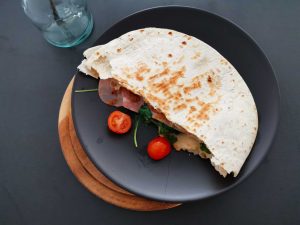 Tips
To avoid your flat bread from breaking, I suggest you to place the flat bread open on your hot pan. Leave it to toast for around 3 minutes, and then using a spatula close it by flipping half over the other side. If you try to close the piadina when it's uncooked and cold, chances are that it will break like it happened with my first one. For more piadina recipes ideas click here.