Amatriciana pasta – a simple Italian pasta recipe
The origins of the amatriciana are not clear. However, we know for sure it comes from the Lazio region in Italy. In fact, it is one of the most popular Italian recipes. If you like tomatoes, bacon and cheese this is the pasta for you, so keep reading.
Ingredients
Cubed bacon (50 to 100 grams)
The best extra virgin olive oil you can find (like this one)
Country basil sauce (4 tablespoons)
Cherry tomatoes – about 8
Salt and pepper
Pecorino cheese
This serves two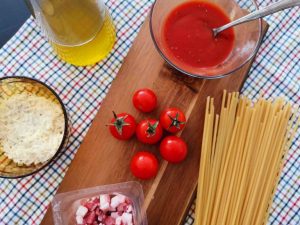 Preparation
Start by boiling the water (and if you are not following us on Instagram @tastewithgusto, you should as we recently posted about the right way to boil pasta)
When the water is boiling, throw your bucatini in the pot.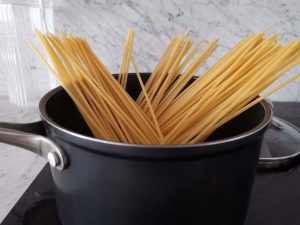 While the pasta cooks, you can prepare your sauce. Start by cutting the cherry tomatoes in half. The original recipe calls for chopped tomatoes but I like to use cherry tomatoes instead.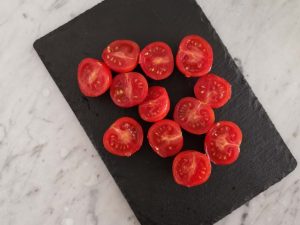 Next, you want to start cooking the star of the amatriciana pasta…the bacon. Heat a large pan, add a drizzle of extra virgin olive oil, and let the bacon cook in it at low heat.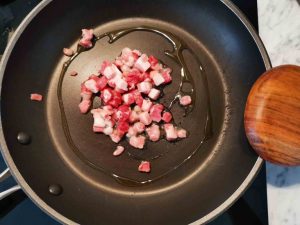 After a few minutes, stir in the chopped cherry tomatoes.
Let the tomatoes and bacon cook for at least 10 minutes. Season with pepper and just a pinch of salt.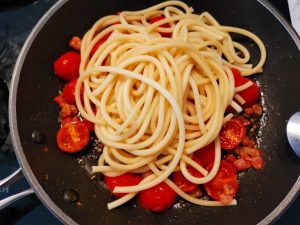 By now, your bucatini should be ready. Set aside some cooking water, drain the pasta and throw it in the pan with your sauce ingredients.
Next, add the country basil sauce.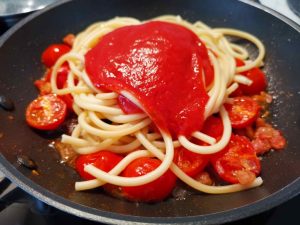 Mix well and let it cook for a few more minutes so that all the flavours combine well.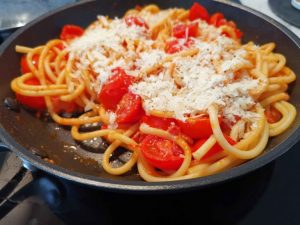 Finally, add the pecorino cheese and mix well.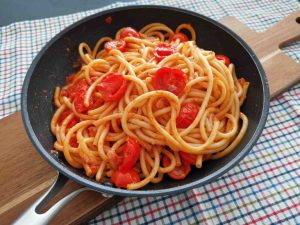 Take the pan over to your table and serve, or you can serve now if you prefer. Feel free to add more pecorino on top and drizzle some more olive oil.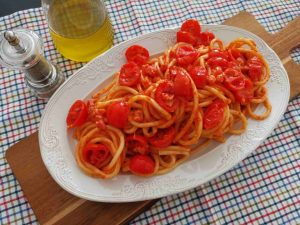 Tips
Don't wait too long to serve and enjoy this as it might get dry. If you notice the pasta is slightly dry when you add it to your pan and mix it with the ingredients, you can add some of the cooking water set aside along with some more country basil sauce.
The post Amatriciana pasta – a simple Italian pasta recipe appeared first on Cook With Gusto.