Croquettes or crocchette di patata
As a kid, croquettes were my favourite. I remember buying them from a shop near my school together with sausages whenever I had to stay longer at school for extra curricular activities. We would eat them on a picnic bench inside the park next to our school. If you too love potatoes and sausages you are going to find this recipe irresistible, I promise, and so are all your Aperitivo guests. Let's start shall we?
Ingredients
Tarallini for your breadcrumbs (traditional or with fennel)
Fennel seeds and dried sage
Parmesan
White potatoes ( 5 medium to make 6 giant croquettes)
1 slice Italian sausage
provolone cheese 40 grams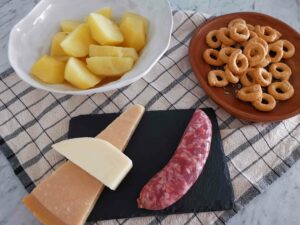 Preparation
First, peel and cut your potatoes.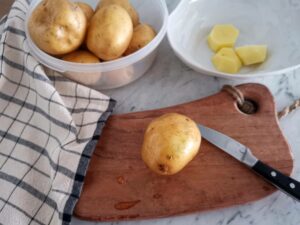 Then place them in water to boil.
In the meantime, take your plain tarallini, add them to a food processor and add fennel seeds. Blitz until you reach a breadcrumbs consistency. (PS: if you don't like fennel seeds, you can add another herb instead)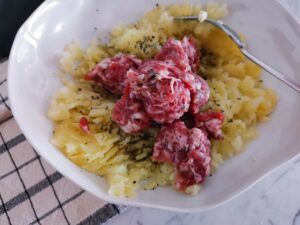 When the potatoes have cooked, take them off the heat, transfer them to a bowl, and mash them with a fork.
Next, season with salt and pepper, and drizzle some olive oil. I also added some dried sage.
Then, take your sausage, remove the skin and add the sausage to the potatoes. Mix everything until combined.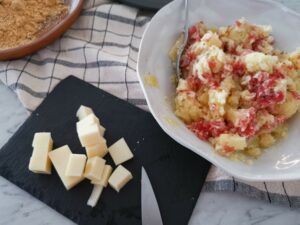 Grate the parmesan on top of the potatoes and sausage, and combine.
Cut your provolone into cubes, and set aside.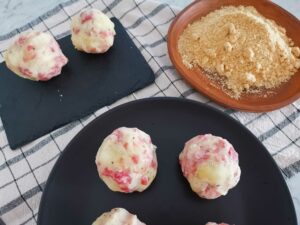 Start making the croquettes by taking a big spoon of potatoes mixture, placing it in your hand, adding a cube of  cheese into the middle, and then adding some more potatoes mixture on top. Close with your hands so that a big ball is formed.
Repeat until you use all the mixture and cheese.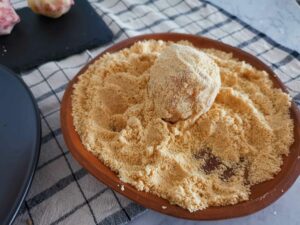 Then, roll each croquette into the tarallini crumbs. Roll them multiple times so you get more crumbs around the croquettes for extra crispiness.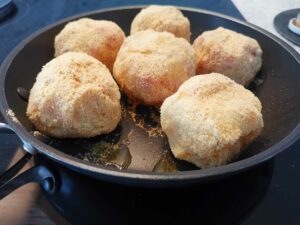 Heat a pan with some extra virgin olive oil, and add the croquettes to lightly fry.
Every few minutes turn the croquettes on one of the sides, and repeat until all croquettes are browned.
Take off the heat, and serve on a bed of lettuce, perhaps with your favourite Aperitivo drink.
Tips
For a vegetarian version, replace the sausage with sundried tomatoes.
The post Croquettes or crocchette di patata appeared first on Cook With Gusto.