Healthy Sandwich Idea – Italian style
If you are looking for new lunch ideas for work or school, today we have a healthy sandwich idea for you which bursts with Italian flavours. It features some yummy vegetables, and by using mozzarella instead of a high fat cheese, we are reducing the calories too
Ingredients
2 panini or your favourite bread
cherry tomatoes (about 5)
fresh large mozzarella
artichoke hearts (2 to 4)
sundried tomatoes (about 4)
prosciutto cotto (2 slices)
salt, pepper, oregano
Preparation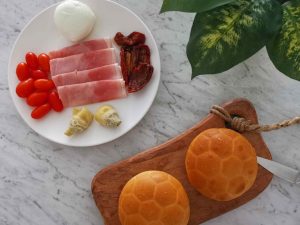 You can start by taking out all of your ingredients and placing them on the counter. This is especially useful if you are trying to batch prepare many sandwiches at once for kids, hubby, and yourself.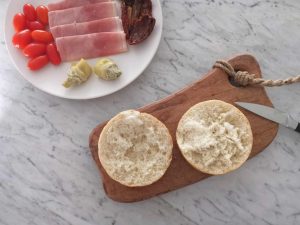 Next, take your bread and cut it. In this case, I sliced my panini in half.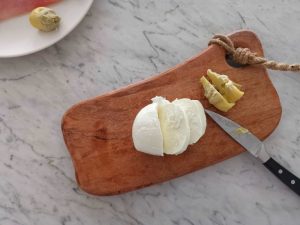 You then want to start pre-cutting your ingredients, including the mozzarella and artichokes, and if you prefer also your sundried tomatoes. Don't forget to cut the cherry tomatoes too.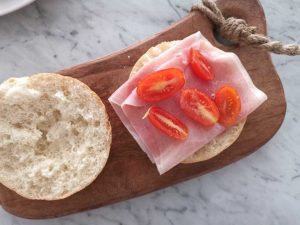 You can now start assembling your healthy sandwich panini. I started with the ham, and followed with the cherry tomatoes. At this point, you can also season with salt and pepper.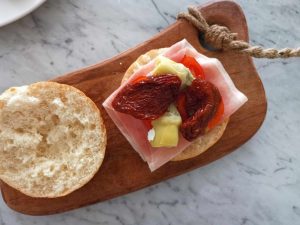 Next, layer the artichokes hearts and the sundried tomatoes. You don't want to skip these as they are going to be the star of your sandwich. Make sure you have some great quality ones, like the ones we stock online and at the shop.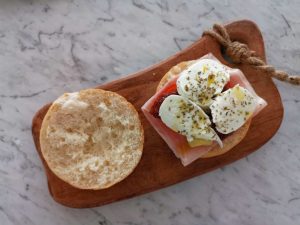 The final step is to top with the mozzarella slices, add some oregano, and drizzle a great quality extra virgin olive oil.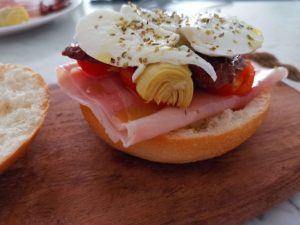 Here is a close up of how delicious this looks. If you take this to work, everyone is going to ask you what's inside, especially if you place it in the fridge as it will fill the fridge with a wonderful Italian aroma. Make sure to share this healthy sandwich idea with your friends and colleagues.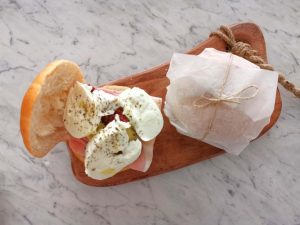 If you can take a few minutes, I suggest closing your healthy sandwich with some baking paper and some rope styled tie. This will not only keep it secured, but will also make it aesthetically pleasing to the eye.
Imagine taking these nice packed healthy sandwiches at work or school, and enjoying them for lunch. Both your eyes and tummy will be pleased
Tips
If you are trying to watch your calories, you may want to have one instead of two, together with a side salad. Feel free to get creative, and replace any of the veggies with your favourites. You can find a large assortment of vegetables here.
Regarding your bread, try to opt for something which can hold the moisture. Sandwich bread, unless toasted, might get too wet, especially if you have to leave it overnight or all morning to rest. For another healthy sandwich ideas you can browse the blog.
The post Healthy Sandwich Idea – Italian style appeared first on Cook With Gusto.