Pumpkin Pie for Autumn with balsamic vinegar di Modena
How about a delicious pumpkin pie, perfect for the autumn season? This one it's not a sweet one though, it's savoury and all the flavours are accentuated by the use of a high quality Modena balsamic vinegar. It's the perfect vegetarian dish to throw together when you have unexpected guests.
Ingredients (makes 2 portions, either one large pie or 2 small)
800 g to 1kg pumpkin, whole or pre-cut
1 orange pepper medium
1 small or medium onion
1 store bought rolled puff pastry (feel free to make your own)
1 Valsoia besciamella (feel free to make your own besciamella)
parmesan (40 grams)
sage, dry or fresh
salt and pepper

Preparation
Start by washing and cutting your pumpkin, if not already pre-cut.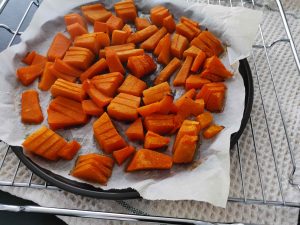 Bake in the oven onto two separate trays for half an hour.
In the meantime, cut your onion and pepper, and saute` with olive oil in a pan. Lower the heat and let them cook for 20 minutes.
When the pumpkin is cooked, you can add it to the rest of the vegetables, and season with salt and pepper.
When your vegetables are done, you can layer your puff pastry on some parchment paper, and cook it in the oven for 20 minutes. Then turn it, and cook on the other side for 5 minutes. You can either use pastry weights, dry beans, or use a fork to deflate the pastry every 10 minutes.
When the pastry has cooked, take it out of the oven, let it cool and then top it with the vegetables mixture.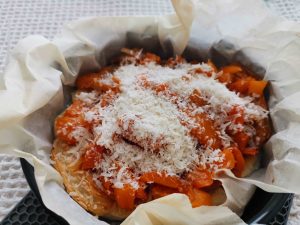 Add the besciamella on top of the vegetables, then the parmesan.
You can cover with strips of pastry, if you have any left.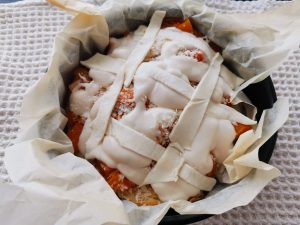 Sprinkle with the sage, and bake for 15 to 30 minutes depending on whether you have added the pastry. Alternatively, you can bake for 15 minutes and put under the grill for 3 minutes.
When ready, take out of the oven, let it cool and serve it with a generous drizzle of extra virgin olive oil and balsamic vinegar di Modena.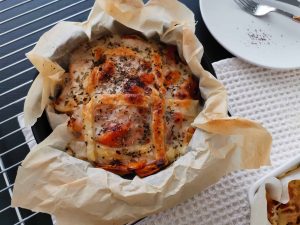 Tips
If you want to make this vegan, you can opt for a vegan puff pastry and vegan cheese.