Vegetarian Stew soup from Italy
If you are a pumpkin lover like me, you are going to enjoy this recipe. It's a hearty vegetarian stew soup with a chunky consistency that is great to make during the week now that the temperatures are dropping. It also includes delicious toppings like mozzarella di bufala and crunchy bread croutons.
Ingredients (Recipe makes 4 portions)
1 large potato or 2 medium
a handful of celery pieces, pre-cut (you can use fresh or frozen)
1 onion diced
a big container full of pumpkin (use as much as you want, around 1kg)
1 vegetable stock
salt and pepper to taste
rosemary and thyme, dry or fresh
half tablespoon corn starch (I used tapioca starch)
water
mozzarella di bufala or burrata (half per person)
bread of your choice

Preparation
Start by dicing the onion and cutting the potatoes into medium long pieces.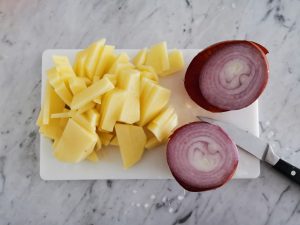 Add a generous amount of oil to your pot, turn on the hob or stove, and add the onion, potatoes and celery. Let it stir-fry for 15 minutes or longer until golden.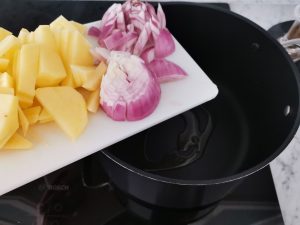 When golden, add the pronto ready spaghetti and stir to combine with the vegetables.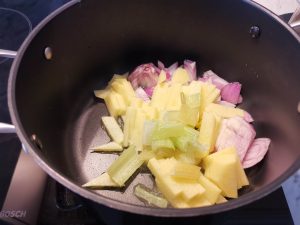 At this point, you can add all the pronto ready spaghetti.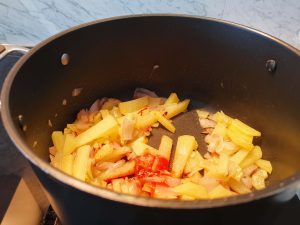 Next, add the pumpkin and season with salt and pepper, and add a generous amount of rosemary and thyme.
Add the vegetable stock pot or cube, and add enough water to cover all the ingredients in the pot.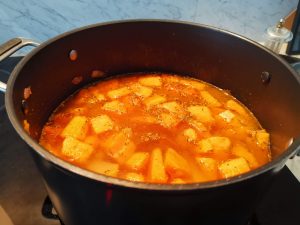 Let it simmer for 15 minutes with the lid on, and then add the corn starch.
Mix well, and let it simmer for another 10 minutes with the lid on.
Remove the lid, and let it simmer for the last 10 minutes. You can leave it to simmer longer if you prefer it less watery.
In the meantime, grill your bread in the oven or in the toaster, and cut into croutons. If you feel like it, you can toss the croutons with a little extra virgin olive oil and salt and pepper in a pan.
Take off the heat, let it stand for a few minutes, and then serve.
Top with half mozzarella the bufala per person, and as many croutons as you like.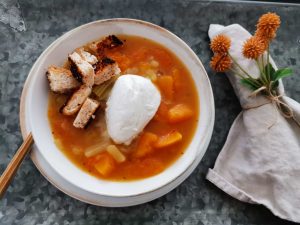 Tips
This can also be enjoyed by vegans, in which case you can replace the mozzarella with vegan cream cheese.