Vegetarian Pasta Bake – Our Take on Feta Tomato Pasta
Today's recipe is very simple but unbelievably tasty. It's a vegetarian pasta bake full of flavour but also pretty healthy. It's our take on feta tomato pasta that took Tiktok by storm. Obviously, we are using a typical Italian cheese instead of feta; 0urs is Tiktok Pasta with ricotta. We are also using a high quality Italian extra virgin olive oil and a traditional Belmorso pasta shape that stays aldente.
Ingredients
A large bowl of cherry tomatoes (I would say at least 12 per portion)
4 medium garlic cloves per portion
Belmorso extra virgin olive oil
ricotta cheeselets (40 g per portion)
salted ricotta cheese (40g per portion)
salt, pepper, dry oregano
plenty of fresh basil
wholemeal strozzapreti pasta
Preparation (makes two medium portions)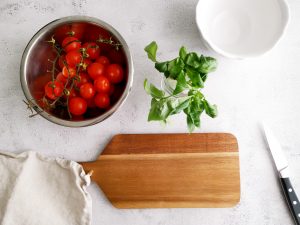 First, wash and half all your cherry tomatoes. Make sure to double the amount depending on the number of portions you are preparing. This holds for all ingredients.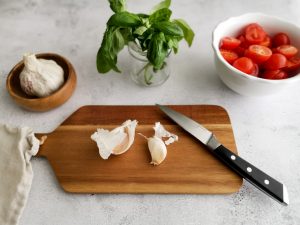 Then peel and half the garlic cloves.
Take both types of ricotta cheese out of the fridge.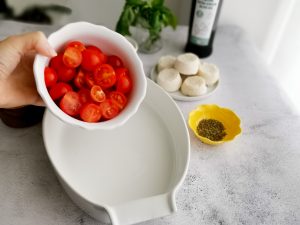 Transfer the cut cherry tomatoes in a casserole (choose the size based on the number of portions).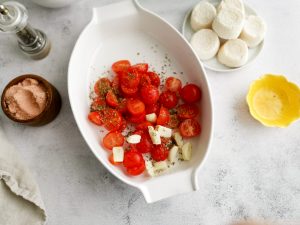 Then add the garlic. Drizzle plenty of extra virgin olive oil (about 6 tablespoons per portion).
Season with salt and pepper; and add the dry oregano flakes. Mix well.
Add the ricotta cheese in the middle.
Bake in a preheated oven for 25 minutes.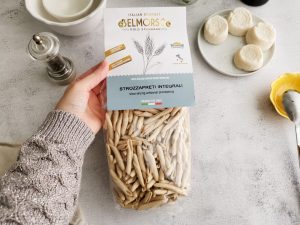 In the meantime, cook your pasta following the packaging instructions. The strozzapreti pasta we used takes about 15 minutes to cook. Make sure you have seasoned your pasta water well.
While the pasta cooks, wash and chop the fresh basil. Grate the salted ricotta cheese, prepare more dry oregano, and extra virgin olive oil.
Take out the cherry tomatoes from the oven. And add the grated ricotta cheese, some more oregano flakes, the fresh basil, and a generous drizzle or two of extra virgin olive oil. Mix well.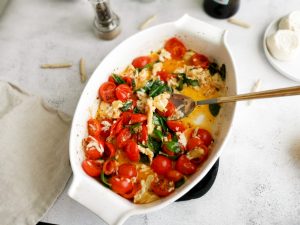 Set aside some cooking water, about 1/3 cup per portion.
Drain the pasta and add it to the casserole with the ricotta and cherry tomatoes.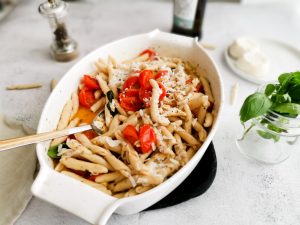 Mix everything together and add as much cooking water as needed.  Mix again lightly.
Serve and enjoy.
Tips
You can enjoy the leftovers for lunch the next day. This makes a great staple pasta recipe both for Winter and for Summer. In Winter you can enjoy it warm straight out of the oven, and in Summer you can let it cool and serve it at room temperature or even cold.