Vegan Mushroom Risotto with Chilli
Do you love Italian but also like spicy food? If so this is the recipe to try. It's a tasty classic mushroom risotto with Belmorso hot chilli spread, and it is perfect whether you are vegan, looking to eat less meat, or just feel like a mushroom risotto with a kick.
PS: If you are not vegan, simply substitute the vegan parmesan with regular parmesan.
Let's get started, shall we?
Ingredients (makes 2 medium portions)
1/3 medium onion
50g vegan butter
3/4 tablespoons high quality extra virgin olive oil (like the Belmorso EVO)
5 Portobello mushrooms (feel free to use another type)
1 cup Carnaroli rice
1 teaspoon Hot chilli Paté (or 2 teaspoons if you like it very spicy)
2 pots vegetable stock (or you can make your own stock)
3.5 cups water for your stock
3 tablespoons grated vegan parmesan
salt and pepper for seasoning
some parsley for garnishing
Preparation ( Watch our recipe video on Instagram @tastewithgusto)
Start by cleaning and cutting your mushrooms (if your mushrooms are not too dirty, you can peel them, and wipe them with a cloth).
Then cut the onion.
Prepare the stock by melting the stock pots in the amount of water indicated above. Your water should be boiling. Alternatively, heat up your homemade stock. Either way, make sure to leave your stock over the heat while you are adding it to the rice. It's important the stock is hot, almost boiling, so that the rice cooks properly.
Next, prepare all your ingredients on the countertop close to your stove or hob.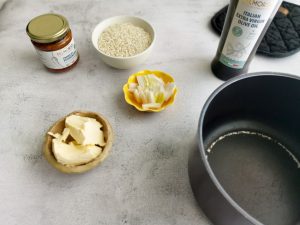 Add half the butter with the extra virgin olive oil to your pot, and let the butter melt.
Then, add the onion and mix well; leave until slightly golden.
Next, add the mushrooms and mix gently.
In the meantime, add the rice in a hot empty pan and let it toast, tossing it around with a spoon. This allows the rice to toast and to retain an aldente texture, plus it brings out the rice flavour. Do this at low to medium heat while you keep tossing the rice for about 4 minutes.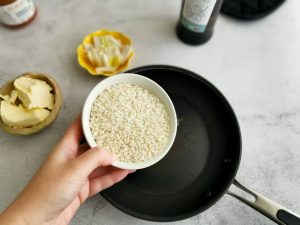 Take the rice and add it to your mushrooms and onions soffritto. Fold gently, and season with salt and pepper.
At this point you can add one or two teaspoons of the hot chilli peppers spread, depending on how spicy you like your food.
Take one cup of broth and add it to the rice. Mix gently from the centre towards the border of the pot, and let the rice absorb the stock. Keep your stove/hob at medium level.
Repeat the previous step until you have added all your stock, one cup at a time. This should take you about 20 minutes approximately.
Once you have added the last cup, let the rice absorb the water, and once you see there is no extra water but the rice is still nice and creamy, take it off the heat.
It's now time to add the rest of the butter, and fold it in gently, letting it melt while the rice is still hot.
Next, add your parmesan and mix. Voila`, your creamy mushroom risotto is ready.
Finish with the parsley, and serve.
Tips
If you can't stand spice but would like to add some flavour we suggest using just half a teaspoon. If you want to add more vegetables, you can definitely add some carrots. And as we said above, if you are not vegan you can obviously use regular parmesan. Finally, if you like a big portion you may want to double the recipe and you would have two large portions and some leftovers for the next day.