Farfalle pasta with simple pasta sauce
Today's recipe is all about making a tasty meal when you are either in a rush or can't bother to cook for long. We are making a farfalle pasta recipe with simple pasta sauce. The key is using high quality ingredients like our Belmorso farfalle pasta and sundried tomato pesto (Pronto Spaghetti). And this also makes a great dish to get in the Carnival mood, or just lift your spirits, with all the vibrant colours of the farfalle allegre and the broccoli.
Ingredients (makes one big portion)
180 grams Belmorso Farfalle Pasta
1/3 of a small broccoli
2.5 teaspoons Belmorso Pronto Spaghetti pesto
parmesan (optional)
Preparation
The first step is to put the water for the pasta and broccoli to boil, that way by the time you finish preparing your broccoli the water will be boiling.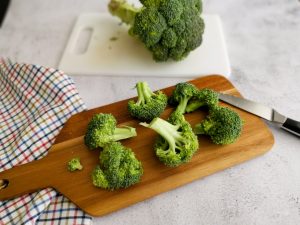 Next, take your broccoli and cut 5/6 florets. If they are big cut those in half. Then wash them, put them in a bowl and set them aside.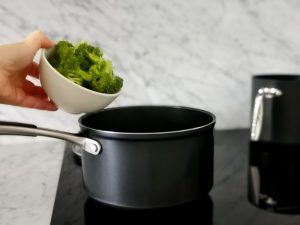 When the water is boiling, throw the broccoli to cook for 10/15 minutes, even less if you like your broccoli on the raw side.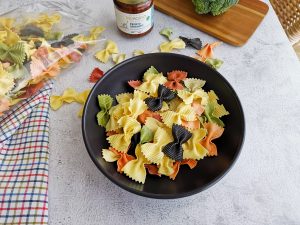 After 10 to 15 minutes, add your pasta to the pot to cook together with the broccoli. This pasta takes around 10 minutes, even less if you like it aldente.
Set aside some pasta water, drain the pasta and the broccoli, and add it back to the same pot.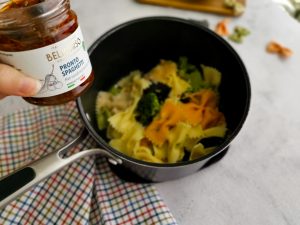 Take the pronto spaghetti and add 2.5 full teaspoons to the farfalle pasta and broccoli. Add some of the pasta water set aside and mix well.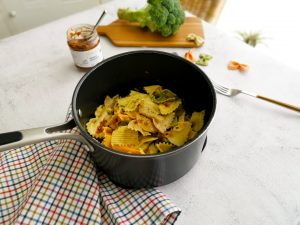 Serve with some grated parmesan, and enjoy.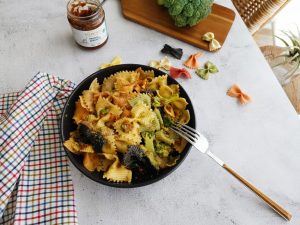 Tips
If broccoli sounds too healthy, or you happen to not like them, you can replace them with baked aubergines or zucchini, or leave out the vegetables. This is a pasta recipe that both adults and kids will enjoy, and one that is perfect for the Carnival period given the colourful pasta. It also makes a great pasta to prepare ahead and enjoy the next day at work, or for a quick lunch at home. You can even add more vegetables and turn this into a pasta salad for summer.