Lentil Bolognese with Pronto Spaghetti
Have you been looking for a great lentil bolognese recipe that is as delicious as the real deal but meat free? If so, I am happy to tell you that you just found it. Have a go at making this lentil bolognese and you won't be disappointed. I also would like to suggest you make a few extra portions, because it's so good you will want to have it for lunch the next day and also store some in the freezer for a rainy day.
This recipe makes 2 good sized portions (although the sauce might actually be enough for 3 medium portions).
Ingredients
3 garlic cloves
half an onion
12 cherry tomatoes
2 small carrots
1 stalk celery
Belmorso extra virgin olive oil
1 can brown lentils
salt, pepper, and oregano
2 teaspoons Belmorso Pronto Spaghetti
400 ml Italian passata
250g strozzapreti pasta
a few tablespoons grated parmesan (about 3)
Preparation
It's important that you start by washing and cutting your cherry tomatoes in half, so you can roast them for 30 to 40 minutes in the oven. Once cut, transfer to a lined baking dish, and season with salt and pepper and a generous amount of dry or fresh oregano. Place in your pre-heated oven to roast for 35 minutes.
While your cherry tomatoes roast, you can start preparing the veggies for the lentil bolognese. Peel, wash and cut the garlic and onion, cut the celery and carrots all into small pieces.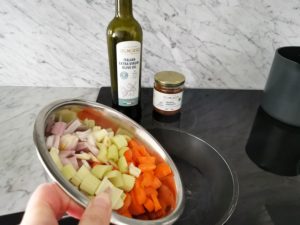 Add some extra virgin olive oil to a pot over medium heat, and transfer all the pre-cut veggies to sauté. Leave to sauté` for 20 minutes; you can start with a medium heat, and lower it after a couple minutes.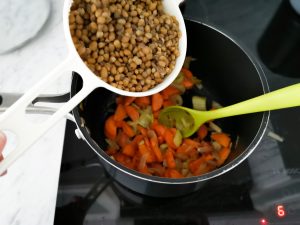 In the meantime, take your lentils out of the can and rinse them under your tab water to remove the excess starchiness. Once the 20 minutes have passed, you can add the lentils to the vegetables, and mix well.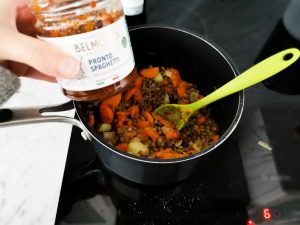 Season with salt and pepper, and add the 2 generous teaspoons of Pronto Spaghetti. Mix well.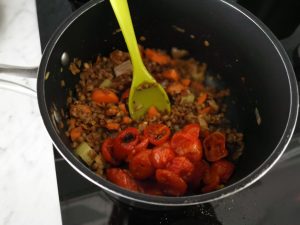 Next, add your cherry tomatoes, which should have come out of the oven already.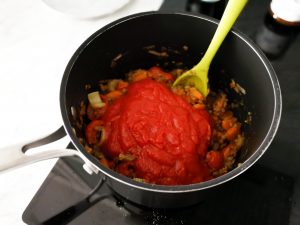 It's now time to add the passata, mix everything together and leave to simmer for 20 minutes.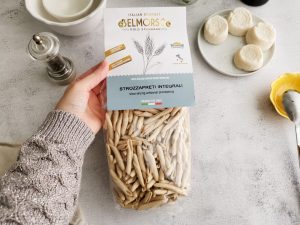 That gives you plenty of time, to boil the water for the strozzapreti pasta, and cook the latter. And in the meantime, you can even wash the dishes.
Once the lentil bolognese sauce has finished cooking, and the pasta is ready, it's all about plating.
Add a portion of pasta to your plate, and top with plenty of lentil bolognese sauce. Then finish with some grated parmesan, and a drizzle of extra virgin olive oil.
Tips
If you are vegan, simply replace the parmesan with a vegan alternative. As mentioned before, any leftovers can be enjoyed the next day, or stored in the freezer for a busy night.
In one of the pictures, you might have seen another Belmorso sauce – the Sweet Peppers Spread. That could be a great alternative to the Pronto Spaghetti if you want your lentil bolognese to have a more peppery than tomato taste.