Mushrooms Pizza with Novello
It's been a while since we shared a pizza recipe. And since tomorrow happens to be Mushrooms Day, this week's recipe is a mushrooms pizza featuring our Belmorso Novello Italian extra virgin olive oil. This is the best Italian extra virgin olive oil you can find in Ireland, and it's not only according to us but also to the thousands of customers who purchase it every year when it's in season.
Back to the mushrooms pizza recipe now. This is a tasty pizza that is perfect to make in large quantities and share with the family in front of the TV for movie night, or with a glass of wine for date night. And you can also have fun inviting friends over and preparing your mushrooms pizza together.
This recipe uses our exclusive extra virgin olive oil Novello, that's available once a year.

If you'd like to pre-order it, we suggest you sign up to our newsletter to be notified when the pre-orders open. Sign up here.
_______________________
Ingredients (for 1 large rectangular mushroom pizza)
Portobello mushrooms x16 (we used only 8 but I would suggest really doubling the quantity as the mushrooms were not enough :))
2 large onions
wurstel sausages x3
250ml tomato passata
150g mozzarella cheese
salt, pepper, and oregano
Belmorso Novello extra virgin olive oil
Preparation
Start by washing, peeling and cutting your onions into round thin slices.
Then, clean the mushrooms, peel them and slice them lengthwise.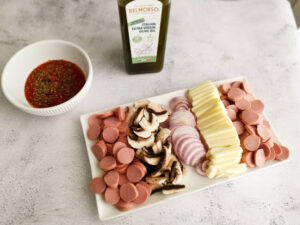 Set the onions and mushrooms aside, and cut the wurstel into medium thick slices.
Next, slice the mozzarella cheese, and set aside with the wurstel.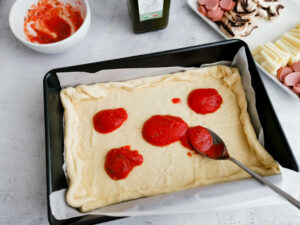 Take your mushrooms pizza dough out of the fridge and packaging, and layer into a rectangular dish with some parchment paper.
Prepare the passata by dressing it with one tablespoon extra virgin olive oil, and seasoning with salt, pepper and dry oregano. You can also use fresh oregano of course.
Spread the passata on top of the dough.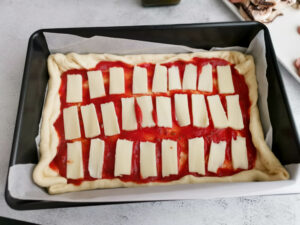 Then layer the sliced mozzarella cheese.
Next, add the wurstel; add a crack of black pepper, and bake in a preheated oven for 25 minutes.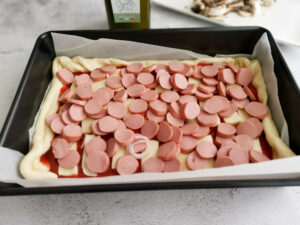 While your pizza cooks, you are going to prepare your mushrooms and onions. You could of course put them on the pizza as toppings, but cooking them this way will add a caramelized flavour to the mushrooms pizza that will make it truly much tastier.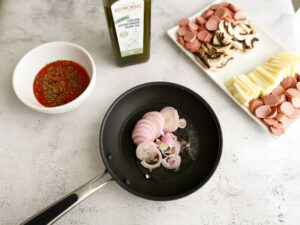 So, take a pan, drizzle two tablespoons extra virgin olive oil, and add the onions. Leave to cook until almost caramelized.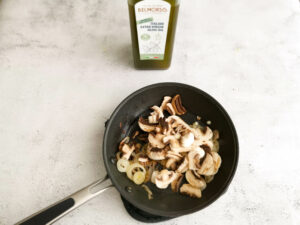 Once your onions are almost caramelized, add the sliced mushrooms, and fold gently. Leave to cook for 5 minutes, and take off the heat. Season with salt and pepper.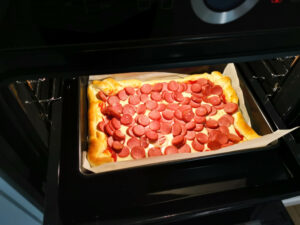 Take the pizza out of the oven, top with the caramelized onions and mushrooms, and bake for another 10 minutes.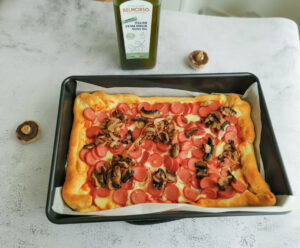 Your mushrooms pizza can now be taken out of the oven and served. Enjoy it with a glass of wine, or your favourite drink.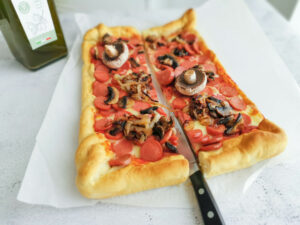 Tips
The leftovers can be enjoyed the next day reheated or even cold, for lunch or a quick dinner. For vegetarians and vegans, you can simply omit the wurstel, or use a vegan sausage. And if you happen to be a truffle lover, you should try drizzling some of this truffle EVO on one or two slices of pizza.