Blue Cheese Sauce with Spinach Leaves Pasta
Today we have an extra cheese and yummy blue cheese sauce pasta featuring this gorgeous Belmorso Spinach Leaves shaped pasta. Fun and colourful shaped pasta like this one makes beautiful dishes that are great when you are having guests, but are also a fun way to have your kids east different foods (PS: this pasta is made with spinach so it's extra healthy, and your kids won't know it :).
Ingredients (makes 2 medium portions)
1 small onion
50gr blue cheese
half cup walnuts
1 tablespoon grated parmesan cheese
200ml cooking white cream (we are using lactose free)
salt and pepper
Belmorso Extra virgin olive oil (we are using Novello but you also use Belmorso EVO)
Belmorso Spinach Leaves Pasta
fresh or frozen parsley
Preparation
Start by washing, peeling, and cutting your onion into thin slices; set aside in a bowl.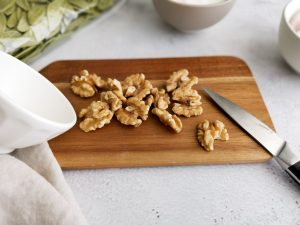 Then take your walnuts and chop them thinly using a knife. (If you prefer you can even blitz them, especially if you are worried about the texture being hard to swallow for kids).
Fill a pot with water, salt it and let the water boil.
In the meantime, pour some extra virgin olive oil in a pan and add the onions to saute` for 5 minutes.
When the water is boiling you can throw your pasta so that it starts cooking. It should take under 15 minutes.
Add your chopped walnuts to the onions and mix together. Leave to saute` with the onions for another 5 minutes.
Next, add your white cooking cream, and season with plenty of salt and black pepper.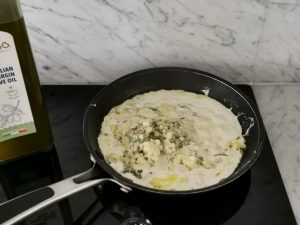 Add your blue cheese into crumbled pieces, and mix well until it melts and is amalgamated with the cooking cream. Leave to simmer at low heat for another 5 minutes.
Once the pasta is ready, drain it, add it back to the pot and pour the blue cheese sauce over it. Mix gently and serve.
Finish the pasta with some parsley, chopped walnuts, and grated parmesan.
Enjoy.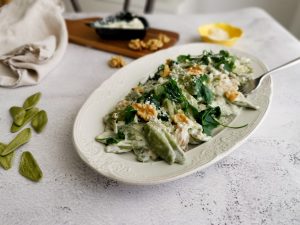 Tips
This can be a great dish to cook and serve before your main course for Easter lunch or dinner. And if you end up loving it, you can add it to your repertoire of pasta recipes. Feel free to try it with different pasta shapes, including trofie, farfalle and orecchiette.