Baked Oatmeal with peaches and balsamic
Breakfast is my favourite meal of the day, and I promise it's not always cappuccino and croissants :). I thought we could make a baked oatmeal all'Italiana, that is Italian style. This one features peaches, the perfect fruit for the Spring and Summer season ahead, and balsamic vinegar di Modena. You can choose from one of the many balsamic options available in our online shop.
Ingredients
3 peaches
250 gr oats (I am using gluten free porridge oats)
500 ml milk
90 gr brown sugar
4 tablespoons balsamic vinegar (I am using this Balsamic of Modena)
40 gr roasted almonds
1 pack crema pasticcera Paneangeli (or your favourite custard)
Preparation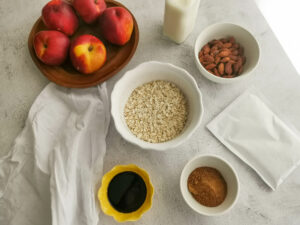 Start by preparing your custard. If you are using Paneangeli powdered custard, you simply have to put the powder in a bowl and mix it with 225 ml of milk circa.  You can use a handheld electric mixer or a kitchen whip. Once ready set aside.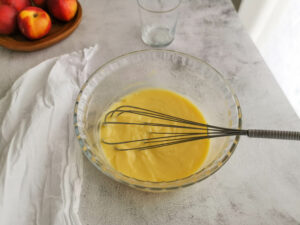 Next chop your roasted almonds, and set aside.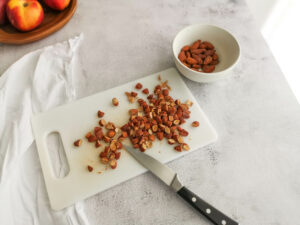 Then cut your peaches in wedges. Feel free to leave or remove the peel. I removed the peel of 2 peaches and left the peel of 1 peach on, to add some contrast to the dish.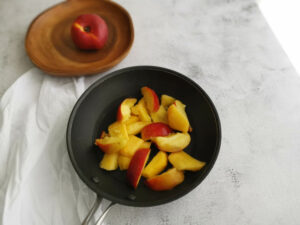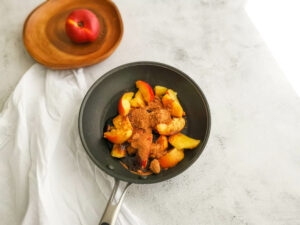 Transfer the peach wedges to a pan, add 2/3 of the brown sugar and the balsamic vinegar. Let the peaches caramelize at medium heat in the balsamic and sugar liquid.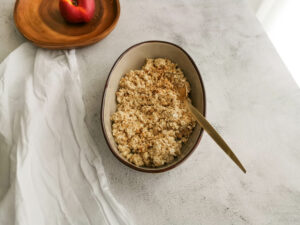 In the meantime, mix your oats with the rest of the sugar and milk, and transfer to your baked oats casserole.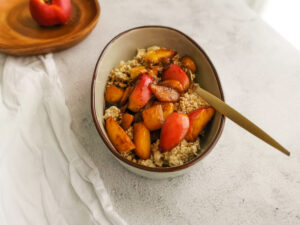 Once ready, add the caramelized peaches in balsamic to the oats, and mix.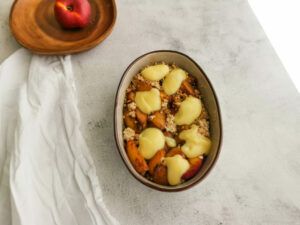 Top with dollops of crema pasticcera or custard.
Finish with the chopped roasted almonds, and bake for 25 minutes in a preheated oven at 180 degrees Celsius.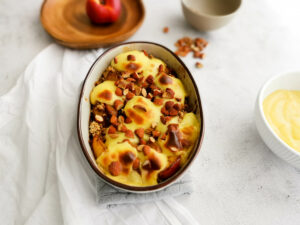 Once ready, you can serve it with some extra crema pasticcera/custard, and enjoy it while reading a book.
Tips
Of course, you can enjoy the leftovers as a healthy evening treat in front of the TV. If you don't like peaches, feel free to replace with any berry of your choice. And if you want to play with the flavour, you can try it making it again with a different flavoured balsamic. We have orange balsamic, fig balsamic, saffron, truffle, pomegranate and rose'. Browse all the flavours here.