Recipe for Vegetarian Pasta: Sweet Peppers Pasta Bake
If you are vegetarian, you are always googling vegetarian pasta recipe, I get you. I'm mostly vegetarian too (hi, Alessia speaking :). Here on the blog, we have many vegetarian pasta recipes, as well as other non pasta ones. And this one is another great one to try.
Ingredients for this vegetarian pasta recipe
Belmorso Gigli Conditi (a flower shapes pasta)
1 red pepper (feel free to use two)
Belmorso sweet peppers spread (I suggest the large one)
100 gr cheese (like fontina, scamorza, emmental, or provolone)
fresh parsley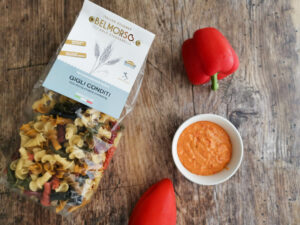 How to prepare it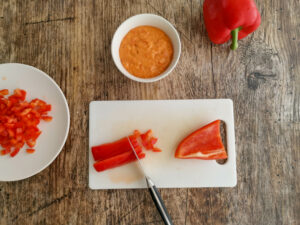 Start by washing and cutting the pepper or peppers into very tiny pieces. If you prefer your pepper to be slightly raw, then you can cut them into larger pieces.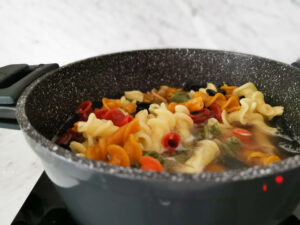 Boil the water for your pasta with plenty of salt.
When the water is boiling, add the pasta, and leave it to cook for 3 minutes. The reason for this is that the pasta will continue cooking in the oven.
Drain the pasta, set some cooking water aside, and transfer it to a large bowl or back to the pot.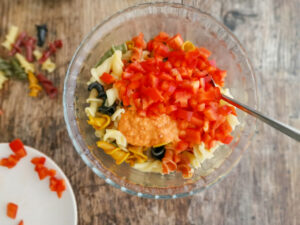 Add the entire jar of Belmorso sweet peppers spread.
Add the cut peppers.
Mix everything and transfer to your casserole.
Don't forget to drizzle some Belmorso EVOO at the bottom of your casserole.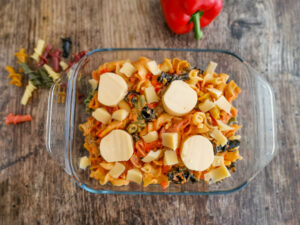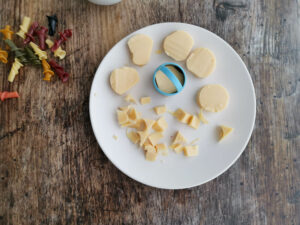 Now take your cheese, and a round cookie cutter. If you have different sizes, choose a medium one and a tiny one. Use the round cutters to cut your cheese.
Distribute the big and small cheese circles evenly across the top of your pasta dish. Leave some space between them, so that you can get a beautiful design.
Bake in your pre-heated oven for 20 minutes. I pre-heated mine for 5 minutes at 180 degrees Celcius.
Take it out, garnish with parsley leaves, and serve.
Buon appetito.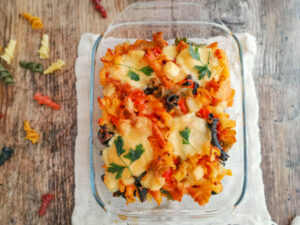 Tips to make your vegetarian pasta recipe even better
I'd suggest enjoying this pasta bake warm. If you are the kind of person that likes a crunchy pasta bake, you can put it under the grill.
If you liked this vegetarian pasta recipe, try this Tiktok inspired vegetarian pasta bake.