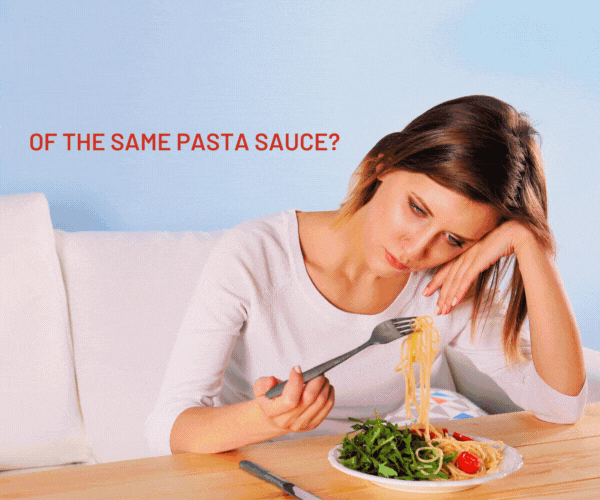 No wonder we love cherry tomato pasta so much.. Other than the fact that nothing beats the sweetness and juiciness of a cherry tomato, did you know they are chock full of vitamins and minerals?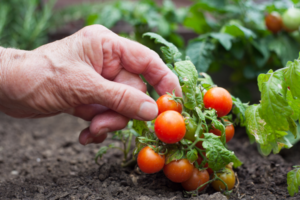 Why Are Cherry Tomatoes Good For You?
'Cherry tomatoes are rich in calcium, manganese, phosphorus, and potassium. They're also high in carotenoids, a type of antioxidant found in red, orange, and yellow fruits and vegetables.' The Healthline.com explains all the health benefits of cherry tomatoes here.
Eating 10 cherry tomatoes gives you as much potassium as eating a medium-sized banana. So next time you get a cramp, no need to force a banana down your throat. Instead, you can have more cherry tomatoes for lunch or dinner.
Best Way to Cook Cherry Tomatoes
Now that you know how precious these shiny red berries really are, you'll want to eat more of them, not only raw in salads and on sandwiches, but also cook with them. Perfect.
Here's the best way to cook cherry tomatoes, in my opinion. Cut the cherry tomatoes in half, so you can help release their sweet juices, add them to a pan, season with salt and pepper, and drizzle a high quality extra virgin olive oil like Belmorso EVOO. And if you are reading this during Fall and Winter, you might also be able to get your hands on the freshest extra virgin olive oil in Ireland, Novello.
Novello is especially high in antioxidants and free radicals that are good for the body but also the heart because of how fresh it is. Clients get it delivered to their homes straight from Italy, right after it has been pressed. How cool is that?
Combining the antioxidants properties of a high quality extra virgin olive oil with all the vitamins and minerals of cherry tomatoes gives you an even healthier meal. Other than being super healthy, the aroma it produces and the taste are incredible. You have to try it.
After drizzling the extra virgin olive oil, mix the tomatoes with a spatula, and leave them to cook for a few minutes. Then take them off the hob, and use them as a topping on bread, as a side to meats and fish. You can even use them to top your pizza, once it's out of the oven. If you like eggs, try this simple authentic Italian frittata recipe.
Since you came here for cherry tomato pasta recipes let me give you the 5 recipes I promised you.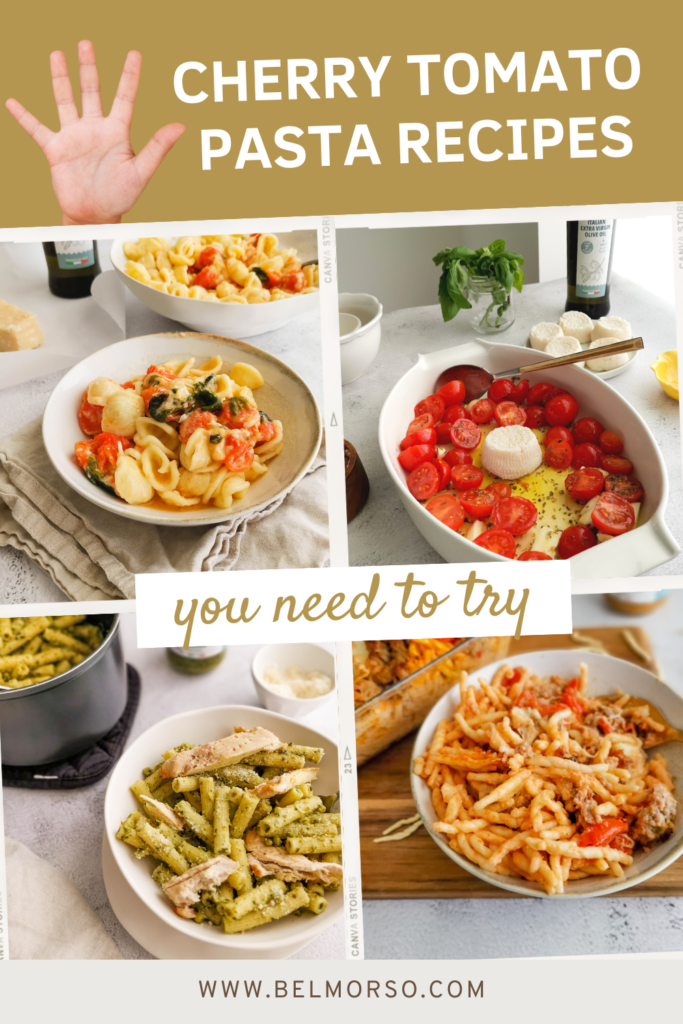 Cherry Tomato Pasta Recipe 1 – Bruschetta Pomodoro Orecchiette
Your mind probably goes to bruschetta when you are thinking about Italian food, along with pizza, pasta, and gelato of course. That's because bruschetta is one of the most quintessential Italian food, and it's also very simple to make. Next time you are craving it, try the cherry tomatoes & EVOO combo I suggested above. Come back and let me know in the comments how you like it.
Don't stop at bruschetta though.., you have to try our Bruschetta Pomodoro Pasta. It's super easy to make and also quick, if you pre-roast your garlic. Get the recipe here.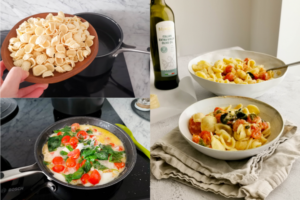 Lemon Artichoke Pasta Salad with Cherry Tomatoes sautéed in EVOO
This second cherry tomato pasta is another great Summer Pasta Recipe. You can of course enjoy it all year round, just eat it warm. The original recipe, you can get that here, doesn't include cherry tomatoes. However, I suggest adding these if you have an extra 5 minutes; it will not only add more taste, it'll make your pasta more nutritious. Just follow the quick lemon artichoke pasta recipe, and in the meantime make those quick sautéed cherry tomatoes I told you about earlier. Once your artichoke pasta is ready, serve it, and top it with the cherry tomatoes. I am using our coloured bow tie pasta for this one.
Cherry Tomato Pasta Recipe 3 – Fish Pasta Recipe with cherry tomatoes
Here's another delectable Italian pasta recipe that will taste even better if you top it with the cherry tomatoes and EVOO combo. I predict most fish lovers will add this to their monthly pasta rotation. The star of the show, other than the cherry tomatoes, is this Turnip Tops Pesto from Puglia. If you cook this one, stick around the pots and pans, because the aroma will please your nostrils before anything else. Here's the fish pasta recipe, by the way.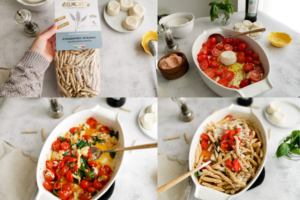 Cherry Tomato Pasta Recipe 4 – Vegetarian Pesto Pasta Bake Recipe
Do you remember the Tiktok feta and cherry tomatoes pasta that went viral about 2 years ago? If you liked the taste of that, you are going to adore this recipe. It's my take on that Tiktok pasta, but I tried to make it healthier and give it an authentic Italian taste. The star of the show here are the cherry tomatoes, so this is certainly fit to go with the 5 cherry tomatoes pasta recipes you need to try. And if you especially love roasted cherry tomatoes, you'll appreciate the fact that this pasta is mostly cooked in the oven. I suggest using Belmorso artisan strozzapreti, as it adds to the authenticity factor. Full recipe here.
Creamy Chicken Pesto Pasta – Cherry Tomato Pasta Recipe 5
Finally, but not least, here's one recipe that many people love, especially outside Italy. It's a great Summer pesto pasta recipe. You see chicken pesto pasta is not really an Italian recipe; it's what I call an Italo-American recipe. It's still delicious though, and I am using a high quality artisan pasta straight from Puglia along with an authentic Italian basil pesto. These two gourmet ingredients will take your creamy chicken pesto pasta to the next level. Try it.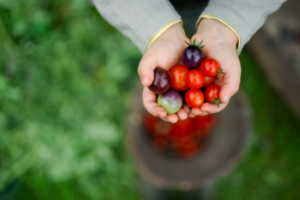 Cherry tomato pasta for everyone!
Three out of the 5 recipes I have shared with you in this post are vegetarian, and they can be turned vegan by simply swapping any cheese I used with a dairy free alternative. Let me list them for you:
Bruschetta Pomodoro orecchiette (recipe 1)
Lemon Artichoke Pasta Salad (recipe 2)
Vegetarian Pesto Pasta Bake (recipe 4)
If you are on a diet, or like to eat extra healthy, I have a recommendation. Mind you, I think that high quality Italian pasta can be considered as a healthy carb if eaten in moderation and as part of a balanced diet. Most Italians think that way.
Nonetheless, if you want a healthier meal try replacing your white pasta with fine artisan wholemeal and wholegrain pasta. We have many unusual pasta shapes to choose from, you can browse them here.
If you made it this far, thank you. I hope you found value and inspiration in this. Don't forget to share which recipe you are going to try first, and tell me which other cherry tomato pasta recipes you love.
Ciao.