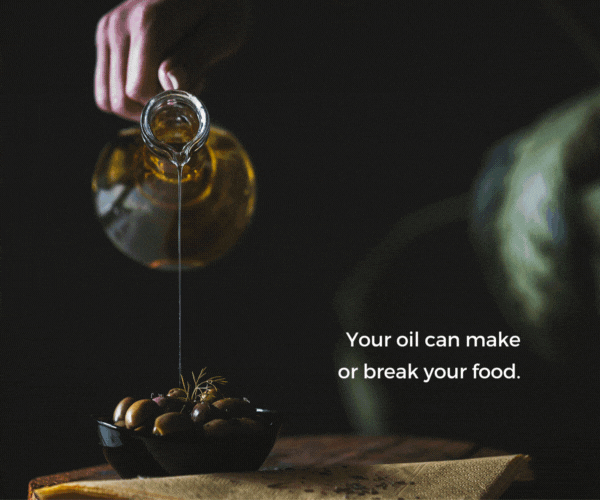 Is there anything more quintessentially Italian than pasta? I don't think so. For this reason, if you want to know more about Italian food, cooking and culture, I suggest you start by learning about the different pasta shapes types.
That's exactly what I will help you do in this post. I'll share with you many pasta shapes types with their names, pictures, history, uses, and traditional recipes. And if you want the full list of all the pasta shapes we can think of, click here and I will send it to you by email.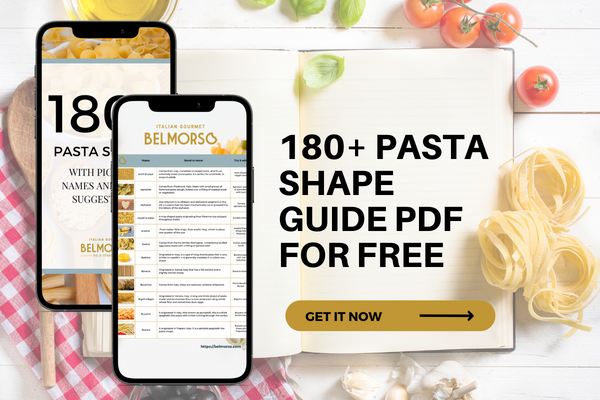 How many different pasta shapes are there?
Before we start mentioning the different pasta shapes let's look at how many different pasta shapes are there. If you google this question, you will get different answers. A few sources say there are are up to 600 pasta shapes types; however, I'll stick to two reliable sources – La Repubblica, the second most read newspaper in Italy, and Unione Italiana Food, which carried out a census in 2021 about all Italian food – including pasta.
According to both of these sources, the answer to the popular question – how many different pasta shapes are there – is around 300.
If you want to know them nearly all, I have shared most of them in my list. Remember, you can request it here. You'll get the name, the picture, and a suggested recipe to try.
What are the most popular pasta shapes around the world?
Rather than trying to fit 180+ pasta shapes in one article, how about we mention the most popular pasta shapes around the world. I think that sounds interesting, don't you?
If you were to guess the top 3 pasta shapes most eaten around the world, which would you list? Go ahead, and think about it. You can check the answer once you have made your guess.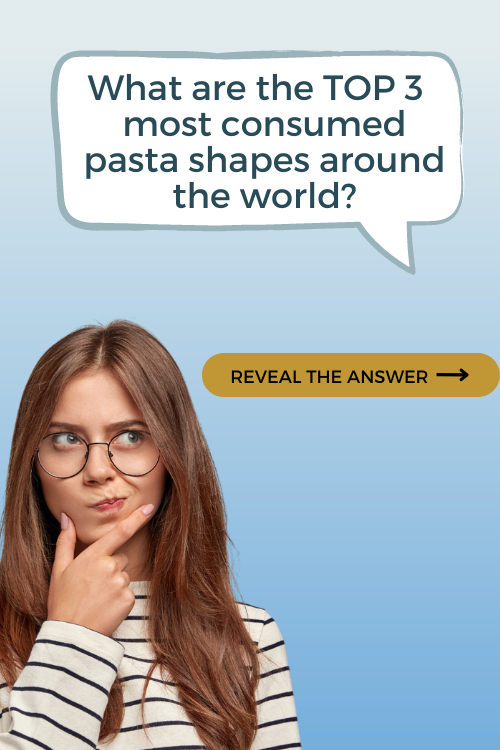 These are the top 3 pasta shapes types most consumed in the world: spaghetti, penne, and fusilli.
Did you get it right?
While the list of the most popular pasta shapes changes from country to country, the most common pasta shapes types are the same for Italy, France, the entire European Union, and even the United States. They are spaghetti, penne, and fusilli.
Let's now look at which other shapes are most eaten along with the basic pasta shapes (spaghetti, penne, and fusilli) in Europe, France, and the United States.
Most popular pasta shapes in Europe: spaghetti, penne, fusilli, lasagna, tortellini, tagliatelle, bucatini, ravioli, macaroni, vermicelli.
Most popular pasta shapes in France: the top four are spaghetti, penne, fusilli, and tagliatelle
Most popular pasta shapes in Turkey: the top 3 are rotini (similar to fusilli), farfalle, and spaghetti. And if you are wondering why I am mentioning Turkey in the article, it's because they are the third country that eats most pasta in the world, after Italy and Venezuela. Greece and Switzerland are right behind them.
Most popular pasta shapes in the United States: spaghetti, penne, fusilli, pappardelle, orecchiette, macaroni, linguine, farfalle or bow ties, fettuccine, capellini, tagliatelle, and rigatoni.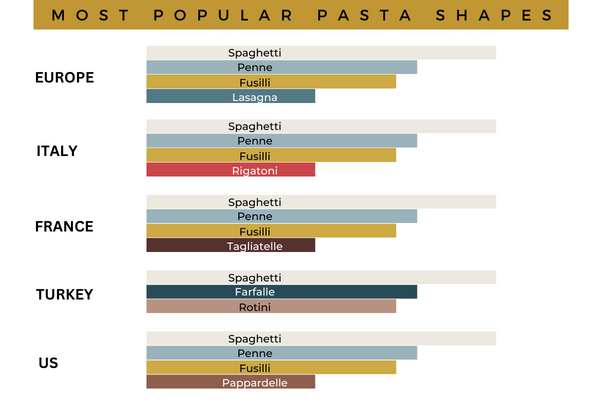 Most popular pasta shape in Italy
Spaghetti wins again. Even in Italy, of all the pasta shapes available, spaghetti is the number one most loved and most eaten. But what other pasta shapes do the Italians also like to eat regularly?
Repubblica.it says it well: 'Su 300 opzioni, gli italiani scelgono quasi sempre le "solite" dieci.'
For those of you who don't know Italian, this translates to: out of 300 shapes, the Italians choose nearly always the same 10 shapes.
Here are the 10 pasta shapes types most eaten in Italy.
1.Spaghetti
2.Penne Rigate
3.Fusilli
4.Rigatoni
5.Farfalle
6.Linguine
7.Lumachine
8.Bucatini
9.Mezze maniche
10.Lasagne
Along with the top 10, here are three other favourite pasta shapes eaten by the Italians: orecchiette, ziti, trofie, ditalini, casarecce, paccheri, mezze penne rigate, bavette, trenette, and pasta mista (mixed pasta).
Can you mix pasta shapes?
Speaking of mixed pasta, a common asked question is can you mix pasta shapes?
Of course you can. There's even a pasta shape named that way – pasta mista or mixed pasta. It originated in Naples from a common routine that many women had. The routine involved making pasta dishes with mixed pasta.
The aim was probably similar to yours – they wanted to use up any leftovers pasta they had inside previously opened pasta packages. Many of them started collecting the leftovers in one single pack, and that's where the idea of mixed pasta came from.
If popular pasta brands sell mixed pasta packs, you shouldn't worry about cooking different pasta shapes at once. As long as you enjoy eating the mixed pasta shapes together, go ahead. I personally don't like mixing pasta. You may call me a pasta snob :).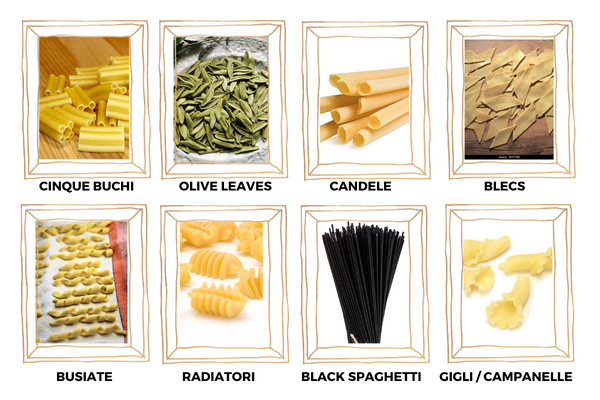 Unique pasta shapes you should try
I'd say how unique a pasta shape is to you depends on different factors including: which pasta shape you are used to eat regularly, and how many different pasta shapes types you know about.
I have seen many pasta shapes, so I will be happy to share with you the ones that are the most unique in my opinion. Here they are:
5 Buchi is a Sicilian pasta shape eaten around Carnival. It's perfect with ragu' or bolognese.
Fusilli lunghi or long fusilli it's a playful long pasta which resembles fusilli. You can get this one from our online shop.
Olive leaves is another pasta shape type you might have never seen. It's a very pretty one, especially for special occasions. It's also the perfect pasta shape for Easter, since olive branches are a symbol of peace and very much associated with Easter time. Check our spinach olive leaves with a natural green tint here.
Radiatori are cute radiator shaped pasta. I have heard people outside Italy like to use them for mac and cheese, as the cheese sticks to all the grooves. In Italy, it's usually eaten with more traditional sauces like a lamb ragu', but you can also enjoy with one of our gourmet pesto jars.
Candele or candles are like spaghetti with a hole but the hole is pretty large, unlike bucatini. Moreover, they have somewhat of an uneven oval shape that resembles the long candles used in churches.
Blecs is a pasta shape from Friuli Venezia Giulia that reminds me of a tortilla chip, especially since it's also made with corn flour.
Busiate from Sicily are long ribbon like pasta. Imagine you packing a gift and wrapping it with ribbon. You know the effect you get when you run the ends of your ribbon through a pair of scissors. That's exactly the shape of this pasta called busiate. It's also popular in Campania.
Black spaghetti is an interesting and tasty alternative to regular spaghetti. If you like fish, seafood, and squid in particular, you'll love squid ink spaghetti. You can buy black ink spaghetti here.
Coloured gigli pasta is a fun pasta shaped like lilies. They are a typical pasta in Tuscany and are also called campanelle. They are best enjoyed with meat-based sauces but are also great with simple ones (available here)
Other unique pasta shapes you may want to try are torchietti, castellane, fisarmoniche, spighe, and ricciutelle.
For more unique pasta shapes with names, pictures and traditional recipes, get the  free 180+ pasta shapes list here.
Best pasta shapes I have eaten (my top 10)
It's difficult to say which is the best pasta shape, mainly because what's best for me is not necessarily best for you. It also depends on the type of sauces you are using the pasta for, how you eat your pasta, and who is eating the pasta.
What I can tell you is what are the best pasta shapes for me. I suggest you have a look at the full list of pasta, and start trying multiple ones, so you can find your own best pasta shapes.
If forced to only choose 10, these are the 10 pasta shapes I'd like to eat for the rest of my life. These include both dry and fresh pasta.
Tagliatelle, lasagna, maltagliati similar to blec, agnolotti, gnocchi, fettuccine, orecchiette, casarecce, paccheri, and ravioli. 
Now it's your turn. Tell me which are the pasta shapes types you love the most. You can share them in the comments.
In the next two sections, we will look at the history and uses of the 3 most popular pasta shapes, along with other pasta shapes you can find in our shop.
History of pasta shapes + pasta shapes and their uses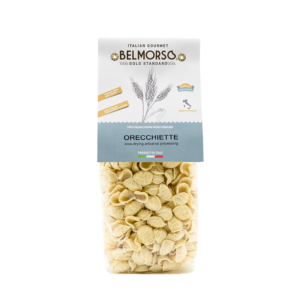 Orecchiette – while we are not sure who invented these, orecchiette are an ear-like shaped pasta traditional from Puglia. They are our number one bestseller pasta, together with trofie and strozzapreti. In Puglia, they are mostly eaten with a homemade turnip top pasta sauce. If you are intrigued, you can shop this Apulian combo pasta + sauce here.
Trofie – are a typical pasta shape from Genoa, in Liguria. They are the number one pasta to be eaten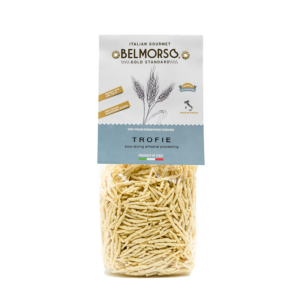 with the iconic basil pesto or Pesto Genovese. We are not sure who exactly invented this pasta, but we know that Bacci Cavassa invented the first pasta machine to produce trofie in 1977. In our shop, you can find three types of trofie – the normal type, wholemeal trofie, and a coloured version.
Strozzapreti – are a traditional pasta from Emilia Romagna. Translated, their name means priest strangler. If you are wondering why they are called this way, here's the funny story behind their name. In the old times, priests used to be what you'd call a glutton, that is avid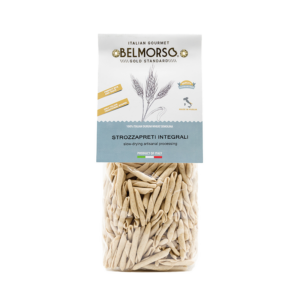 eaters. They would eat and eat, sometimes so fast, you might think they would choke.
This pasta shape needs some chewing and mindful eating because of how twisted it is. This is presumably why the pasta was called priest strangler. We stock three types of strozzapreti in our shop. Strozzapreti are traditionally eaten with a homemade bolognese sauce but we also like to pair them with our red pesto.
Squid ink spaghetti – some say they might have originated in Venice, or in that region, while others say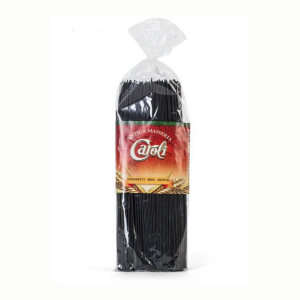 they originated in Sicily, more exactly in Catania. Either way, this black spaghetti has become a renowned gourmet pasta all around the world. You'll find it in gourmet's homes, on Michelin star menus, as well as in traditional Italian style trattorie. The simplest way to eat them is to coat them with a squid ink sauce and sprinkle some pecorino cheese.
Gigli or campanelle – I already mentioned this lilly shaped pasta from Tuscany. It's perfect with thick ragu' sauces but can also be enjoyed with lighter ones. You can buy the multi-coloured version in our shop.
Farfalle – these have a shape of a butterfly, although outside Italy they are often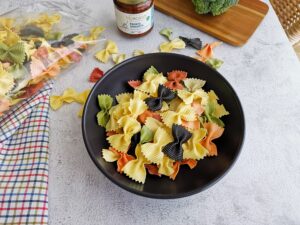 called bow ties. Their origins go back to the XVI century. These can be enjoyed with most sauces but the tradition sees them paired with white sauces with a butter and cheese base. A great recipe for farfalle is farfalle al salmone. Try this recipe with our coloured farfalle.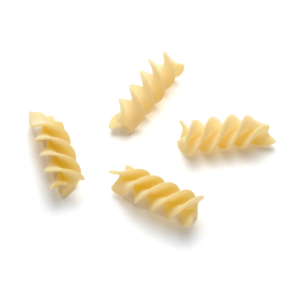 Fusilli – are famous all around Italy and the entire world. Their origin comes from the South of Italy, and although some say they come from the region of Campania, we are not exactly sure. Many regions have their own variations. I found an article from Corriere Nazionale that says that the name fusillo comes from Naples. This same article also suggests pairing fusilli with the Sicilian Trapanese pesto (an almond and tomato pesto) or coating them with a lamb sauce from Lazio.
Spaghetti – You probably heard that these might have originated in Asia, probably because of their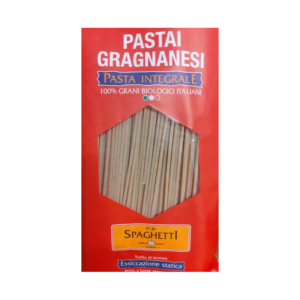 resemblance to rice noodles. However, the first written evidence of spaghetti was found in Sicily and dates back to 1154 during the Arab occupation. The best way to enjoy spaghetti is in my opinion typical from Sicily – spaghetti with a traditional basil tomato sauce, fried aubergines, and grated salted ricotta cheese. This recipe is called Pasta alla Norma. Try this recipe with our wholegrain spaghetti for a healthier and filling dish.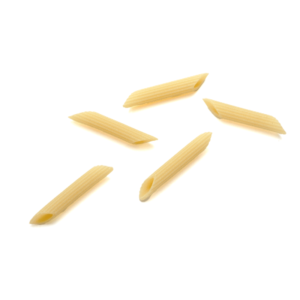 Penne rigate – this shape was invented in 1865 in Genoa by Giovanni Battista Capurro. The penne shaped pasta was his idea and to be able to produce it he built a machine that would be able to cut the pasta diagonally. Penne can be smooth or piped with lines to give them more texture. Italians tend to prefer penne rigate. Penne come in different sizes – from smaller mezze penne to pennoni.
Fettuccine – There's not much information about who invented the fettuccine but we surely know that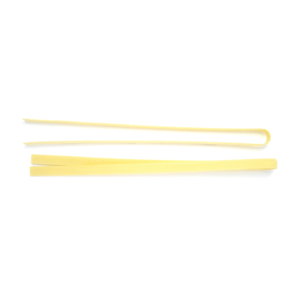 Alfredo de Lelio, from Rome, was the one who came up with the famous Fettuccine Alfredo recipe in 1908. He wanted to help his wife get her strength back after giving birth to their child, so he created a recipe full of butter and parmesan.
A few years later, the American actors Mary Pickford and Douglas Fairbanks go to Italy and happen to eat at Alfredo's restaurant. It's there that they fall in love with the recipe, they even gift Alfredo a golden fork. As soon as they are back in the US, they start telling everyone in the film industry about the Fettuccine Alfredo, and this is how this dish became the most famous Italian dish in the US, and one of the most famous in the world.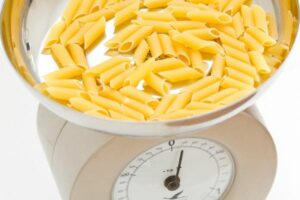 How many grams of pasta is enough for one person?
Before we wrap up this long post, I thought it might be useful to answer one more common question we get. How many grams of pasta is enough for one person? This depends, first of all, on the type of pasta. Fresh pasta weighs more than dry pasta, so you'll want to cook more in grams. To make it clear, if you like to eat 100 grams of dry pasta, you'll want to cook 130 gr of fresh pasta.
Going back to how many grams of pasta is enough for one person, this also depends on your appetite. The suggested portion is usually between 80gr, especially if you are on a diet, and 100 gr, if you have a normal appetite. If you are very hungry, you can always cook more – 125 gr, even 150 gr for dry pasta.
For health purposes, just make sure you are not eating this much pasta every day, unless you are trying to gain weight. And even if you are, it's still important to keep your diet balanced; make sure you are also eating lots of veggies, fruit, some protein, and healthy fats.
If you love pasta in different shapes, I hope you enjoyed this post, and got inspired to try new pasta shapes. For more inspiration, don't forget you can get the full list of 180+ pasta shapes with pictures, names, and a suggested recipe by clicking here.