Orecchiette Pasta with Turnip Tops Pesto
This orecchiette pasta with turnip tops pesto will satisfy all your cravings of a classic pesto pasta. There is a twist though.. you'll not be eating the usual basil pesto pasta but an innovative turnip tops pesto pasta that is creamy, rich, and wholesome.
PS: It contains anchovies.
Ingredients for your Orecchiette Pasta (makes 2 portions)
2 cloves garlic finely chopped or minced
Belmorso Extra Virgin Olive Oil
1 tbsp capers
1 can tuna (or 3 anchovy fillets)
1 jar Belmorso Turnip Tops Pesto
250 gr Belmorso Wholemeal Orecchiette (or you can use the regular orecchiette)
3 tbsp breadcrumbs
1.5 tbsp grated parmesan cheese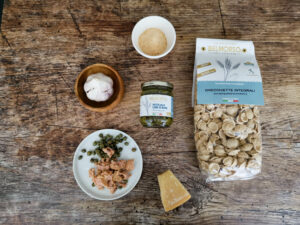 Preparation
Start by peeling, washing, and cutting your garlic finely.
Sauté the garlic in a pan with a generous drizzle of Belmorso Extra Virgin Olive Oil.
Fill a pot with water, add plenty of salt, and let it boil.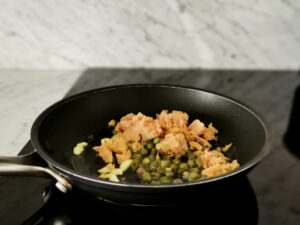 Add the capers and tuna to the garlic and leave to sauté for a few minutes over low heat.
Throw the orecchiette pasta to cook.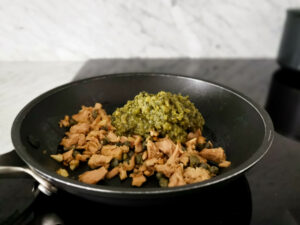 Then add the jar of turnip tops pesto to the garlic, tuna and capers mix. Mix well and leave to cook for a few more minutes.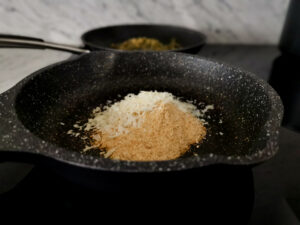 In a separate pan lightly toast the breadcrumbs with the grated parmesan. Make sure you have your flame or hob temperature set to low. You only need to toast them for 2/3 minutes, mixing with a spatula all the time.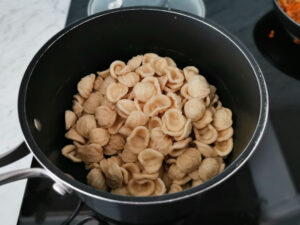 Set some pasta water aside and drain the pasta.
Taste your sauce and see if you think it needs salt. We didn't add any to ours because of the sauce being already seasoned, plus the salt in the capers.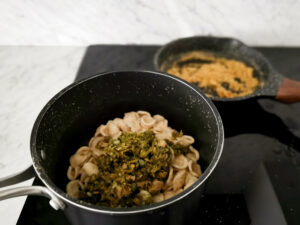 Transfer the pasta to the pan with the sauce, add the pasta water set aside, and mix well.
Serve and sprinkle generously with the toasted parmesan breadcrumbs.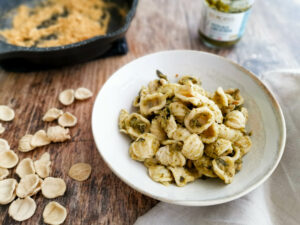 Feel free to add a crack of black pepper too.
Buon appetito.
Tips
You can sprinkle more parmesan on top and add a drizzle of extra virgin olive oil. If you love this recipe, you may want to try this cod spaghetti recipe, also with turnip tops pesto.