Roasted Pepper and Tomato Soup with Gold Balsamic
Roasted Pepper and Tomato Soup is a comforting soup, perfect for Autumn. Given its colours, it's also a great dish to make around Halloween. The key in achieving its distinctive flavour is using farm-fresh vegetables and artisan extra virgin olive oil and balsamic vinegar. Out of all the balsamic vinegars of Modena in our range we chose the gold balsamic because of its sweet and sour flavour with fruity shades.
Ingredients
7 large tomatoes
4 orange peppers
3 garlic cloves
4 carrots
1 vegetable stock
600 ml water
Belmorso Extra Virgin Olive Oil
IGP Gold Balsamic Vinegar of Modena
Seeded whole-grain bread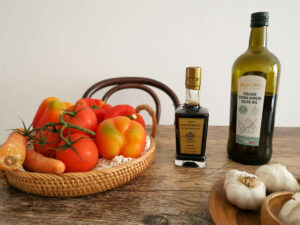 Preparation
Start by washing your tomatoes and placing them in your oven dish lined with parchment paper.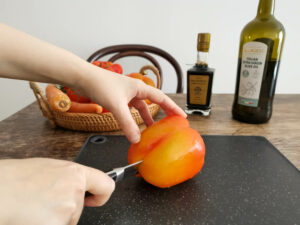 Then wash the peppers, cut them in half and remove the inner seeds. Add the peppers cut into halves to the lined dish.
Season lightly with salt and pepper and drizzle a little Belmorso Extra Virgin Olive Oil.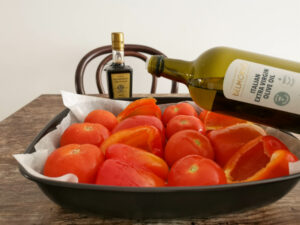 Roast in a pre-heated oven at 190 degrees Celsius for 45 minutes. Later, put them under the grill for the last 5 minutes.
While your vegetables roast in the oven, you'll prepare the rest of the soup.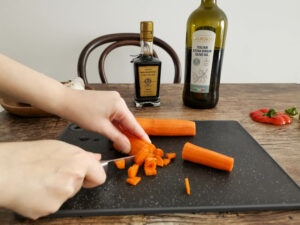 Peel and cut your carrots, and dice finely.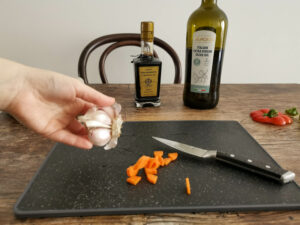 Mince your garlic and put both into a large soup pot.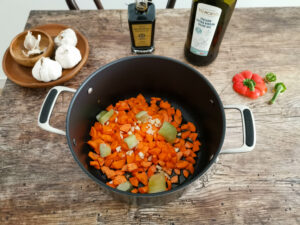 Drizzle some extra virgin olive oil and put on your hob/stove to saute` for around 20 minutes over medium heat. Make sure to mix them frequently.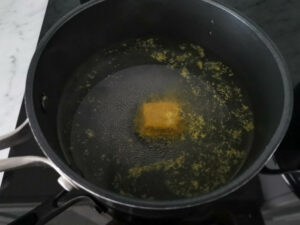 Boil the water for your stock and melt the stock cube in it.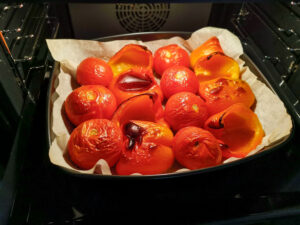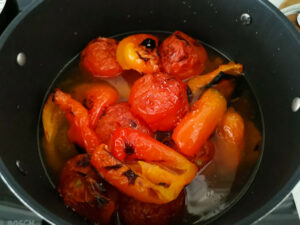 Take the roasted tomatoes and peppers out of the oven, and transfer to the pot with the carrots and garlic. Add the juice in the pan too. And then add your vegetable stock.
Using a silicone spoon mash slightly your tomatoes, mix everything, and cover with lid.
Leave to simmer at medium heat for 30 minutes.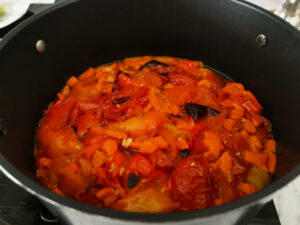 Leave to cool and blend.
Serve with a drizzle of Belmorso extra virgin olive oil and IGP Gold Balsamic.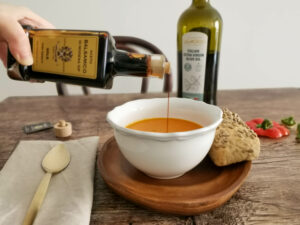 Enjoy with some crusty bread and a piece of parmesan cheese.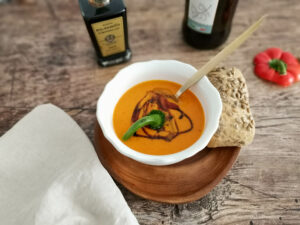 Tips
You can store the rest of the soup for the next day, to be enjoyed at work or at home. You can even store some in a container and freeze it for a quick lunch out of the freezer kind of day. We promise it'll still taste delicious.