Creamy Salmon Pasta (lactose-free)
Creamy Salmon Pasta is back. If you have been following us for a long time, you've probably made our popular Penne al Salmone pasta, which we shared on our old blog. Well, now you can find it also on our new blog. We have revisited the recipe and tweaked it a little to make it even better.
If you have never tried it but love salmon pasta, you are going to really enjoy this unique home-style salmon pasta featuring sundried tomatoes for extra flavour.
Are you ready to make it? Let's get started.
Ingredients
2 teaspoons Belmorso garlic pate'
Belmorso Extra Virgin Olive Oil to drizzle
1 pack Smoked salmon
4 Belmorso sundried tomatoes
3 teaspoons Belmorso sundried tomato pate'
150 ml cooking cream (we are using lactose free, but you can use regular)
300 gr Belmorso wholemeal strozzapreti pasta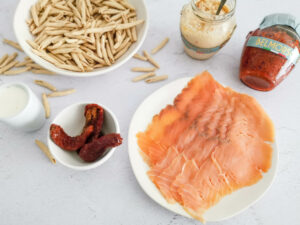 Preparation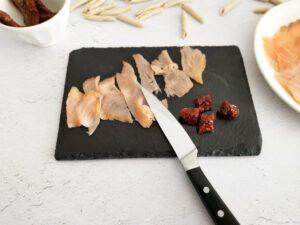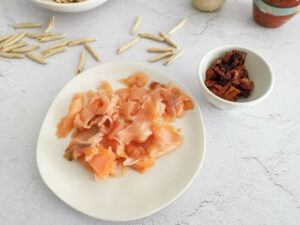 Start by slicing your smoked salmon and chopping your sundried tomatoes.
Next, fill a pot with enough water to boil your pasta, and add plenty of salt. Put the pot to boil.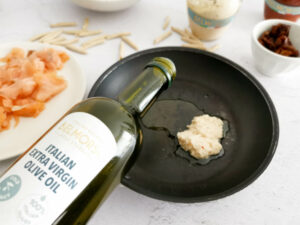 Take a pan, drizzle some Belmorso extra virgin olive oil, and add 2 teaspoons of garlic pate'. Stir and lower the heat settings.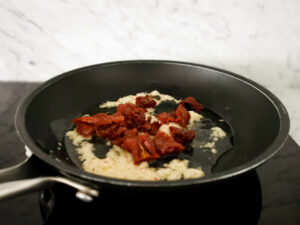 Next, add the chopped sundried tomatoes, and stir again. Leave to cook for another 2 minutes.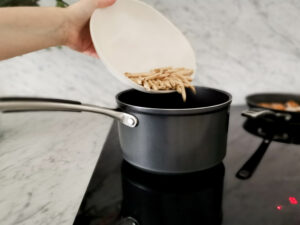 It's time to throw your strozzapreti to boil.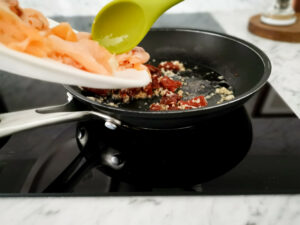 Once you do that, add the sliced smoked salmon into the pan, stir and leave to cook for another 2 minutes.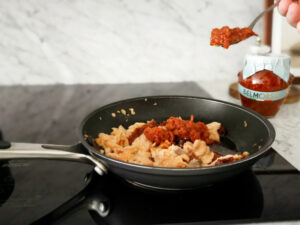 Time to add the sundried tomatoes pate', 3 teaspoons, and stir. Leave to cook for another 2 minutes.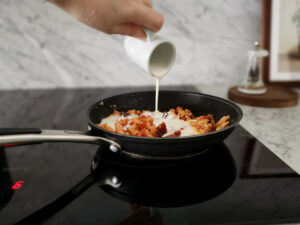 Next, pour the cooking cream and some black pepper, stir again and leave to simmer for 5 minutes.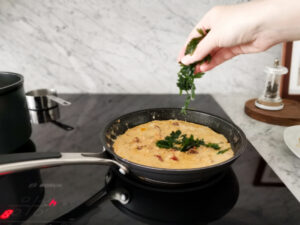 Chop some fresh parsley or take it out of the freezer and mix it in the creamy salmon pasta sauce.
Drain your strozzapreti pasta, keeping some pasta water aside.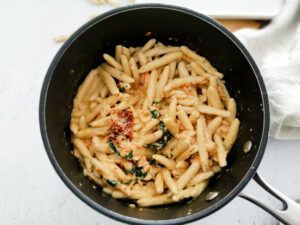 Transfer the strozzapreti back to the pasta pot, add the creamy salmon pasta sauce, mix everything and serve.
Finish with a crack of black pepper and enjoy.
(PS: I didn't add any salt to the sauce because the pate' and smoked salmon are already salted. You can taste the sauce and add any salt if you think it needs it.)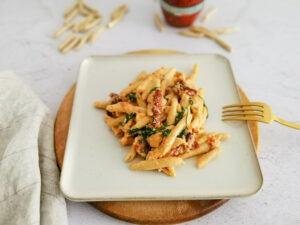 Tips
Our old recipe did not include the sundried tomatoes, but we thought that adding them would add a beautiful texture to the pasta. The original pasta recipe used penne, but we think using strozzapreti makes this pasta more elegant while still keeping it home-style. Tell us what you think in the comments.