Black Squid Spaghetti with Swordfish
Black squid spaghetti with swordfish is going to become your favourite fish pasta, if you love fish. Imagine yourself dining at the marina while looking at small boats and larger yachts. This is the dish you'll want to order, along with a glass of white wine. With this recipe we're bringing the marina trattoria to your kitchen. Let's make it together.
Ingredients (for 2 large portions)
Belmorso Black squid spaghetti, 300 gr
1 slice fresh swordfish
Belmorso Garlic pate', 2 teaspoons
500 ml tomato passata
salt and pepper
Belmorso Extra virgin olive oil
1 shot glass white wine, about 40 ml
a handful of fresh or frozen parsley
parmesan or pecorino cheese to grate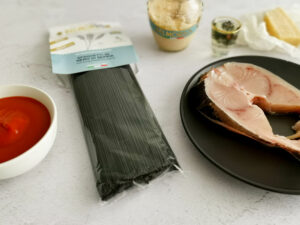 Preparation
First, cut the swordfish into cubes, removing the skin and the bones.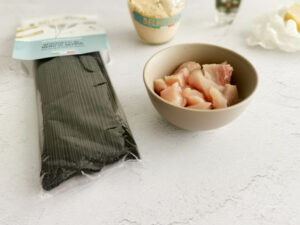 Next, drizzle some Belmorso extra virgin olive oil in a pan, and add 2 teaspoons of Belmorso garlic pate'.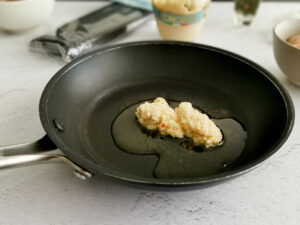 Place the pan over the hob or stove, mix the garlic pate' and EVOO, and add the swordfish cubes.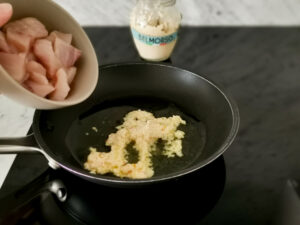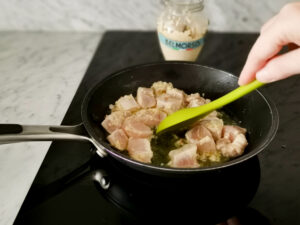 Lower the heat level, and let the swordfish cook for a few minutes.
Then add the passata, and season with salt and pepper.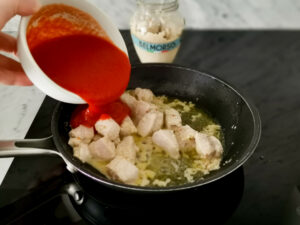 It's time to add your white wine and mix well.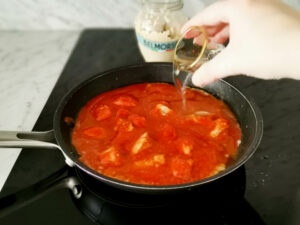 Leave the wine to evaporate, and then cover the pan with a lid. Don't forget to lower the heat a little more, so the sauce doesn't start bubbling too much.
Fill a pot with water, salt it generously, and put it to boil.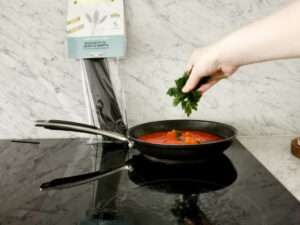 In the meantime, add the parsley to your swordfish sauce, and mix. Leave the sauce to simmer for another 5 minutes, and then it's ready.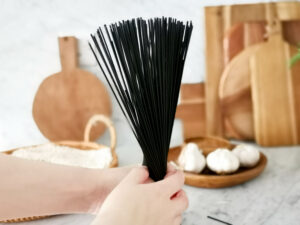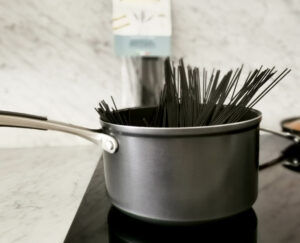 Once it's boiling, add the black squid spaghetti to cook, following the instructions on the package.
Set aside some pasta cooking water.
Once the pasta is ready, drain the water, and transfer the black squid spaghetti back to the pot.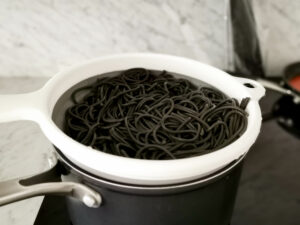 Add the swordfish sauce, and the pasta cooking water, a little at a time.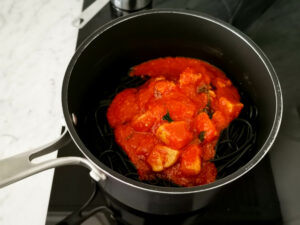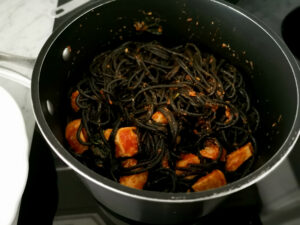 Mix well and serve.
Don't forget to grate some parmesan or pecorino cheese, add a crack of black pepper, and enjoy with a glass of wine.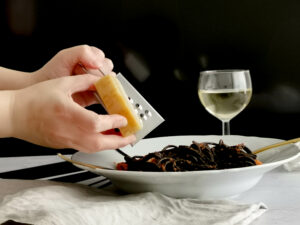 Tips
This recipe is a very simple one that takes about 30 minutes to make. You should keep this in mind whenever you are having guests over. It's a dish that will easily surprise people because of the colour of the pasta, and the aroma of the fish sauce.