Antipasti Plate for Aperitivo & Parties
Make this finger-licking antipasti plate for your next aperitivo or party. It's easy and quick to prepare, and you can make it as big or small as you want. Everyone will love this selection of artisan and flavourful Italian antipasti. Authentic, delicious and beautiful – perfect to wow your guests.
Let's make it!
Ingredients
For the sandwich platter
Belmorso Cannonata
Belmorso Sundried Tomatoes
Belmorso Asparagus Pate'
Belmorso Garlic Pate'
Belmorso Bella di Cerignola Olives
Sandwich bread without crust
Mini ciabatta rolls
For the salad platter
Rucola and baby spinach leaves
Purple grapes
Mini mozzarella balls
Salt and pepper
IPG Balsamic Vinegar of Modena Platinum
Belmorso Extra Virgin Olive Oil
For the Antipasti plate/board
Grissini
Prosciutto crudo
Belmorso Sundried tomatoes
Salami slices
Belmorso Fennel Tarallini
Blue cheese
Leerdammer or Emmenthal slices
Belmorso Asparagus Pate'
Belmorso Bella di Cerignola olives
Belmorso tuna stuffed chilli peppers
Belmorso Sundried tomatoes pate'
More purple grapes
Belmorso Grandmother's Recipe Artichokes (we forgot to put these on the board 🙂
Preparation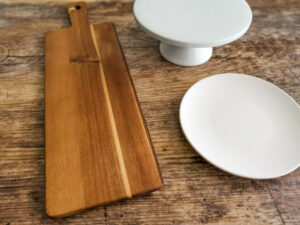 First of all, choose your serving dishes and boards based on the number of people you are serving.
Next, start with one platter, and then move onto the next.
Sandwich Platter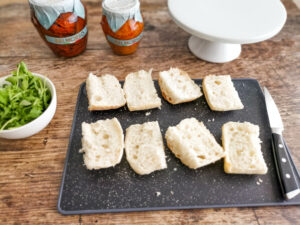 Take your ciabatta rolls and slice them in half.
We are going to make two styles of ciabatta sandwiches.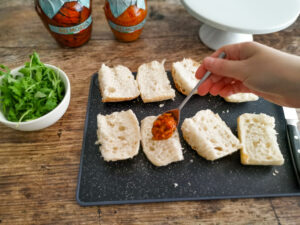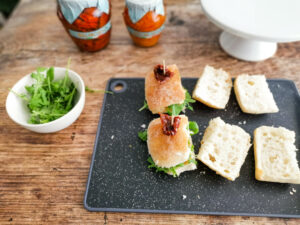 For style 1, spread a teaspoon on cannonata on each half, top with rucola, close with the other ciabatta half, and insert a toothpick with a sundried tomato on top.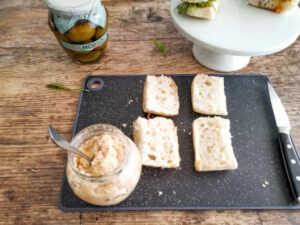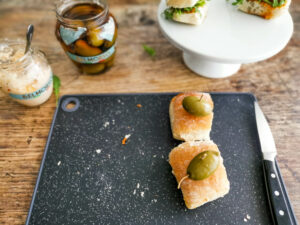 For style 2, spread a teaspoon of garlic pate' on each half, close with the other half, and top with a toothpick and a giant Bella de Cerignola olive.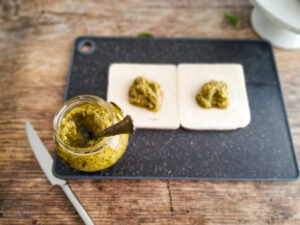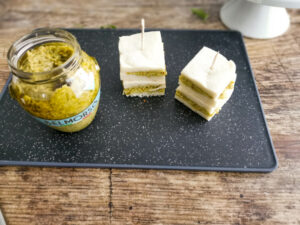 For the sandwich option, spread the asparagus pate', top with another sandwich slice, and cut into 4 quarters. Place two sandwich bites on top of each other, and secure with a toothpick.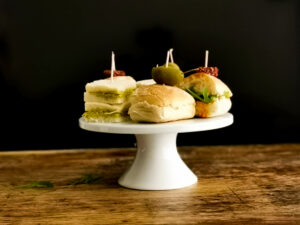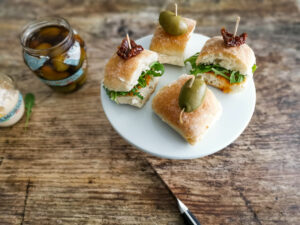 Antipasti Plate
Use a long or wide wooden board, depending on how large you need your spread to be.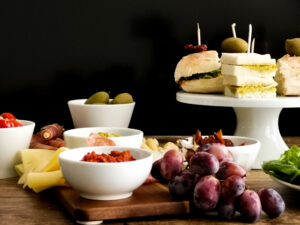 Start by filling small bowls for each of these: sundried tomato pate', asparagus pate', artichokes, olives, stuffed chillies, and sundried tomatoes. Layer these onto the board, leaving some space between each bowl. You will fill this space with other items.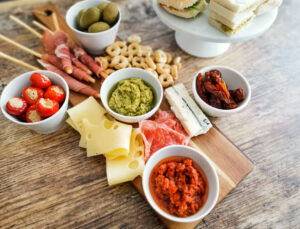 Wrap the grissini in prosciutto crudo, and layer them onto the board.
Next, fill the space you left on the board with these foods: salami slices, emmenthal slices, a piece of blue cheese, some grapes, and our fennel tarallini or your favourite flavour.
Salad Platter
Layer the baby spinach on a white plate, small or large depending on the number of people.
Leave a hole in the middle.
Layer some rucola randomly on top of the spinach leaves.
(PS: feel free to use another type of salad).
Wash the grapes, and scatter those on top of the greens.
Then spread the mini mozzarella balls next to the grapes.
Season with salt and pepper.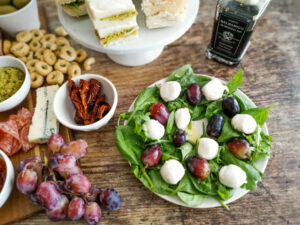 Prepare a small bottle of EVOO and place the balsamic vinegar bottle next to the salad platter.
Your guests can serve themselves, and then drizzle some EVOO and balsamic on their plate.
Having some extra bread slices is a great idea, as people might enjoy dipping the bread in the balsamic and EVOO dressing on their plate.
You can also add a block of parmesan cheese, so people can serve themselves. Parmesan goes amazingly with this salad.
Here's the finish look of this trio of antipasti plates.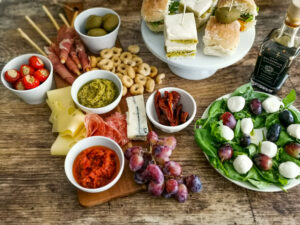 Tips
I wouldn't suggest you prepare the platter the day before. However, you can do it a few hours before the party, and leave it in the fridge until serving. Make sure you don't dress the salad though.