Plumcake with EVOO
Plumcake with EVOO is a true Italian delicacy. Don't mistake this for a cake with plums, there are no plums in this. In fact, some think that the plumcake might derive from the French word plume, which means feather. And that's exactly how a slice of plumcake should feel in your mouth – soft, breaks in your mouth, and not too spongy.
The beauty of the plumcake is that you can make different variations, based on your preferences. Common variations are a simple yogurt plumcake, a lemon plumcake, and orange plumcake, a chocolate plumcake, and you can also experiment with fresh or dry fruits inside.
Today we are making a Plumcake with EVOO, yogurt, and chocolate chips. It's a healthier version as it has extra virgin olive oil instead of butter, less eggs than usual, and also less sugar. I promise, it's still delicious.
Let's make it.
PS: If you wish to make your baking extra special consider trying our artisan EVOO Novello that comes fresh from Puglia right after productions. It's only available on pre-order every October, though. If interested, sign up to our newsletter here, and we'll inform you when pre-orders open (PS: no need to sign up again if you are already on our list.)
Ingredients
200 gr flour 00
100 ml Belmorso Extra Virgin Olive Oil or Novello if you have it
3 eggs
150 gr sugar (I am using coconut sugar)
1/2 teaspoon Bourbon vanilla powder
150 gr Greek Yogurt
16gr Lievito per Dolci (or 2 teaspoons baking powder + 1/2 teaspoon baking soda)
a pinch of salt
100 gr chocolate chips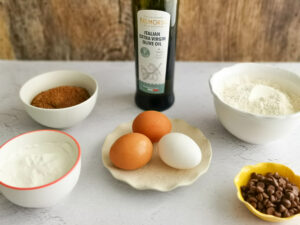 Preparation
Making this is really simple.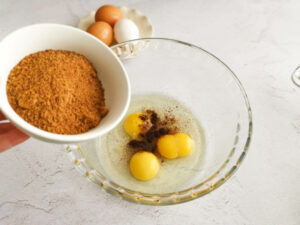 Start by cracking the eggs into a large bowl.
To them add the sugar, and the vanilla powder.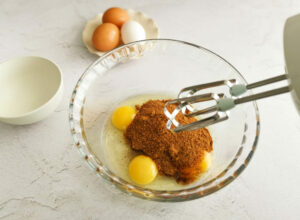 Use an electric hand mixer to beat those ingredients, starting with the lowest setting.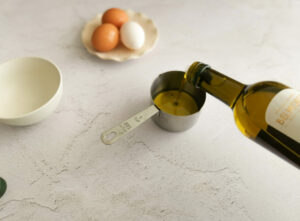 Then add half the EVOO and keep mixing.
Add the rest of the extra virgin olive oil and mix some more.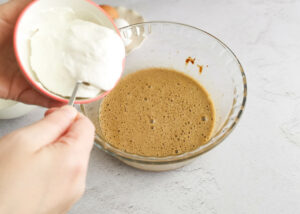 Then add the yogurt and continue beating the liquid ingredients.
Turn your oven on so it starts heating up.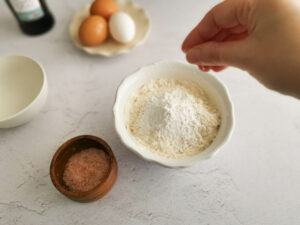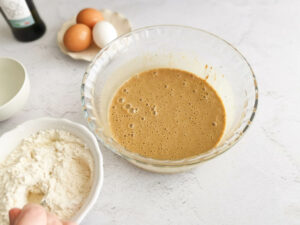 Weigh the flour, put into a bowl; add the baking powder and soda, and the pinch of salt; and mix everything well.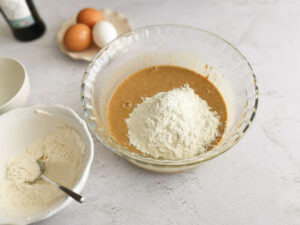 Add 1/3 of the dry mixture into the liquid mixture and beat with the electric mixer. Repeat until you have used all the dry mixture.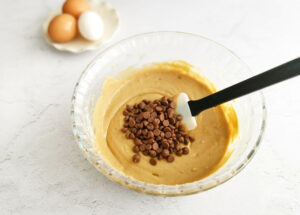 Add the chocolate chips, leaving a few aside for later, and fold them in with a spatula.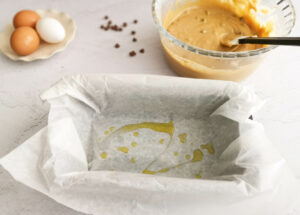 Layer some baking paper on your baking dish, ideally a pound cake dish, and drizzle some EVOO.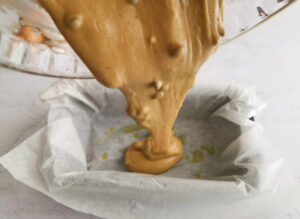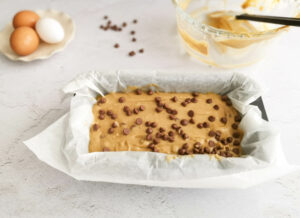 Pour the plumcake batter into the dish, and top with the remaining chocolate chips.
Bake in your pre-heated oven for 40 minutes at 180 degrees Celsius.
To check whether it's ready, use a long stainless steel poking stick, and if it comes out clean in the middle and on the sides, it's done. I like to check it in about 5 different spots.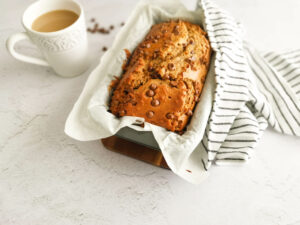 Once it's out of the oven, leave to cool for 1 hr, or at least 45 minutes.
Then dust with a teaspoon icing sugar and enjoy a slice.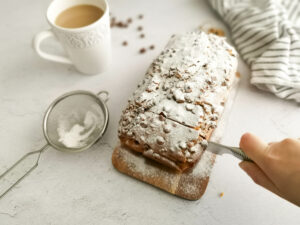 Tips
Plumcake is a traditional cake enjoyed for breakfast throughout the week. Mums love to give it to kids for a mid-afternoon snack. And in my opinion, it's the perfect treat to bake at the weekend, and enjoy on a Sunday morning. You can even make this on Christmas eve so you can enjoy it on Christmas morning.