Authentic Italian Meat Sauce Recipe (Ragù bianco)
This authentic Italian meat sauce recipe melts in your mouth. It's the right pasta sauce to try if you love meaty pasta but are bored of eating bolognese. In Italian, we call this ragu' bianco. We are pairing it with a nice artisan paccheri pasta which has a thick hearty bite. Let's make it.
Ingredients (makes enough sauce for 6 to 8 people, see tips)
300gr beef mince
2 Italian sausages mini or 1 normal
1 large carrot
1 small onion
1 stalk celery
4 teaspoons Belmorso garlic pate'
Belmorso Extra Virgin Olive Oil
salt, pepper, rosemary, and thyme
3 shot-size glasses white wine
2 tablespoons flour
1 vegetable stock cube
300 ml water
Artisan Paccheri Pasta 300 gr (300 gr for 2 large portions, or more as you wish)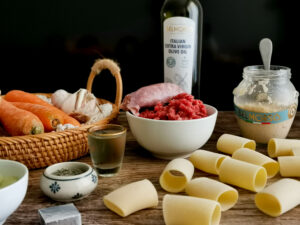 Preparation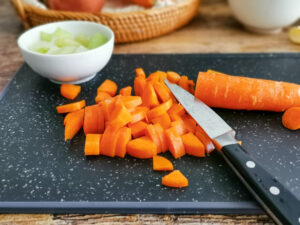 First, wash your vegetables, peel them or not (I didn't peel my carrot), and cut them into small cubes.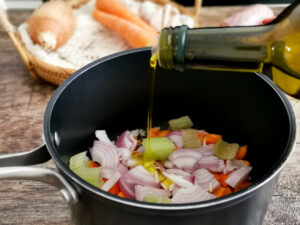 Transfer them to a pot, drizzle plenty of Belmorso extra virgin olive oil, and let them sauté until they start to golden.
In the meantime, remove the skin around the sausage meat, and set aside.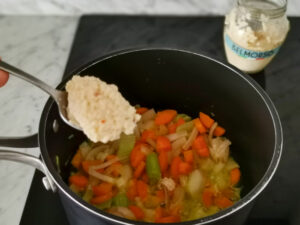 Once your vegetables have started browning a little, after about 12 minutes, mix in the Belmorso garlic pate'.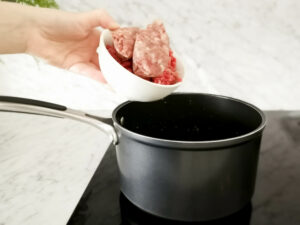 Next, add the beef mince and sausage. Drizzle some more EVOO, mix again, and leave to cook for 3 more minutes.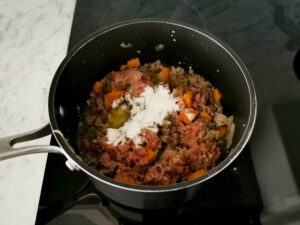 Add the flour and mix well.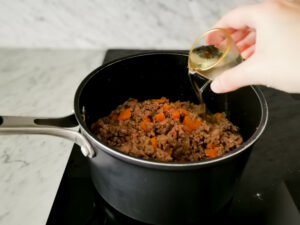 Add the wine and leave to evaporate.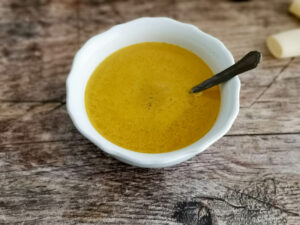 Prepare the water and melt the vegetable stock cube.
Add the water to the sauce pot, season, and mix.
Leave to simmer for 40 minutes.
15 minutes before, fill another pot with water, salt it, and let it boil.
Then, throw your pasta, and follow the packaging instructions.
Once ready, drain the pasta, and serve it.
Then top each pasta plate with plenty of the authentic Italian meat sauce recipe you just made.
Finish with some grated parmesan and enjoy with a glass of wine.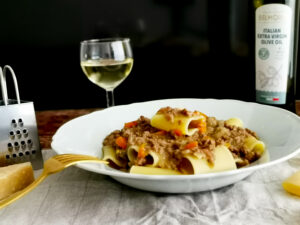 Tips
If you'd like to make a smaller portion, you can adjust the ingredients. Otherwise, you can enjoy the leftover sauce as a curry/stew the next day, with some artisan bread.