Garlic Asparagus Frittata with Ricotta is a delicious recipe to whip together for a gourmet lunch, a weekend brunch or a light dinner. You'll only need a couple ingredients to make it, all nutritious and delicious.
What to expect: when you bite into this late-Spring inspired recipe you'll taste the fluffiness of the eggs, the sweet and bitter taste of the asparagus, and the milk richness of the ricotta. Imagine all of that in a single happy bite.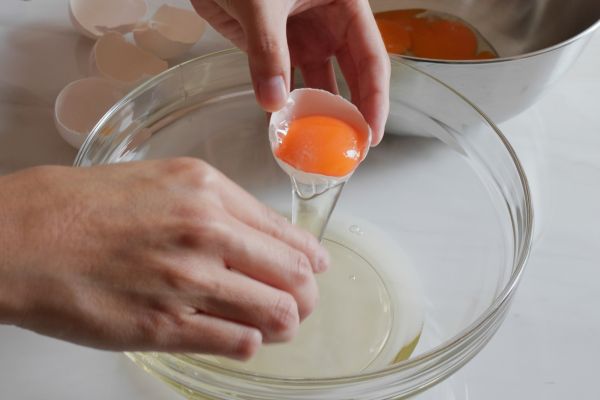 What is a Frittata and how do you make it?
This is simply the result of cracking some eggs in a bowl, usually at least two, beating them with a fork and, later cooking that mixture in a pan with or without oil or butter.
Why do we need to beat the eggs to make it?
Beating the eggs releases the bond and hold of the protein and allows the egg to expand into a foamy liquid mixture.
You've probably noticed before that the more you beat them the more they foam; that's why we use an electric mixer to foam and mount the eggs for baking. That's because we are manipulating the protein and taking advantage of the effect that air has on them.
Fascinating, right?
Frittata Origins
Many ask this question: "Is frittata Italian"?
And the answer is of course it is.
The name frittata derives from the verb to fry, which in Italian is friggere. Something fried in Italian is called fritto or fritta, depending on the gender of the noun. The ending of the word – ata – is a common grammatical suffix used for turning verbs into nouns.
The next question on your mind is probably this one "Who invented frittata?".
Unfortunately, like many other old food staples, it's very difficult to say for sure.
From my research I can conclude that the Arabs might have brought their eggs cooking customs to Italy, and the Italians picked those up and turned them into the frittata. It's likely similar to what happened with the polpetta.
The first written appearance occurred in the famous old book "Del re Coquinaria", written by the Roman chef Marco Gavio Apicio and first published in 1498.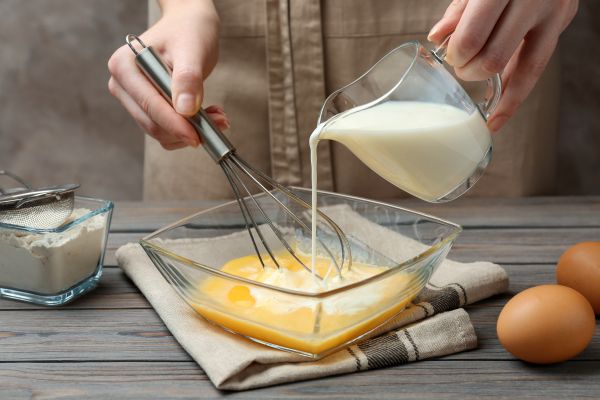 Milk, Yogurt, Cream in Frittata?
The classic Italian frittata doesn't include dairy other than the eggs. It's simply a mixture of beaten eggs, seasoned with salt and pepper and fried in a pan with or without oil or butter.
That's the base to make a frittata. Most savoury Italian frittatas also include some grated parmesan and parsley.
To that you can add vegetables, as well as switch the herbs and use either fresh or dry, add more cheese, another protein, and so on.
However, if we look at the first publication featuring the frittata (the book Del Re Coquinaria), the recipe includes 3 main ingredients: eggs, milk and oil.
What does this mean then?
It means that the use of dairy in frittata is not a must but is a very common ingredient in many recipes.
I would personally think that in the North of Italy more people would use milk to make frittata. In reality, if you search for these: frittata torinese, piemontese, friulana on Google, you get a mixed result. There are recipes featuring milk and a larger number without it.
When searching for frittata siciliana, pugliese, calabrese, you can see that almost none of the recipes include milk.
This somewhat proves my theory.
In any case, you can feel free to add dairy or not to your frittata, although adding it it's not necessary.
I do personally add yogurt when I am making pancakes to make them fluffier and thicker. So if that's something you are wanting from yours, adding dairy can definitely help you achieve it.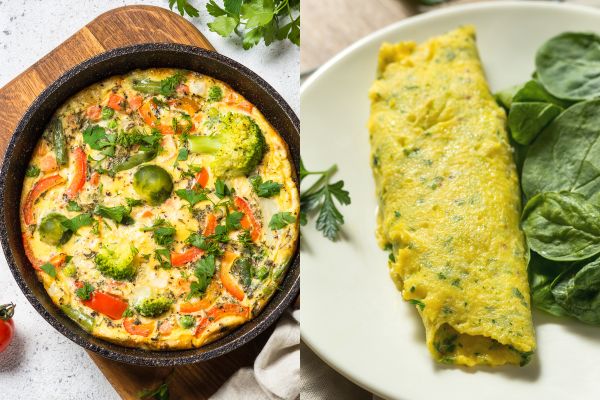 Frittata vs Omelette
These can sound as the same thing since they are prepared very similarly, but they are quiet different.
First of all frittata is Italian while omelette is a French culinary creation.
Let's start by looking at why they call it omelette.
Apparently, omelette derives from the word alemette which comes from Latin lamella, this refers to a thin and small metal plate.
You might find it difficult to pinpoint a connection between the two, but it's likely that it's due to the thin size of an omelette.
What about the recipe? Do French make omelettes the same way as Italians make their frittatas?
The first key difference is very obvious. The French fry their omelettes in butter, not oil.
In terms of ingredients, the omelette is very similar to its Italian cousin. It's made with eggs, seasoning and herbs. Often, French only use the egg white to make an extra fluffy omelette.
The other key difference is the way it is cooked. An omelette is only cooked quickly on one side so it's left soft and creamy, whereas the Italian version is flipped and cooked on both sides in a pan, or sometimes in the oven.
The frittata cook time can extend to up to 30 minutes, especially if baked, whereas an omelette should only take 5 to 10 minutes to make.
Frittata Filling Ideas
Back to the Italian version now. How shall we fill this delicious breakfast, brunch, and lunch favourite?
The options are really endless, but as you can imagine the Italian favourites are very simple.
Ham and cheese with a little parsley and parmesan
Cherry tomatoes with parmesan and basil; you can also add ricotta.
If you'd like yours a little more complex, here are a few ideas:
Asparagus frittata which we are making today
Zucchini frittata
One with mixed veggies
Foraged herbs frittata like a nettle one
One with aubergines
Another with chickpeas
One with prawns
Another with radishes
A green one with peas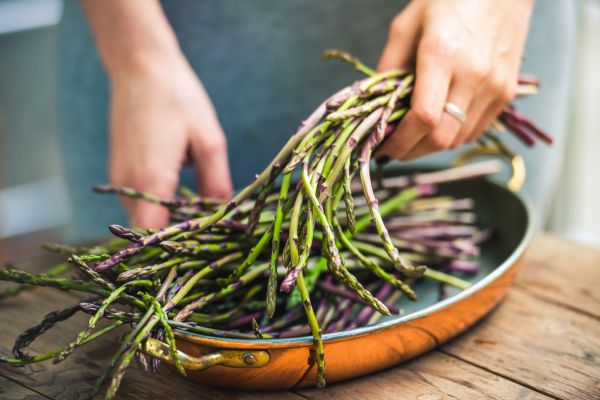 Ways to Cook Asparagus
Our recipe includes asparagus, a delicious vegetable that's in season right now when we are publishing this.
If you are wondering when is asparagus season in Ireland, we suggest checking out the Bordbia website. Its season starts at the end of April and can last up to the end of June.
You can find green asparagus, which is what we are using, white asparagus, purple asparagus, wild asparagus and a few other types.
Whichever you use, you can opt to cook this vegetable in multiple ways.
Oven asparagus – an easy and hands off method
Roast asparagus – involves the same process as cooking it in the oven but you'll probably want to cook it at a higher temperature so that the final result is crispier.
Fried asparagus – this method is more likely to be used when you want to coat the vegetable with a batter and then fry it to get crispy and bready.
Pan cooked asparagus – is the simplest and quickest way to cook asparagus, and is great if you don't mind your asparagus having a bite rather than being very tender.
Boiled asparagus – the best method for getting a very soft, even mushy, result.
If you are looking for the best way to cook asparagus to keep nutrients, steaming is the way to go.
Asparagus and eggs
This vegetable is a great one to pair with eggs, and you don't need to make a frittata to enjoy it. When you are in a rush, you can simply pan fry it and and serve it with fried eggs.
Baked Asparagus Milanese style is another delicious way to enjoy this flowering green.
Have a look at these recipes for cooking asparagus from our archives.
Asparagus Jokes & Sayings
After this long asparagus and eggs talk, I think it's time to crack a joke or two :). Here they come.
The definition of asparagus: "A bean (or better  a vegetable) with aspirations of becoming a paintbrush" by Anonymous.
"What did Asparagus say to Eggs Benedict? – Happy Hollandaise, of course!" by Anonymous.
Let's conclude with a beautiful Sicilian saying: "Asparagi e funghi insegnano l'umiltà al cuoco".
This translates to asparagus and mushrooms teach chefs to be humble. I believe the meaning is that however great a chef is, he must not forget that he wouldn't be that great if it wasn't for the ingredients. That's not to say that a chef is not an artist with a great talent for culinary creativity but the stars are always the ingredients, especially ones that are grown by nature.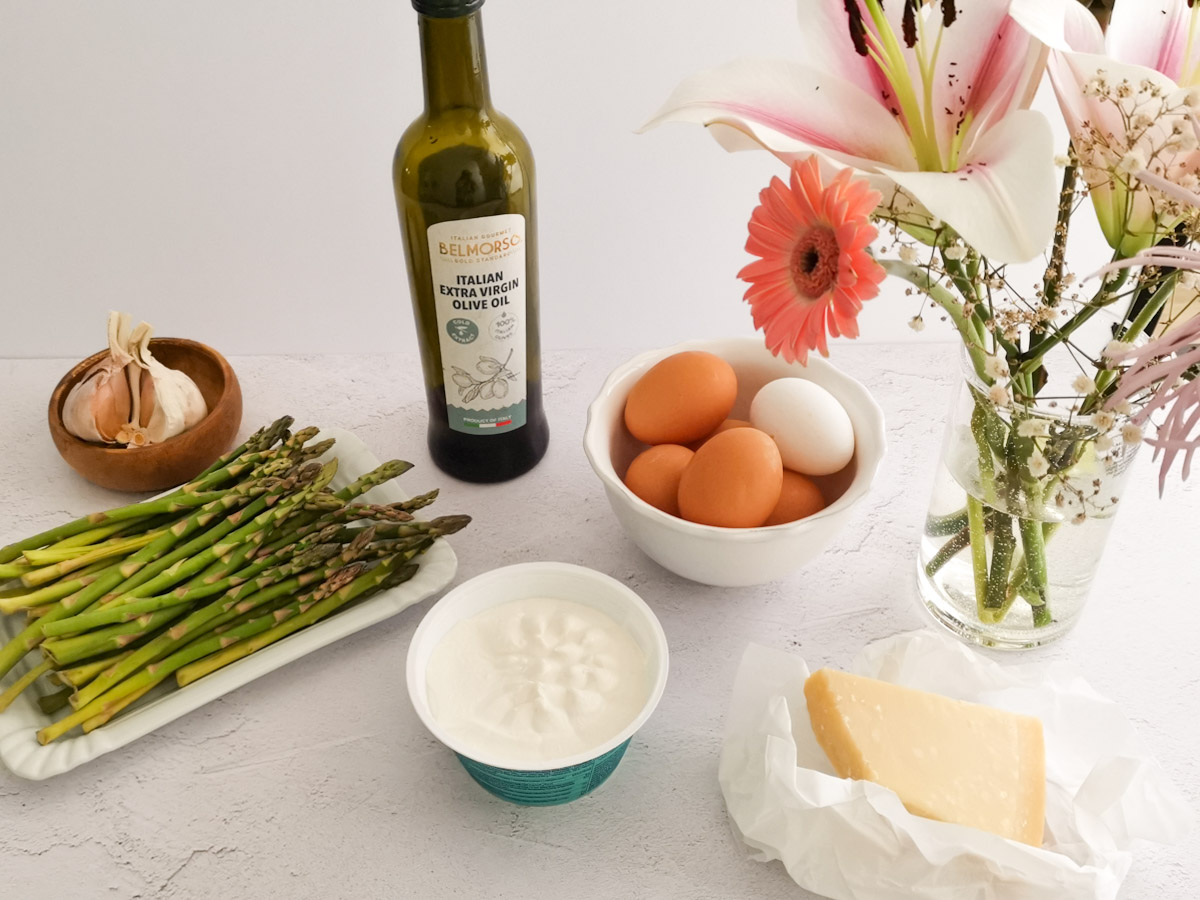 Asparagus Ricotta Frittata Recipe
Below I am sharing my delicious Italian recipe featuring eggs, the veg paintbrush (haha), and ricotta.
You have the option to print it out or follow the steps on your device.
As always, when cooking Italian food, make sure you are using a high quality extra virgin olive oil like Belmorso EVOO.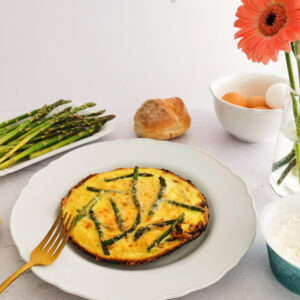 Garlic Asparagus Frittata with Ricotta
Add this Garlic Asparagus Frittata with Ricotta to your next brunch menu for a delicious and nutritious crowd pleaser you can prepare quickly.
Equipment
1 bowl

1 fork

1 cutting board

1 chopping knife

1 medium sized pan

6.5 to 8 inches

1 omelette spatula

stainless steel or silicone
Ingredients
2

cloves

garlic

100

gr

green asparagus

salt and pepper

rosemary

dried or fresh

1.5

tbsp

ricotta cheese

plus more for topping

1

tbsp

grated parmesan

rustic bread for serving

optional

Belmorso extra virgin olive oil
Instructions
Peel and mince your garlic cloves.

Rinse and prepare your asparagus. Cut each stem into two or three parts, depending on how long the stems are, about 4 cm pieces.

Crack and beat the eggs in a bowl. Make sure to season with salt and pepper, and a add a dash of rosemary. Set aside.

Sauté your asparagus in a pan with extra virgin olive oil and the minced garlic. Keep cooking it until the asparagus is tender enough to your liking.

Add the parmesan and ricotta to your eggs and fold them gently.

Put aside some of the cooked asparagus in a plate for later, about 1/3 of the amount.

Pour the eggs mixture on top of the asparagus and leave to cook until you can insert your spatula at the bottom and it comes out clean.

At this point, you can either flip the frittata the classic and cool way, or you can slide into a plate and then flip it back into the pan so it cooks on the other side. You can also opt for baking the frittata in the oven for around 7 minutes.

Whichever way you choose to finish cooking it, it's now time to add the extra asparagus on top of the raw side and to sprinkle some extra parmesan.

Once ready, serve with a crack of black pepper and a drizzle of extra virgin olive oil. Make sure you are using a great one like Belmorso so you can benefit from this powerful antioxidants pairing.

Enjoy with a side of bread, smoked salmon, and extra ricotta cheese.
Video
Notes
I suggest enjoying any leftovers within the next day or two.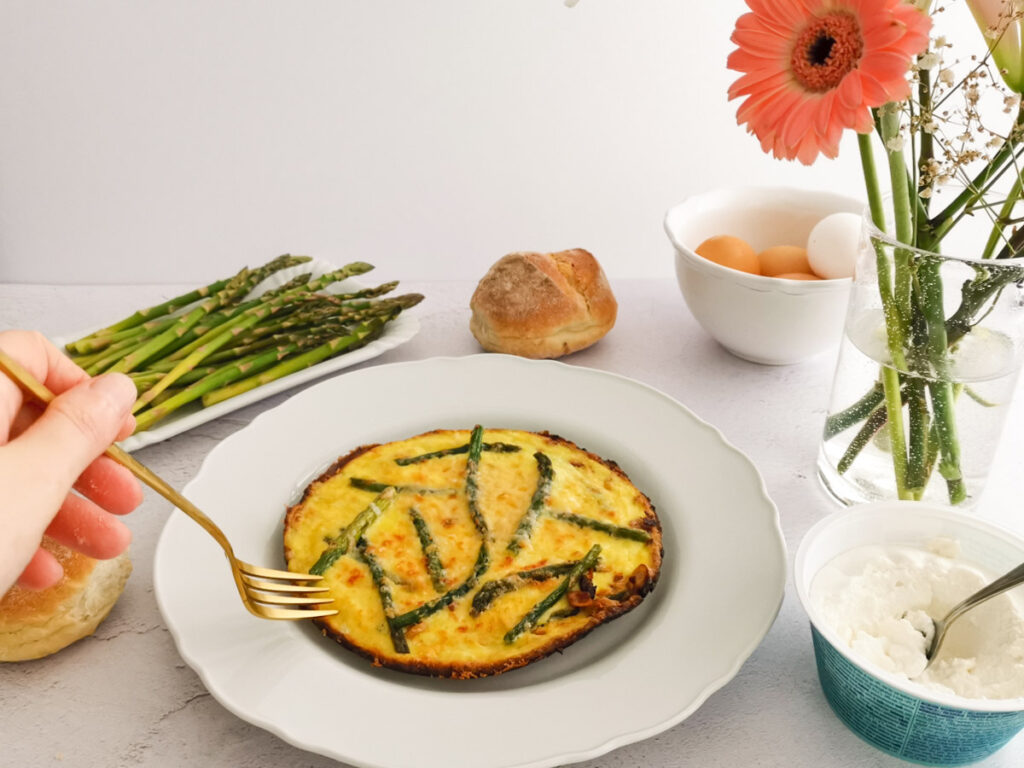 Recipe Variations
If you'd like to tweak this recipe, here are a few suggestions.
1.Asparagus frittata parmesan.
You can skip the ricotta and just use the parmesan if you want a lighter less dairy-rich meal.
2.Frittata with asparagus and leek
You can replace the spring onion with a leek or two for a sweet and weaker onion taste.
3.Asparagus and potato frittata
If you want to add more vegetables, potatoes are the perfect match.
4.Salmon and asparagus frittata
Smoked salmon is delicious enjoyed with this green.
5. Ham and asparagus frittata
If you don't like smoked salmon but would like to add some extra protein, you can include your favourite ham instead.
6. Frittata without cheese
Whether you are trying to cut the dairy, the calories, or both, this frittata will still taste very good if you skip the cheese.
How to serve Asparagus Frittata
Whichever way you choose to make yours, you can enjoy it in many different ways. Here are 3 suggestions.
Enjoy it on its own for a filling breakfast or light lunch
Have it with a side salad and some smoked salmon for a delicious Summer-inspired lunch
Try a grilled asparagus frittata sandwich filled with just your Italian omelette and your favourite melted cheese
Check out these other Italian Recipes with Ricotta Cheese
If you are a ricotta lover, I am sure you'll appreciate these recipes.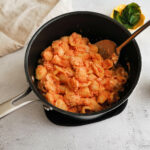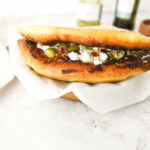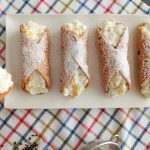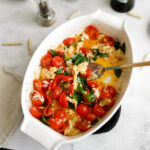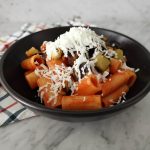 Share in the comments which of the above recipes is calling your name the most.
Should you flip a frittata? and answering other questions
How do you make a frittata not soggy?
If you are adding milk to your frittata, it's important to just add a splash or you'll risk making the mixture too liquid. If so, the frittata won't cook well and might stay soggy. Another way to avoid your frittata being soggy is too cook it longer so you can give the eggs the necessary time to cook and start solidifying. Our third tip for making a frittata that is not soggy is to use the right sized pan depending on the number of eggs you are using. For up to 2 eggs, you can use a small 6 inch pan. For more eggs we suggest a larger pan.
Should you flip a frittata?
Frittata must cook on both sides, so yes it needs to be flipped. You can flip it the classic and cool way. Or if you are afraid it will break you can slide it onto a plate and then use the plate to flip it back into the pan.
How do you flip an omelette so it doesn't break?
Omelettes don't need to be flipped as they are meant to be cooked on one side to stay creamy. If you want to flip it, you are very likely making a frittata. To flip it safely, you can slide it onto a plate and then use the plate to flip it back into the pan.
What to put in a frittata?
The classic Italian frittata only includes a bit of parmesan and fresh parsley along with salt and pepper. Of course, you can put anything you'd like in it, from asparagus to sausage. Another simple classic Italian frittata includes ham and cheese.
Are frittata healthy?
If you eat eggs as part of a balanced diet, then a frittata is a healthy meal for breakfast or lunch. To keep it healthy you should keep the filling and toppings simple and low calorie.
Can frittata be eaten cold?
Yes, unlike omelettes, frittata can be very tasty also when eaten cold. That's why they make a great lunch recipe for hot Summers.
Is frittata Italian?
Yes, frittata is Italian whereas omelette is French. While the origins of frittata are unknown, its first written appearance happened in the 15th century. I am referring to the famous book Del Re Coquinaria written by Apicius, a Roman chef and culinary expert.
Is frittata like an omelette?
Frittata is the Italian version of the French omelette. The two include the same ingredients but are cooked differently. Frittata is cooked in oil, for a longer time, and on both sides. While omelette is cooked in butter, quickly and only on one side.
How to cook asparagus in the pan?
To cook asparagus in a pan simply wash and cut the asparagus stems into smaller pieces, about 3 pieces per stem. Then sauté in your pan with extra virgin olive oil, a little garlic, and salt and pepper.
How to cut asparagus?
The way you cut asparagus depends on your recipe. However, the most common way is to cut each stem in 2 or 3 parts, either straight or diagonally for a more aesthetic look. Make sure to cut off the tough woody ends at the bottom.
Is asparagus aphrodisiac?
Yes, asparagus is known as being an aphrodisiac food because of it's high content in vitamin E and potassium. However, don't worry as the effects will be unnoticed, unless you plan to eat the entire garden bed in one go.
How to cook white asparagus?
You can cook white asparagus as you would the green one. It's great paired with risotto, meats and fishes when you want a milder taste.
Can you roast asparagus?
Yes, you can roast asparagus in the oven with a drizzle of extra virgin olive oil, some salt and pepper, and the optional addition of garlic cloves or bulb.
How long asparagus in fridge?
If you get your asparagus fresh, it should last well for up to 5 days in the fridge when uncooked. If cooked, you should consume it within 3 days.
How much asparagus per person?
A regular bunch of asparagus, about 300 gr, should be enough for 2 people when enjoyed as a side dish or as part of a main dish.