With this recipe, I have taken the simple cream cheese pasta and transformed into an elegant, creamy, unique pasta dish that packs a ton of flavour. It's like marrying cream cheese pasta to pasta with pesto di Bronte.
What to expect: a plate of fettucce that looks very creamy but once you take a bite you'll be greeted by a salty, sweet and fresh flavour combination that's just divine.
Ready to dig in? Wait, we have to make it first :).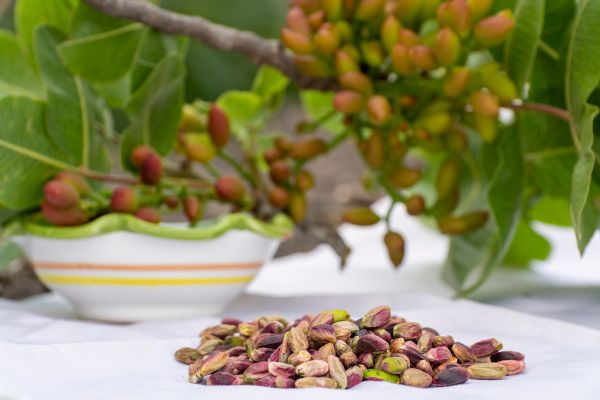 Bronte Pistachio: Why is it so famous?
Pistacchio di Bronte is an exceptionally delicious bright green variety of pistachio that comes from Bronte.
What is Bronte or better where is it?
Bronte is a town on the island of Sicily, located in the south, in the province of Catania. The town is located 16km away from the mount of Etna and it's mainly known for its pistachios that grow on nearly 7500 hectares of the land.
If you are planning a holiday to Sicily, you should put Bronte on your map as it's not only delicious but also charming.
As you can imagine, this area is famous for making a multitude of delicacies using this green gem in a shell.
Here is a list of delicious sweet treats with pistachios:
Cannoli with Bronte Pistachio
Pistachio Ice Cream
Pistachio Almond Biscuits (called paste di mandorla)
Fresh pistachio cakes
Pistachio Panettone and Colomba, when in season
Pistachio chocolates
Pistachio paste
Pistacchio croissants
Pistachio and nutella pizza
What about Savoury Recipes featuring this green nut?
These are the 5 savoury foods you should put on your list when visiting this Sicilian town.
Arancini with pistacchio di Bronte
Pizza bianca with pistachios
Pistachio Pasta alla brontese (similar to the one we are making but not identical)
Beef or veal rolls with the ground nut
Panino with mortadella and pistachios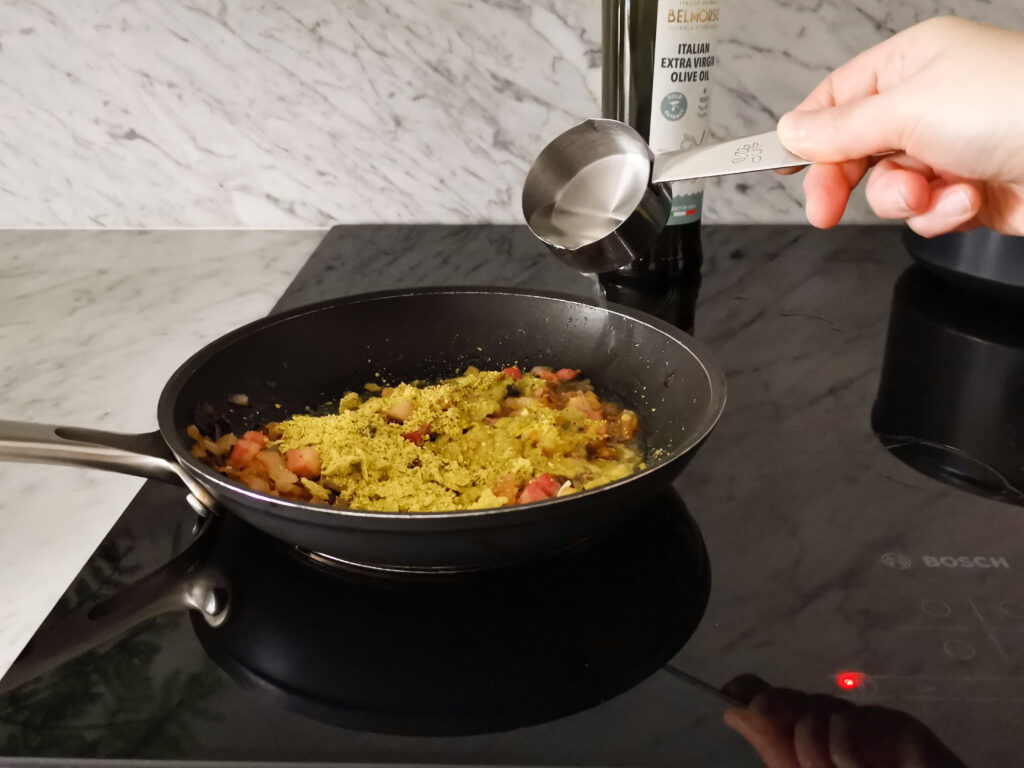 How to make Cream Cheese Pasta like a Sicilian
You'll quickly realize that we are going to elevate the usual cream cheese pasta to one that's full of interesting flavours with just the addition of these 2 main ingredients:
Pistachios and
Bacon
A high quality extra virgin olive oil like Belmorso EVOO is also a must to bring out the pistachios flavour.
Below you'll find the full recipe. Feel free to print it out or follow it on your screen.
To make a true Sicilian-style artisan cream cheese pasta we suggest using a high quality fettucce pasta and our gourmet Italian extra virgin olive oil.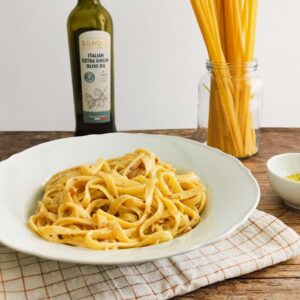 Fettucce Cream Cheese Pasta Brontese
This fettucce pasta is very creamy with a salty, sweet and fresh flavour profile that's just perfect.
Equipment
1 chopping board

1 chopping knife

1 pan

1 pot

1 blender

like Nutribullet
Ingredients
250

gr

Artisan Fettucce Pasta

1

onion

medium

50

gr

cubed bacon

40

gr

shelled pistachios

Belmorso Extra Virgin Olive Oil

100

gr

cream cheese

like Philadelphia original
Instructions
Prepare the ingredients for this recipe.

Peel and cut the onion into small cubes

Transfer to a pan, add a generous drizzle of Belmorso Extra Virgin Olive Oil and sauté.

Boil the water for your pasta with plenty of water and salt.

After a couple minutes, add the bacon to sauté along with the onion.

Add the fettucce to boil.

In the meantime, blitz your pistachios in a blender until you get a powdery consistency. You can also opt for a coarser consistency if you prefer a lot of crunch.

Add the ground pistachios to the pan with the onions and bacon, along with 8 tablespoons of pasta cooking water. Mix well and leave to cook at low heat for 2 more minutes.

Drain the pasta and save some more cooking water, about half a glass.

Transfer the pasta to the same pot and add the onions, bacon and pistachios paste. Mix well.

Then add the cream cheese, about 3 large tablespoons, and fold it in with the pasta and the rest of the ingredients. Add more pasta water as needed. Continue mixing for 2 to 3 minutes so that the cream cheese heats up and melts fully.

Take the pot off the heat, and serve the cream cheese pasta in your plates.
Video
Notes
Make sure to serve the pasta quickly and enjoy it right after. This kind of pasta tends to get sticky and dry pretty quickly.
Other Cream Cheese Pasta Recipes You Should Try
If you want to make different types of creamy and cheesy pastas, here are 3 Italian pasta recipes I suggest: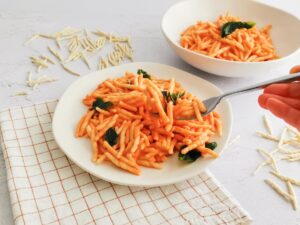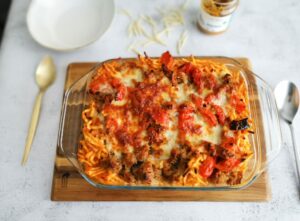 Pistachio Benefits for Brain
Pistachios are not only delicious to make this pasta dish with but they are also a great snack to add to your diet.
A study carried at Loma Lynda University found that eating high quality nuts regularly, including pistachios, can help boost brain power and concentration. Plus, pistachios are rich in fibre, healthy fats and antioxidants so they make a nice healthy snack that is also nutritious and beneficial to one's health.
If you prefer, you can add them to your diet by topping your meals with ground pistachios, just the same as you would with grated parmesan or any other cheese. They can add flavour and also a nice crunch to many dishes.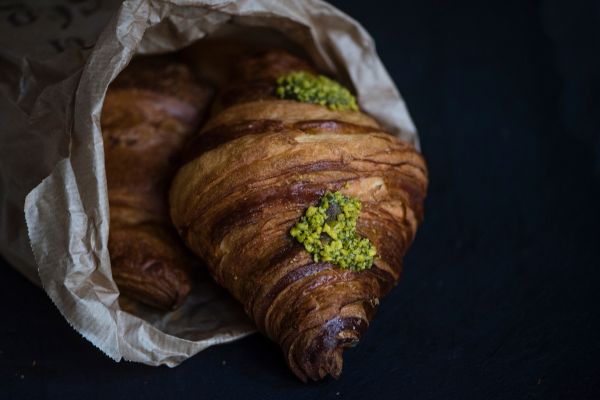 More Pistachio Paste or Nuts Recipe Ideas from Sicily
If you have a jar of pistachio paste or a pack of nuts lying around in your pantry, here are more ideas of recipes you can try inspired by Sicily and Italian food culture.
Pistachio Tiramisu
A white lasagna with pistachios. You can use our ragu bianco sauce and simply add a layer of ground pistachios; you can alternatively mix the paste with your bechamel sauce.
Pistachio pesto and prawns spaghetti
Cherry tomatoes and ground pistachios rigatoni
Pistachio Plumcake
Pistachio Ice Cream Cake
Pistachio crusted swordfish or salmon
Lamb covered with these ground green nuts
Questions about Cream Cheese Pasta, Pistachios & Bronte
Where pistachios come from?
Pistachios seem to originate in Iran but one of the most delicious variety, which has a POD that is a Protected Designation of Origin, comes from Bronte in the south of Sicily.
What goes well with pistachios?
Because of their saltiness, pistachios marry well with anything sweet, from vanilla to honey. Pistachios are incredibly delicious when paired with chocolate, bacon, lamb, swordfish, prawns, pasta, cheese, tomatoes, and both sweet and salty dough or bread.
What does Bronte mean?
Bronte means thunder in Greek. If you are wondering whether the town of Bronte has anything to do with thunders or Greek mithology, it does. Bronte was also the name of a Cyclop who lived in a cave on the mount of Etna. He was the son of Uranus, the sky God.
Fettuccine vs tagliatelle?
Whether they are dry or fresh, fettuccine and tagliatelle are made the same way, using the same ingredients. The difference lies in their shape and thickness. Fettuccine are thicker but less wide, about 0.6 cm wide. Tagliatelle, on the other hand, are thinner but wider, about 0.8 cm wide.
How much fettuccine for 2?
250 gr of fettuccine should be plenty for two if you'd like a balanced portion of pasta. If you are feeling extra hungry, you can cook 300 gr. Always remember to cook more if you are using fresh pasta, as the latter weighs more than dry pasta.
How much fettuccine for 1?
Depending on how hungry you are, we suggest cooking between 100 to 150 gr of fettuccine for one. Always remember to cook more if you are using fresh pasta, as the latter weighs more than dry pasta.
How to make pistachio pesto?
All you need to make pistachio pesto is fresh pistachio nuts, preferably Bronte pistachios, and a high quality extra virgin olive oil like Belmorso. For a thick pesto you can start with 1:0.5 ratio of pistachios and extra virgin olive oil. Keep adding more EVOO, a tablespoon at a time, to reach your preferred consistency.