Garlic Pasta – Spaghetti Aglio e Olio with a Twist
Spaghetti aglio e olio is a traditional Italian garlic pasta that also happens to be a healthy pasta dish. Today we will be giving it a spin by adding some pepato cheese. It's like marrying spaghetti aglio olio with cacio e pepe. Whether you are cooking for one, two, or more people this easy pasta recipe is so simple yet tasty that it's always a winner. The best part is that there is minimal prep work, so your pasta should be ready in 15 minutes.
Ingredients
150 grams spaghetti 
2 large garlic cloves
35 grams pepato cheese (the Sicilian pecorino)
4 tablespoons of a high-quality Extra Virgin Olive Oil 
Salt to taste
2 tablespoons parsley, fresh or frozen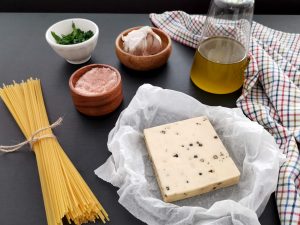 Preparation
Start by boiling the water for the pasta, don't forget to add the salt.
While the pasta boils, grate the pepato cheese and thinly slice the garlic.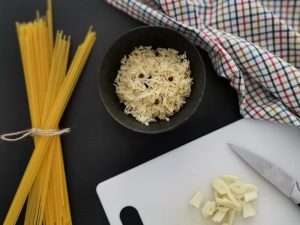 Next, throw the pasta in the pot, and let it cook following the package instructions. For this dish, you want your pasta to be aldente. Take some of the pasta water and set it aside.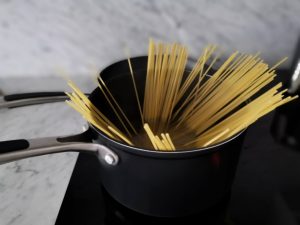 Add the sliced garlic to a separate pan, pour the olive oil, and let it saute' at a low temperature so that the oil gets infused with the garlic.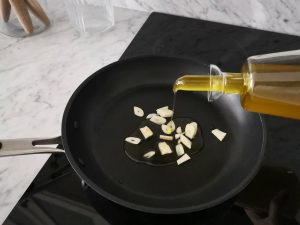 Strain the pasta, add it to the pan with the garlic and olive oil and toss everything together. Finally, add the grated pepato and the parsley and mix well until combined. You want to be quick and not overmix so that the pasta doesn't dry (if you think your pasta is a little dry, you can always add the pasta water set aside).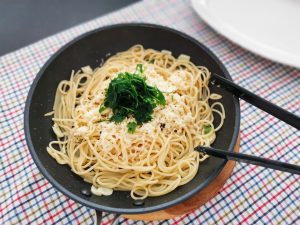 Serve and enjoy.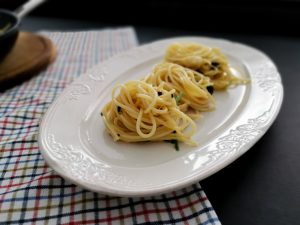 Tips
Should you have trouble finding pepato cheese you can replace it with pecorino or romano cheese. On the other hand, if you'd rather stick to aglio olio and skip the cheese, maybe to make it a low-calorie meal, you can add a little hot chilli pepper spread. If you choose to enjoy this healthy pasta dish with a salad, the quantity is just enough for two people.