Fettuccine Alfredo
Fettuccine Alfredo is a popular pasta dish loved all over the world, but did you know the recipe has its origins in Rome? Apparently, the sweet Roberto Di Lelio was worried for his wife's health after she gave birth to their first child, so he started making nutritious recipes. And one of them was this fettuccine alfredo with butter and parmesan. Although Roberto made the pasta from scratch, don't worry you can buy our fettucce and cut the cooking time to just 20 minutes.
Ingredients
40 grams unsalted butter (salted is fine too)
40 grams grated parmesan
a few tablespoons heavy cream (optional)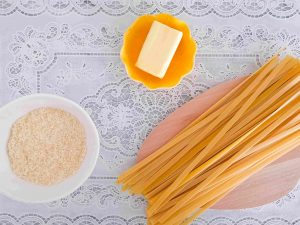 Preparation
The first step involves filling a pot with water and adding 1/3 teaspoon salt.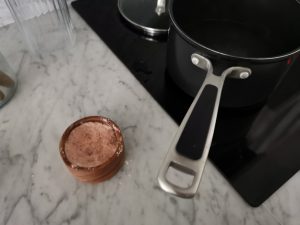 Next, you want to measure 40 grams butter and 40 grams parmesan. If your parmesan is not grated, grate it now.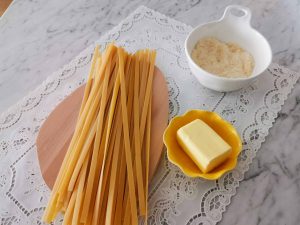 Throw the pasta in the boiling water and let it cook following the packaging instructions.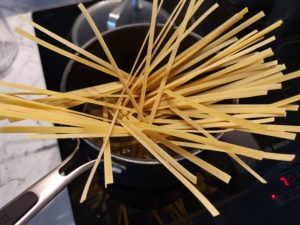 In the meantime, take a pan and place it over the hob to let it heat. Then throw the butter and let it melt at low heat.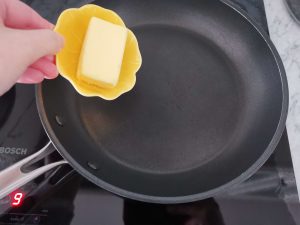 When the pasta is ready, remember to keep it aldente, drain it and transfer it in the pan with the butter.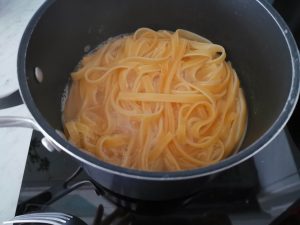 Season with salt and a very generous amount of black pepper. Remember, to use less salt if your butter is already salted.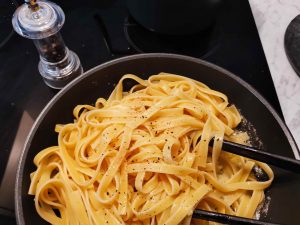 Next, add the parmesan and mix well.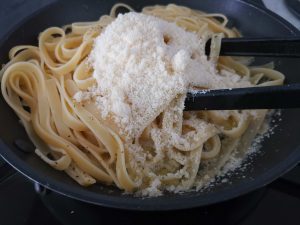 If you feel the pasta is too dry, maybe your butter has reduced while melting, you can either add a few tablespoons pasta cooking water or add a few tablespoons heavy cream.
Mix well and serve immediately.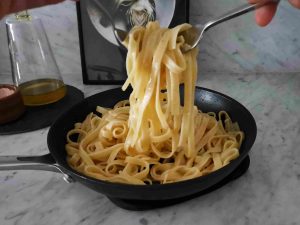 Tips
If you want to skip the heavy cream, you can use your milk of choice. This pasta is great for meat eaters and vegetarians, but can also be customized for vegans. Simply use a vegan parmesan alternative and a dairy free butter.