Salmon with Mediterranean Flavours
While salmon is associated mainly with Scotland, Norway and other northern countries in Europe, Italians love their salmon too. So I thought I would share with you a Mediterranean recipe featuring this very popular fish. Get ready to be amazed by the simplicity of this dish, and later surprised by its taste.
Ingredients
3 medium large fillets fresh salmon
a great quality olive oil (you can choose one here)
8 cherry tomatoes
4 medium garlic cloves
salt and pepper to taste
thyme fresh or dry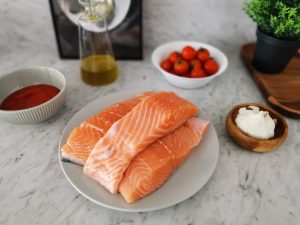 Preparation
Rinse the fish and place it on a clean plate.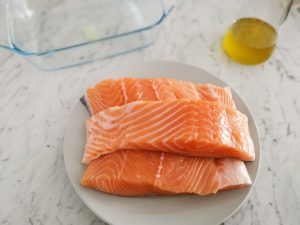 Drizzle the olive oil at the bottom of your casserole.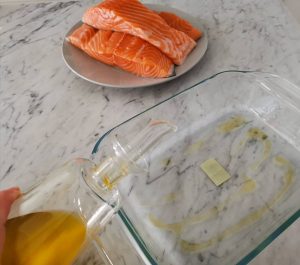 Layer the salmon fillets in your casserole and season with plenty of salt and pepper.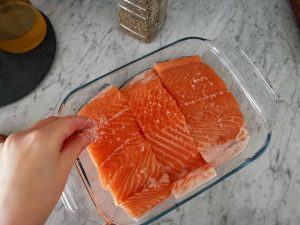 Slice the cherry tomatoes in half; then peel and cut the garlic cloves into thin slices.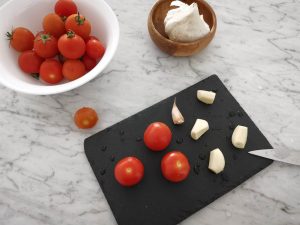 Spread the entire tomato sauce jar on top of the fish fillets.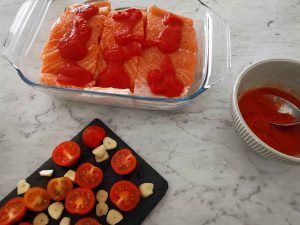 Layer the cherry tomatoes and garlic on the fish.
Drizzle with plenty olive oil, season with more pepper, and finish with a generous amount of thyme.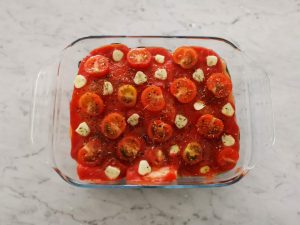 Bake in the oven for 40 minutes.
Take out of the oven and serve with a side.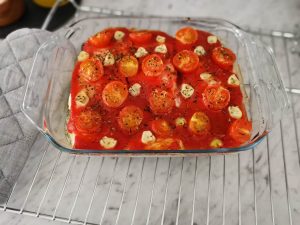 Tips
I suggest serving this with oven roasted potatoes, but it will also pair well with a medley of vegetables. if you opt for the latter, make sure to drizzle a great quality balsamic vinegar like this one. If you want to start your lunch or dinner with pasta, we suggest boiling 70 grams linguine per person and topping them with one or two spoons cherry tomatoes sauce from your salmon casserole. Season with salt and pepper, drizzle with a little olive oil and sprinkle some pecorino cheese or parmesan on top. If you do this make sure to double the amount of cherry tomatoes and tomato sauce you use for the salmon recipe.