Ciabatta from Italy – with pesto, mozzarella, tomato and prosciutto
If you are craving an easy Italian lunch, there is nothing better than a flavourful ciabatta featuring all the Italian flavours and colours. Whether you pack it for work, take it on a picnic, or enjoy it at home in your garden or in front of your TV, it will surely not disappoint you.
Ingredients
1 medium ciabatta
2 slices prosciutto crudo
1 medium tomato sliced
1 mozzarella sliced
pepper to taste
oregano (optional)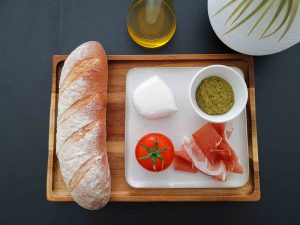 Preparation
Firstly, slice your ciabatta into two halves, and spread one tablespoon pesto on each side.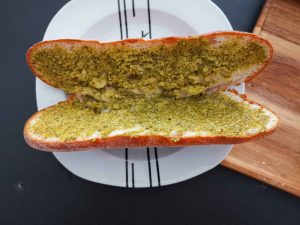 Then slice your tomato and mozzarella into medium thick slices.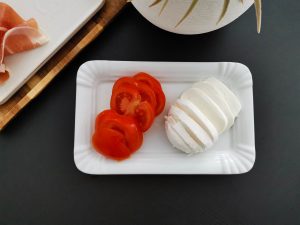 Layer the prosciutto crudo on one side of the bread.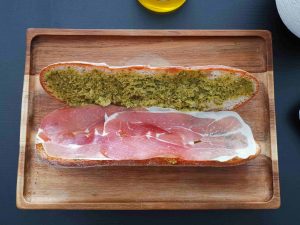 Top the prosciutto with the tomatoes slices and sprinkle some oregano and black pepper. Then drizzle a great quality olive oil to get all the sweet taste out of the tomato.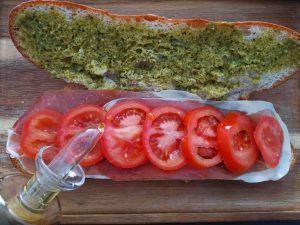 Finally, layer the mozzarella slices on top of the tomatoes slices.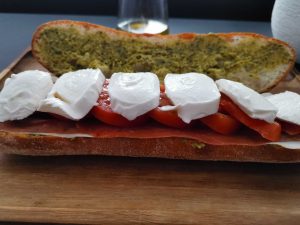 Close the ciabatta bread, cut into halves and serve.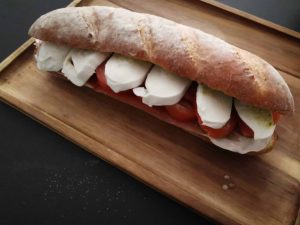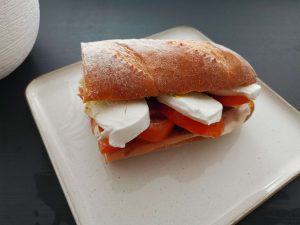 Tips
You can serve this with a salad, and maybe share one half with someone you love. (PS: you must really love them to share this delicious Italian ciabatta :). Or you can enjoy it all by yourself with a salad, or my favourite with a side of crunchy zucchini and roasted aubergines mix.
This recipe makes a great treat for picnics and garden parties. You may, however, want to swap the ciabatta bread with mini rustic rolls. If you don't like the salty taste of prosciutto crudo, you can replace it with parma ham.
And if you want to create a mix of mini rolls for your party, you can do half the amount using this exact recipe and the other half with this red pesto and the parma ham.
For a vegetarian version, just omit the prosciutto.