Mille Feuille with Italian Custard
Mille feuille is a delicious puff pastry dessert which us Italians call mille foglie. It's a simple delicacy that you can find in many local Italian patisseries and bakeries. It's a common favourite as the flaky pastry and custard combination creates a balanced dessert that's neither too sweet nor too indulgent. If you want to make it yourself in less than 30 minutes keep reading.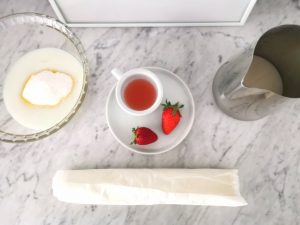 Ingredients
2/3 roll puff pastry (will yield 4 mille feuille)
30 grams powdered custard from Paneangeli (half packet)
150 ml milk
1 tablespoon prelibato rose'
Four strawberries or other fruit
1 tablespoon icing sugar
Preparation
Start by cutting two thirds of the pastry or use it all if you want to make 6 portions instead of 4. Cut into equal sized rectangular pieces. I used the shortest measuring spoon to help me measure the rectangles but you can use a kitchen ruler to make things easier.
Next, place the slices of pastry onto a baking dish and use a fork to make tiny holes in the pastry. Bake it for 10 minutes, no need to preheat the oven. After 6 minutes open the oven, flip the pastry and flatten it with a fork. Let it cook for the remaining 3 to 4 minutes.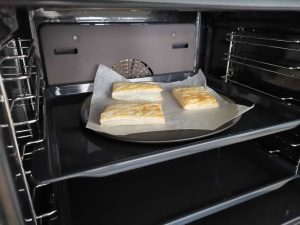 In the meantime, you can start making the custard by mixing the milk and powder in a bowl and whipping it for roughly 3 minutes using a hand mixer.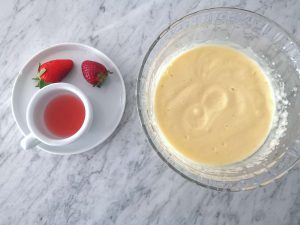 To your custard add the prelibato rose, this will give it a nice flavour but won't change the colour much.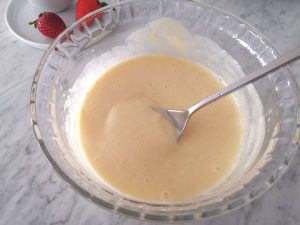 Take the pastry pieces which should have come out of the oven by now and start assembling the mille feuille. Layer the pastry at the bottom, then top with custard, and repeat one more time finishing with one final pastry layer so that you have 3 pastry layers and 2 custard layers.
To make the mille feuille thinner I split each pastry rectangle into two parts ang got two slices of pastry. If you prefer you can use the thick pieces instead.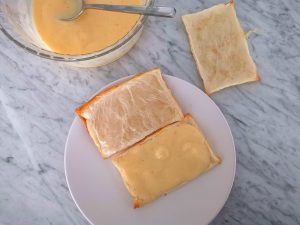 Slice each strawberry into 3 parts and layer them on top of the mille feuille to create a nice design. And then add the powdered sugar. Repeat the same process to make the other mille foglie portions.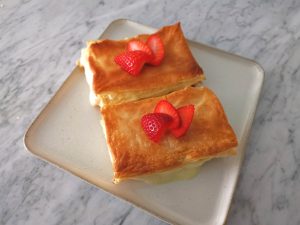 Tips
This dessert is very flexible. You can change things up by using a different fruit or balsamic. You can use blueberries, tangerines, raspberries, kiwis and grapes. Click here to see the full selection of balsamics and choose your favourite. You can also layer the fruit on top of each custard layer. And if you prefer you can caramelize the fruit with the balsamic of your choice and some agave or your favourite syrup.