Vegan pasta – not your usual tomato pasta
This vegan pasta is an amazing one as it can be enjoyed by everyone. It's simple, delicious, made with genuine Italian products…and yet it's not your usual tomato pasta. So it's perfect to please a crowd while still being different. Keep reading to learn how to make it.
Ingredients
Rigatoni (120 grams or so per person)
Country basil sauce  (one jar per person, or 1.5 for 2 portions)
The best balsamic you can find (1 tablespoon or 1.5 per person depending on how strong you want it)
Salt and pepper to taste
Dry oregano
Fresh basil – half a handful each
Pine nuts or nuts of your choice, preferably ground – 1 to 2 tablespoons nuts per person (I am using brazil nuts this time)

Preparation
Start by boiling the water for your pasta. In the meantime take out all the ingredients you need.
When the water is boiling, add the pasta and let it cook following the package instructions.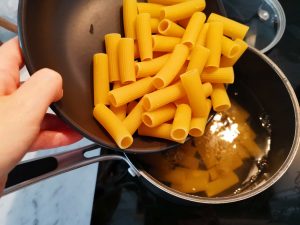 While the pasta cooks, take your nuts and ground them using a food processor or powerful blender. When you are done, grounding them place the nuts in a bowl and set them aside.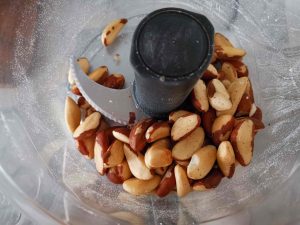 When the pasta is ready, drain it and place it again in the pot.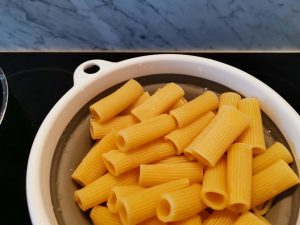 Now it's time to add all the other ingredients, one by one, in the same pot. Start adding the country basil sauce, and oregano.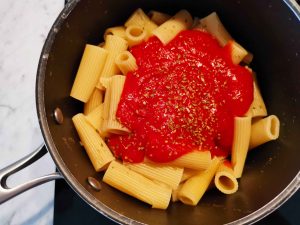 Next, season with salt and pepper and add the olive oil and balsamic – a few drizzle of olive oil and the balsamic as per above.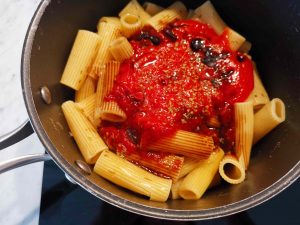 Time to add the fresh basil.
Mix everything together well, and then add the last ingredients – the ground nuts. As, I said I am using brazil nuts but pine nuts will be great.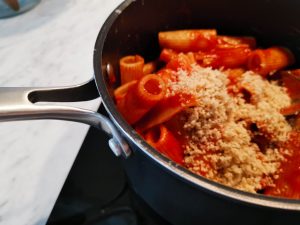 Serve and sprinkle with some extra ground nuts.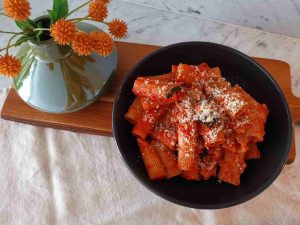 Tips
By using the nuts in this recipe, not only we add some extra flavour and texture to this pasta dish, but we also add the protein. If you are not vegan, and want to add some cheese, parmesan or ricotta salata would go nicely here.