Pizza Rustica with Italian artichokes and olives
Next time you feel like pizza try this tasty but very quick pizza rustica. It's full of flavour, and it looks gorgeous, making it perfect to impress family members and friends. Let's make it!
Ingredients
1 roll rectangular pizza dough
one jar country basil sauce
1 small onion
8 medium black olives like these delicious Peranzana Leccina
100 g mozzarella cheese
1 can high quality tuna
8 cherry tomatoes
2 tablespoon grated parmesan cheese
the best extra virgin olive oil like one of these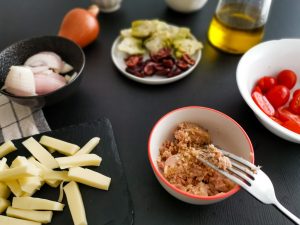 Preparation
Start by preparing your ingredients.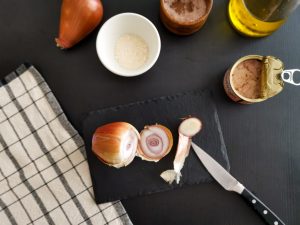 First cut the onion into thin slices.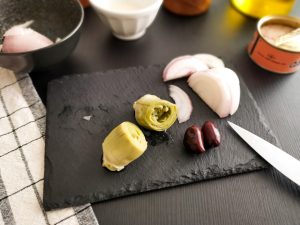 Then cut the olives in half and remove the pit.
Next, cut the artichokes into halves.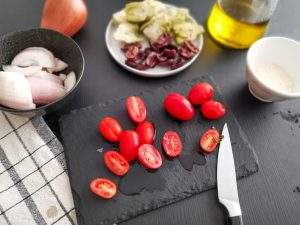 Follow by cutting the cherry tomatoes in half.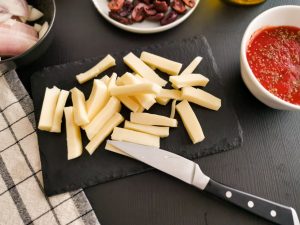 Now, slice your mozzarella cheese into medium slices.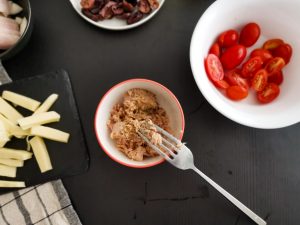 Take the tuna out of the can, transfer it to a bowl, and season with salt, pepper, extra virgin olive oil, and oregano
You are now ready to prepare your pizza.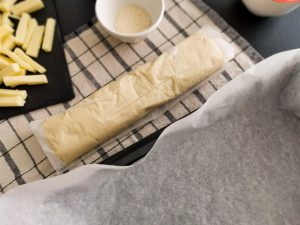 Take the dough out of the fridge, and out of the packaging, and layer onto a dish covered with parchment paper.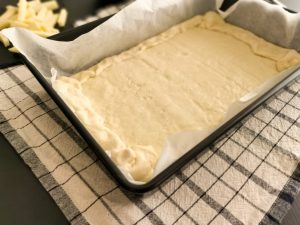 Fold the ends of the dough so as to create a tick crust on all sides. Feel free to play with the shape, if you want it to have an oval shape for example.
Next, start layering the ingredients in the following order:
First spoon the country basil sauce and spread it evenly
Then, top with the cheese slices
It's time to add your tuna chunks and spread them evenly across your pizza
Next add the onion slices and cherry tomatoes
Follow with the olives and artichokes
Sprinkle your parmesan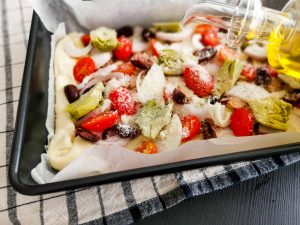 Season with salt and pepper and drizzle a generous amount of extra virgin olive oil
The pizza is now ready to bake in the oven for 35 minutes at 190 degrees celcius at the top level of your preheated oven.
Once baked, take out of the oven, cut into small or large slices, and enjoy.
Tips
This pizza is a great one when you want a pizza for movie night, or when you want to serve your guests a rustic homemade appetizzer. If you are vegetarian or don't like tuna, feel free to omit it.