Vegetarian Lasagna with Italian flavours
If you are vegetarian you might miss eating the traditional lasagna with the bolognese sauce. In reality, you don't have to as you can make yourself a really tasty meat free vegetarian lasagna. And in this recipe we will show you how, step by step from making your vegetarian bolognese sauce to assembling your vegetarian lasagna. Let's get started shall we?
Ingredients for the sauce
2 cups leeks fresh or frozen
2 large garlic cloves
3 medium carrots
2 medium large long zucchini (feel free to use the round ones instead)
1 cup brown – lentils soaked for a few hours (or 1 can lentils if you are not using dry ones)
salt and pepper to taste
high quality extra virgin olive oil like Novello
country basil sauce 2 jars
400 ml regular tomato passata
1 pot or cube vegetable stock
500ml water
Ingredients – Vegetarian Lasagna
Lasagna sheets (about 8 sheets)
The vegetarian sauce you prepared the day before or that morning
Besciamella 500ml – I am using Valsoia besciamella but you can make your own
salt and pepper to season the besciamella
mozzarella cheese about 150g
parmesan about 50 grams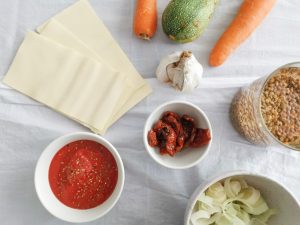 Preparation – Sauce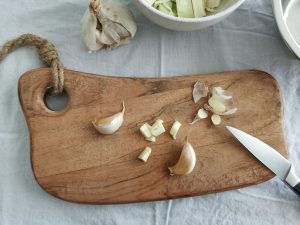 Start by cutting your leeks if you are using fresh ones, and make sure your lentils are soaking if you are using dry. And then peel and cut your garlic too.
Next, prepare your vegetables by cutting both the carrots and zucchini into small triangles or quarters.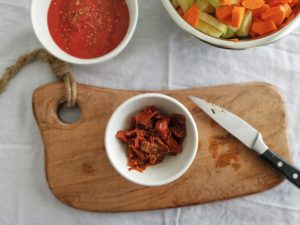 Then, cut the sundried tomatoes into small pieces.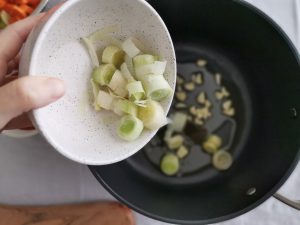 Now that the ingredients for your sauce are all ready, you can start making it. First, pour 5 tablepoons extra virgin olive oil in a large pot. Add the leeks and the garlic and leave to saute`.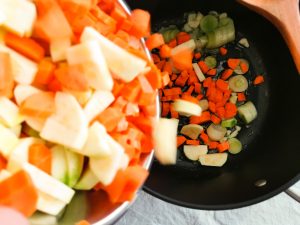 After five minutes add the carrots and zucchini, toss everything together, and leave to saute` for another 10 minutes. Season with salt and pepper.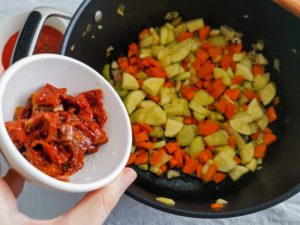 Now, add the sundried tomatoes followed by the drained lentils or your canned ones. Mix everything together and leave to saute` for 15 minutes. Add another tablespoon or two of extra virgin olive oil.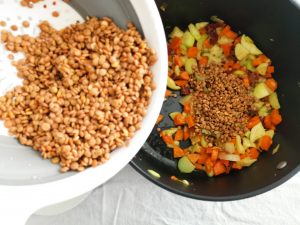 It's now time to add both your country basil sauce and your passata.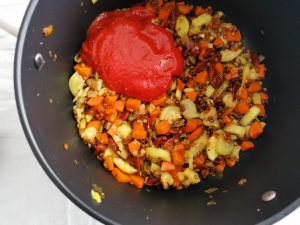 Then boil some water, and place your stock pot or cube into 500 ml of water so it melts. Once melted, add it to the sauce pot and mix well.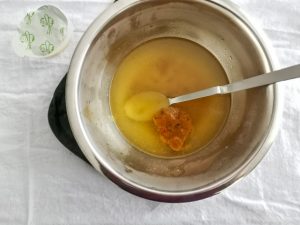 Leave the sauce to simmer for an hour at low heat.
Tips
Ideally, you should make the sauce one day in advance for the flavours to combine and accentuate by the time you prepare your lasagna. This also helps you to cut work on the day, whether you are making it for a dinner with guests or for the holidays.
Preparation – Vegetarian Lasagna (the ingredients are enough for one large casserole)
If you made your vegetarian lasagna sauce the day before, take it out of the fridge an hour or so before you start preparing the lasagna.
Also, prepare the besciamella or heat and season the packaged one.
Then proceed to slicing the mozzarella cheese, and set your ingredients next to you on your table or kitchen counter.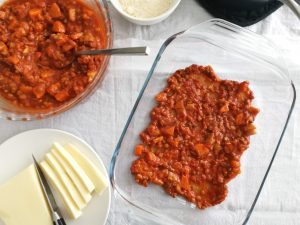 Start by layering the vegetarian sauce at the bottom of your casserole.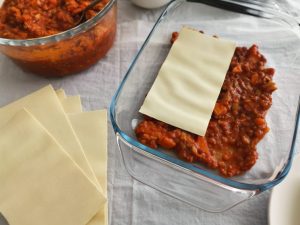 Then follow with layers of the lasagna sheets, approximately 4 per layer.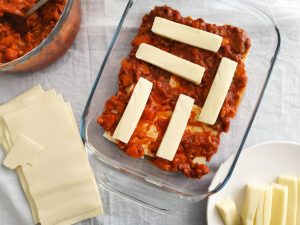 Next, spread another layer of lasagna sauce and layer the mozzarella cheese you sliced.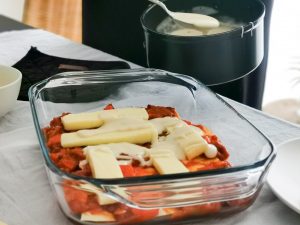 Follow with the besciamella.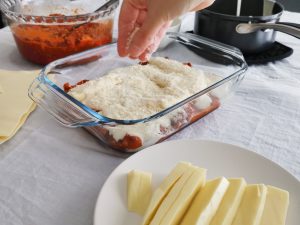 Then, sprinkle the parmesan.
Repeat one or two more layers of everything, depending on how deep and large your casserole is.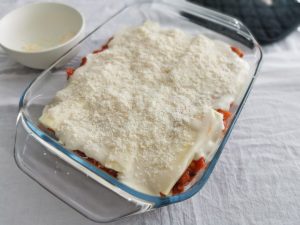 Bake in a preheated oven for 25 to 30 minutes at 180 degrees Celcius.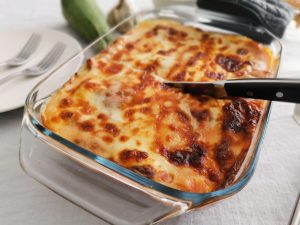 Tips
I suggest you make extra, as this really tastes amazing the next day and the day after. There is nothing better than leftover lasagna, trust me 🙂 For the vegan version, simply use vegan cheese and vegan parmesan.