Quick Pizza Dough Recipe: rises in 30 minutes
Would you like to make an artisan pizza at home from scratch? We've got the right recipe for you. This quick pizza dough recipe will allow you to make a rustic pizza crust that is soft and airy on the inside and thick and crunchy along the edges. It only takes 45 minutes in total to make the dough and let it rise.
Ingredients
500 gr flour 00
250 ml room temperature water
dry yeast (for grams follow your dry yeast packaging instructions, see tips)
2 teaspoons salt (I used Himalayan pink salt, but regular salt will do)
1 teaspoon coconut sugar
1.5 tablespoons Belmorso Extra Virgin Olive Oil (0r Novello) + more to drizzle
Preparation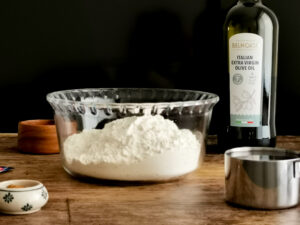 Weigh 500 gr flour, or open a pack of 500 gr, and transfer it to a very large bowl.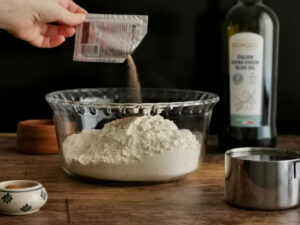 Open the packet of dry yeast and use as much as needed for 500 gr of flour following the instructions at the back of the packaging. Pour the dry yeast with the flour.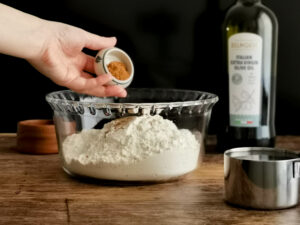 Add 1 teaspoon of coconut sugar to the flour and yeast, or replace with white or brown sugar.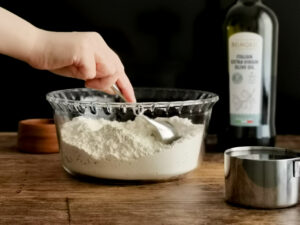 Take a tablespoon and mix well so as to distribute evenly all the yeast and the sugar across the flour.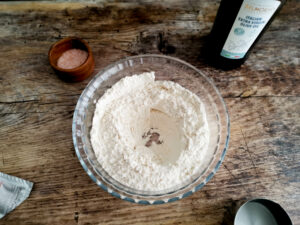 Make a well in the flour, that is poke a hole with your finger in the middle of the flour in the bowl.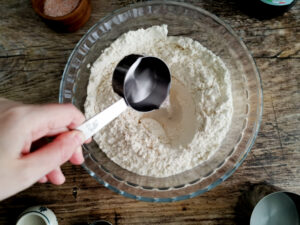 Pour 125 ml of water a little at a time, while mixing with your hands or a tablespoon.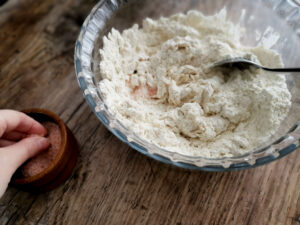 Now add the salt and mix.
Continue adding the remaining 125 ml of water and keep kneading your dough.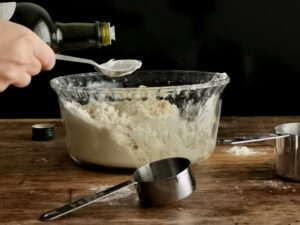 Add one and a half tablespoons of Belmorso Extra Virgin Olive Oil. You can also use Novello if you have it in your cupboard when you are making this. Just make sure you are using a high quality EVOO as every ingredient contributes to making your final pizza exceptional.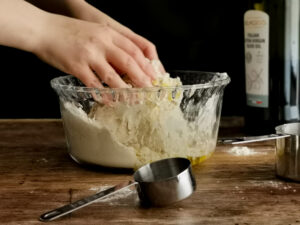 Once you have poured the EVOO continue kneading your dough for a few more minutes.
The dough is ready once it springs back when you press your finger into it. It doesn't need to fully spring back but at least spring a little bit back. Your dough must not be too dry nor too wet and sticky.
If you think your dough is too wet add a little flour and knead it a little longer.
On the other hand, if your dough is too dry, add a little more water and knead it some more.
Once your dough feels ready, divide it into two parts, and knead each one. Don't over knead them though.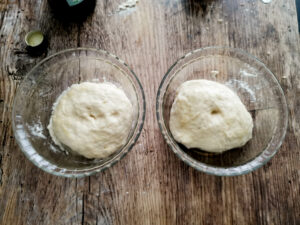 Take two clean smaller bowls, drizzle some Belmorso EVOO, spread the extra virgin olive oil with your hands at the bottom of the bowl. Repeat for the other bowl.
Transfer each dough ball into its own bowl and take some EVOO and caress it with your hands at the top of the dough. The moisture will help the dough rise better.
Boil a small pot of water.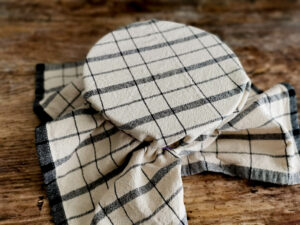 While the water is boiling, cover each bowl with a clean cloth, and use an elastic band to keep the cloth closely tied to the bowls.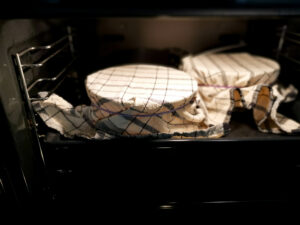 Put the pot with the boiling water in your oven, and next to that put both bowls with the dough balls.
Close the oven (your oven must not be heated or on) and turn the oven light on.
Leave your dough to rise for 30 minutes, and then check it.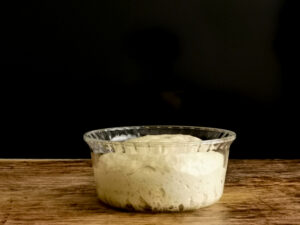 Your dough should have at least doubled. Ours nearly quadrupled.
If your dough has risen at least twice in size, you can take it out of the oven and start making your pizza.
If not, you can leave it slightly longer in the oven.
Once it's out, wash your hands, and punch the dough three to four times so the air comes out. Don't worry if it deflates, that's normal.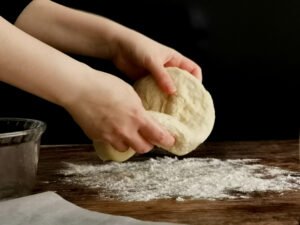 Take some flour and sprinkle it on a clean surface, transfer one dough ball onto the floured surface, and flour just a little each side of the dough.
Use your hands as me, or a rolling pin to flatten your pizza dough. You can play with it and make it thinner. However, I like mine thick and uneven. It feels more authentic that way.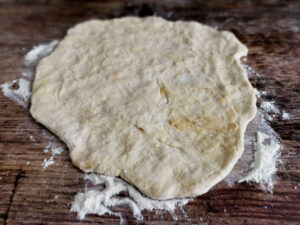 Once you are happy with your pizza base, transfer it on your pizza dish. I covered mine with parchment paper, but you can drizzle some EVOO instead if you prefer.
You can now top your pizza however you'd like to. We made Capricciosa Pizza, you can find the recipe here.
Tips
We used 1 bag (7gr) of Paneangeli Mastro Fornaio Dry Yeast. You should be able to find it locally or online, if not another dry yeast will do.
The preparation section of this recipe looks very long but don't let that frighten you. The process is very easy and quick. I just made sure to list every single hack to make sure your pizza crust turns as delicious as mine. When you try this, please share your thoughts in the comments.
If you are intolerant to yeast, try this No Yeast Pizza Dough Recipe.