Cotolette with beef or chicken
Cotolette is a very popular Italian recipe, and a recurring recipe in many households. You might know it as cotoletta Milanese. I personally grew up eating cotolette as they were my mum signature dish.
I would describe them as a comfort food that's homemade and made with love, crispy on the outside and tender on the inside.
What to expect when making cotolette
Cotolette take some time to prepare but as everything that does, they taste exceptionally good.
You can make them the day before. You can watch a show or listen to a podcast while you are preparing them. Plus, if you are only making two or three, like we are doing today, it won't take you that long at all.
Finally, you can make cotolette di pollo or beef cotolette following the same method below.
Let's make them.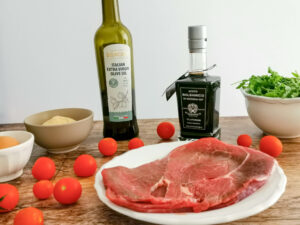 Ingredients
3 thin slices beef
300 gr breadcrumbs
3 eggs, or 2 if very large
salt and pepper
Belmorso Extra Virgin Olive Oil
rucola salad
cherry tomatoes x6, or as many as you like
1/3 small onion
Platinum Balsamic Vinegar of Modena IGP
Preparation: How to make cotoletta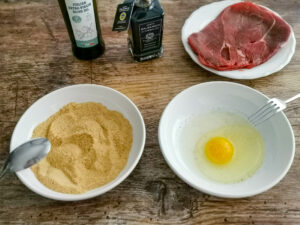 Start by beating the eggs. I suggest you use a wide bowl, so you have enough space to work with the meat. I prefer beating one egg at a time, as that prevents each slice of meat from soaking more than one egg. You can beat all the eggs together, if you prefer, but you might need to add an extra one towards the end.
Season the beaten eggs with salt and pepper.
Place your breadcrumbs in a wide bowl or deep large plate, season with salt and pepper, and mix.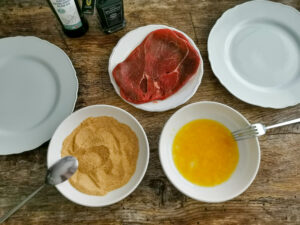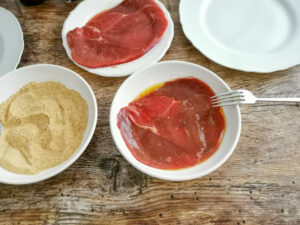 Dip the first slice of meat in the egg mixture, first one side, and then on the other.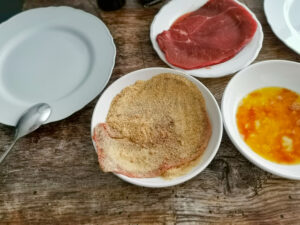 Then dip it in the breadcrumb's mixture. You want to use a wide plate or bowl so you can take the breadcrumbs with your hands and pack it onto the meat. Turn the meat and pat the breadcrumbs on the other side.
Optional: Take the same slice of meat which you just finished dipping and repeat the egg and breadcrumbs dipping. The result is an extra crispy cotoletta.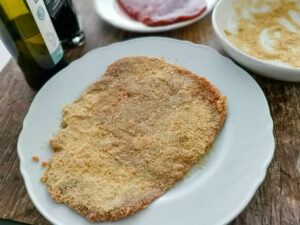 Do the same for the other two slices of meat, and store in the fridge for at least 30 minutes, better if longer. Leaving them in the fridge helps the breadcrumbs better stick to the meat.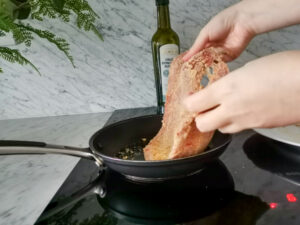 Drizzle plenty of Belmorso extra virgin olive oil in a large pan and add one slice of meat. Leave to cook for 5 to 8 minutes on each side and turn it on the other side. The second side will need to cook for less time, about 5 minutes.
Do the same for all your cotolette.
While the cotolette cook add the rucola to your plates, cut the onion into thin slices, and add that too. Wash and add the cherry tomatoes to the salad. Season with salt and pepper and prepare the EVOO and Platinum balsamic on your table. You will dress the salad just before eating.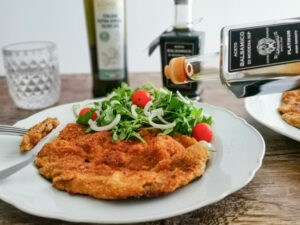 Once all your cotolette have finished cooking serve them with the salad. Don't forget to dress the salad with the extra virgin olive oil and the balsamic vinegar of Modena.
Buon appetito.
Tips
In this recipe, we made cotolette with pork, but you can use any other meat you like, including chicken. Just make sure the meat or chicken slices you use are cut very thinly. You can make extra and have them the next day reheated in a pan or in the oven. And if you prefer, you can also bake them instead of frying them.
What to eat with Cotolette
Cotolette makes a great main course for dinner parties. Wondering what pasta and dessert go well with cotolette? Here's what I suggest:
– this Tomato and Vegetable pasta with Cannonata for the first course
– these Cannoli from Sicily for dessert