Crostata al cioccolato with balsamic pear jam
This crostata with pear balsamic jam is perfect to share with your partner. That's why we are posting it right before Valentine's Day.
It's the perfect homemade treat to say I love you. And if you want to go super romantic, you can even make it heart shaped.
Here's what to expect: sweet but not too sweet, crunchy and flaky homemade pie pastry with a hint of cacao, filled with a layer of indulgent chocolate spread, and topped with a rustic pear and balsamic vinegar of Modena jam. 
Let's make it!
Ingredients
For the chocolate pastry
170 gr flour 00
1/3 teaspoon baking powder and 1/3 teaspoon baking soda
pinch salt
5 teaspoons coconut sugar or brown sugar
70 gr butter
1 small egg
For the white pastry
100 gr flour 00
1/4 teaspoon baking powder and 1/4 teaspoon baking soda)
3 teaspoons coconut sugar or brown sugar
2 teaspoons raw cacao powder (or regular cacao)
pinch salt
40 gr butter
1 egg yolk
For the jam
4 Abate pears
5 teaspoons coconut or brown sugar
1/2 teaspoon vanilla essence
1 tablespoon Gold Balsamic Vinegar of Modena
3 to 5 tablespoons chocolate spread, depending on how big you spread the crostata pastry
1 to 2 teaspoons icing sugar for decorating
Here's how to make a crostata dough
Do this the day before: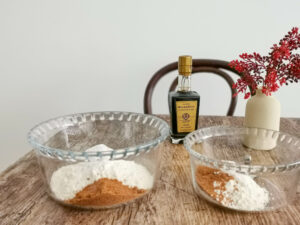 Put the chocolate pastry dry ingredients in a bowl and mix.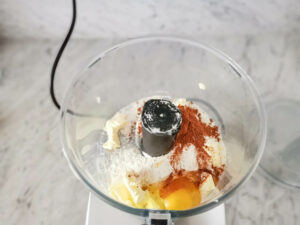 Add the contents of the bowl, together with the butter and the egg into a food processor and mix until a dough ball is formed.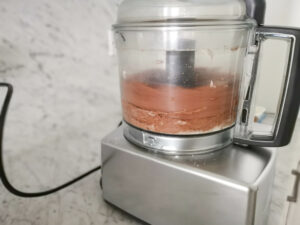 If the dough ball doesn't form, don't worry. Touch the consistency of the mixture and if you think it's sticky enough, you can form the dough yourself, using your hands. You will need to put the mixture back in a bowl to do this.
Repeat steps 1 to 3 for the white pastry, but without the chocolate powder, and make yourself a tiny white pastry ball.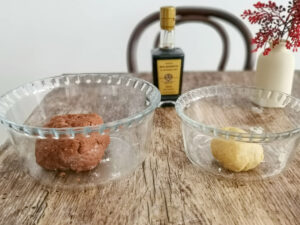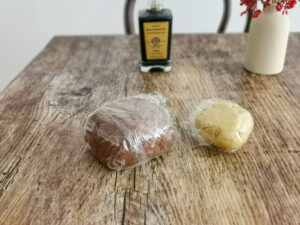 Wrap both the chocolate and white pastry balls into cling foil separately and refrigerate overnight.
We will be making the crostata tomorrow. Alternatively, you can leave them in the fridge throughout the morning and prepare it in the afternoon.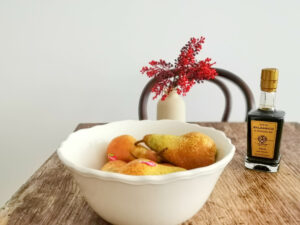 Recipe for pear Jam: let's prepare it together
Next, start working on your balsamic and pear jam.
Take the pears, wash them, peel them, and chop them thinly.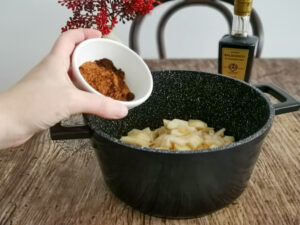 Add the chopped pears to a pot. Next, add the sugar and the vanilla essence to the pot.
Mix everything and put the pot on your stove; leave them to cook for 5 to 10 minutes.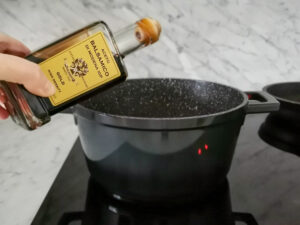 Then add the Gold balsamic vinegar of Modena, mix and leave to cook for another 20/25 minutes.
Take the jam off the heat, leave to cool, and transfer to a jar.
You can store it in the fridge overnight.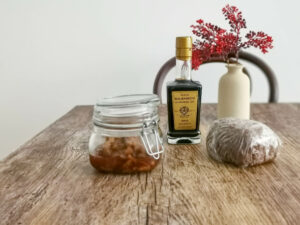 Preparing the crostata
The next day do this: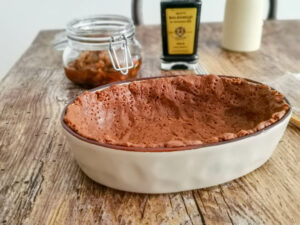 Take your chocolate pastry and either roll it using a rolling pin and some flour or flatten it directly on your greased crostata dish.
Don't forget to take the pastry up to the sides like a proper crostata.
Use a fork to create some indentations in the pastry.
Pre-bake pastry for 25 minutes at 180 degrees Celcius.
You won't need to pre-bake it if you you use a large dish and roll your dough thinly. We made a thick rustic crostata, so we had to pre-bake it to ensure it was cooked properly.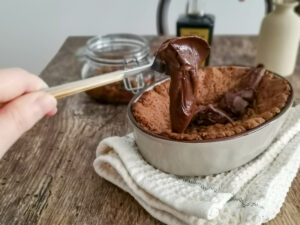 Take it out of the oven, leave to cool, and then layer the chocolate spread.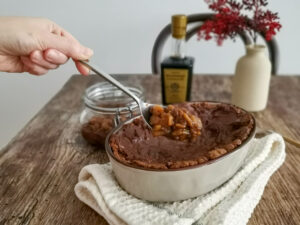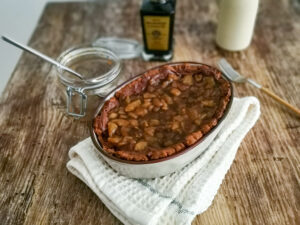 Top with the balsamic pear jam, putting the jam in the middle and not the sides, to avoid it leaking on the sides.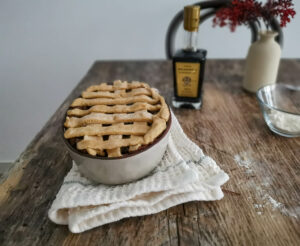 Finally, take your white pastry dough, and roll it using a rolling pin and some flour.
Cut some equal sized long strips to create the crostata's top pastry layers.
Alternatively, you can use a heart shape dough cutter and cut heart shapes and top the crostata with those. A single large heart shaped pieces of pastry in the middle would also look really nice.
Bake for another 20 minutes.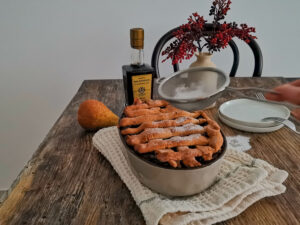 Once ready, leave to cool, and then finish with some icing sugar.
Take two forks, sit down and enjoy it with your partner.
PS: Of course, you can enjoy this any time of the year, with your partner, or with anyone you'd like.
Tips
Just make sure you prepare the pastry and jam the day before, and refrigerate both, so that the result is a firmer and neater crostata. It also helps with splitting the work and time needed to make this.
If you are looking for a rustic dinner that goes perfectly with this dessert, here are three suggestions:
Recipe for Cannelloni with Lamb Ragu'
Tuna Steak with Onions and White Balsamic Vinegar
How to make crostata di marmellata?
Crostata di marmellata can be made simply with a shortcrust pastry and jam, which in Italian is called marmellata. Feel free to get creative with your pastry and jam choice. You can use store bought pastry and jam, or you can make both yourself. It's easy to make crostata di marmellata.
Crostata vs galette
A crostata and a galette might look the same, but they are not. Firstly, one is Italian and the other is French. Secondly, if you look carefully, a crostata has thin strips of dough covering its top. Most galettes, on the other hand, have pastry just on the top sides and none in the centre. Galettes also tend to be flatter than a crostata. According to Wikipedia a crostata is similar to a French croustade, not a galette.
Can you make jam with pears?
You definitely can, and it will taste delicious. Simply wash and peel 5 to 6 pears, add 5 teaspoons of coconut sugar, 1 tablespoon  balsamic vinegar of Modena, mix and let the pears cook. Once they are soft and slightly caramelised, your pear jam is ready. You can mash it with a fork, or enjoy it as is.
How to make balsamic jam?
Balsamic jam is made by adding balsamic vinegar, preferably balsamic vinegar of Modena, to your fruit of choice. You can make pear balsamic jam, strawberry balsamic jam, peach balsamic jam, and any other fruit jam you'd like. We suggest adding one to two tablespoons of balsamic vinegar for every 3 cups of chopped fruit.